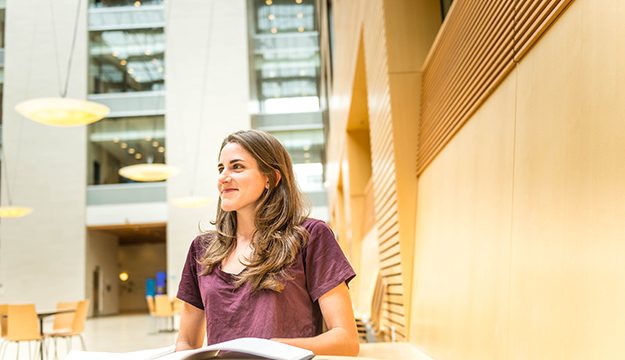 Find out how this UBC Science undergrad and varsity athlete reached her goal of entering Medicine – and travelled to Peru and Antarctica along the way
Katherine Tourigny applied and was accepted to universities around the world to do her undergraduate degree, but she soon realized that her dream school was actually in her own backyard, in Vancouver. "It turned out that UBC had everything I wanted and so much more," says the recent UBC grad and first-year UBC Medicine student. "Competing on the track team was a large deciding factor, as well as UBC's stellar academics and opportunities to get involved in research."
While earning her Bachelor of Science in Psychology, Katherine jumped at the opportunities that drew her to UBC in the first place. Her extracurriculars were as diverse and exciting as a research expedition to Antarctica; becoming the House President in Totem Park Residence; competing on the UBC varsity Track and Field team; working in a neuroscience lab in the Life Sciences Institute; and attending a UN climate change conference in Peru. Those are just a few of the ways that Katherine capitalized on UBC's breadth of opportunities and explored the things that lit a fire in her.
"UBC's Vancouver campus has a one-of-a-kind natural beauty to it which I have not seen at any other of the universities I've visited."
Choosing a program
Before arriving at UBC, Katherine had already been cultivating an interest in neuroscience through work in an Alzheimer's research lab. She was able to match and nurture that curiosity further by majoring in Behavioural Neuroscience. "The best part about Behavioural Neuroscience is that you start lab work and learning how to write research papers very early on," she says. "I chose the BSc Psychology program because of its heavy research preparation, small program size, and opportunity to really challenge myself."
In addition to studying the subject she was most passionate about, Katherine was able to take elective courses, such as Earth and Ocean Sciences, that rounded out her education and opened new doors. She completed the coursework to reach her academic goal of entering Medicine, while at the same time discovering new topics and taking part in activities outside her main area of study.
Research expedition to Antarctica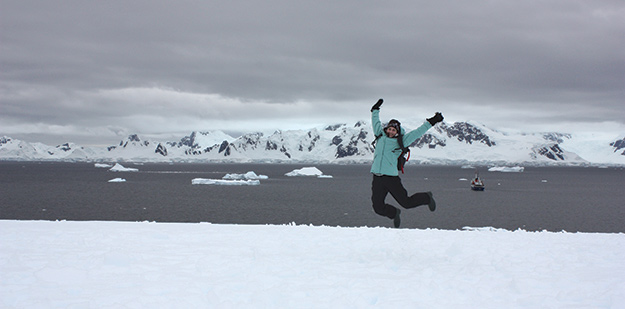 "Earth and Ocean Sciences courses in first year led to an opportunity to be part of an international group of students studying the effects of environmental change on human health," explains Katherine. The research was a seamless blend of her interest in the environment with her passion for health sciences.
Along with groups from three other universities and the Canadian organization Students on Ice, Katherine spent December 2013 through to January 2014 in Antarctica. The trip included a visit to Ushuaia, Argentina, the southernmost town in the world, and a dramatic four-day ship voyage across the treacherous Drake Passage.
"I came to UBC with an open mind and it took me to the end of the world and back!"
While in Antarctica, the group collected water and ice samples that they analyzed in the lab they constructed on the ship, and participated in lectures and group activities. "We got the rare chance to see some pretty incredible geological formations," says Katherine. "Antarctica has a reputation for being desolate, but the amount of wildlife thriving there is unbelievable."
The UN Climate Change Conference
Upon returning home from the Antarctic expedition, Katherine became involved with the UBC Polar Club to share her experience and interact with other polar researchers at the university. Through a nomination by the UBC Polar Club and with support from the Youth Arctic Coalition and the Global Fund Grant from the UBC Global Lounge, she was able to represent the university at the UN Climate Change Conference in Peru.
"The most amazing part was the chance to interact with people from all over the world – political leaders, educators, researchers, youth, and more," says Katherine. "I got to hear first-hand how climate change has already affected the lives of the most vulnerable members of our global community, from those who live and work in these areas of the world."
Getting involved on campus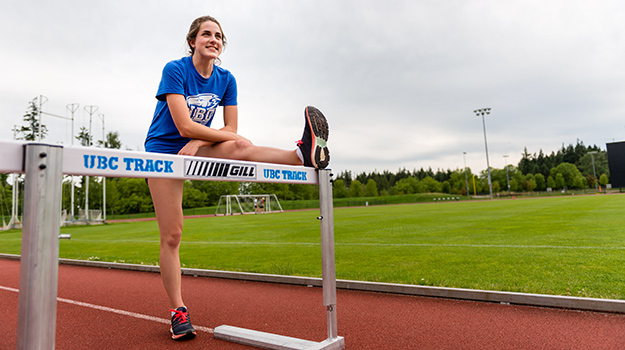 Back home at UBC, Katherine kept equally busy, competing as a hurdler on the UBC varsity Track and Field team and participating in clubs and extracurricular activities. "I've learned interpersonal skills, developed a capacity to lead, follow, and work with others, and through them have refined what I want to study and work towards going forward," Katherine says of her on-campus involvement as an Orientation Leader, a Science Squad Leader, and as the Totem Park Residence House President. "There is invaluable learning that takes place outside the classroom, which I feel has been one of the most important aspects as my time as a student at UBC."
Now in her first year in UBC Medicine, looking back on her undergraduate degree, Katherine says her best advice to future students is to get involved. "UBC is what you make of it. There is so much to do and so much to get involved with. Talk to people, and get involved in events and organizations you thought you would never get involved with."