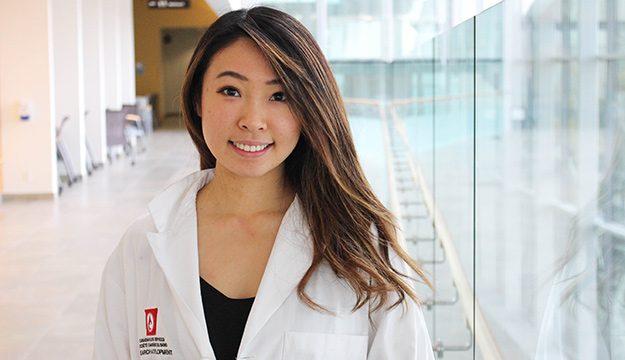 UBC's Medical Laboratory Science program had the perfect blend of this alumna's science interests. Find out how she conducted cancer research during her undergrad, and has continued onto grad school in the Faculty of Medicine
It was in Lily Takeuchi's second year at UBC, while searching for a program that would make her "adaptable for a variety of careers," that she found the Bachelor of Medical Laboratory Science. "I was struggling to find a program that married my interests in science, and I was hesitant to restrict myself by only taking physiology courses or microbiology courses," she says. "I had heard about the BMLSc program at an event and came across a program curriculum that encompassed a variety of my interests and more. I knew then it would be a perfect fit."
Lily's degree has included undergraduate research; building a breadth of career-related skills; presenting research at the University of California, San Francisco; and preparing for graduate studies.
After earning a Bachelor of Medical Laboratory Science, Lily is now in her first year of graduate studies in UBC's Faculty of Medicine. She's continuing the type of research she conducted during her undergraduate degree while expanding her interests and acquiring new knowledge that will prepare her for the future.
What were your career aspirations or future plans upon entering Medical Laboratory Science? 
Although I knew I was interested in going into research, I had a very narrow view of research as a career and was unsure what role I wanted to play. I had this impression that being a scientist meant it was important for me to solidify a single theme, get very skilled in a single area, and only work on that for the rest of my life.
Over the course of my studies, I was exposed to a huge variety of subfields and skills in medicine. Through the intimate classroom setting I got to really know my professors. Interacting with people in the field helped me to learn that careers in research can be very dynamic environments. This really helped to affirm my love for a career that would involve lifelong learning and translational impact.
What did you like the most about BMLSc?
Being in a small cohort of students allows you to build close relationships with both your professors and your classmates that I can't imagine many get to experience in an undergraduate degree. They really become your main support network. The intimate classroom setting also helps to promote engagement between students and faculty, allowing you to take advantage of the diversity of individuals brought in. The lecturers come from all walks of life, many playing research and/or clinical roles that helps students broaden their scope of careers in medicine.
"The breadth of skills gained from the program and the holistic approach to learning about medicine really helped me the most in terms of shaping my own research interests and making myself adaptable to expand those interests." – Lily Takeuchi, Medical Laboratory Science
What kind of hands-on experience did you gain?
The BMLSc program allows you to gain a breadth of basic laboratory skills in biochemistry, microbiology, tissue culture, analytical chemistry, and cytology, to name a few. Additionally, there is a heavy focus on skills related to various forms of microscopy, histology, and histochemistry. Having this basic subset of a variety of skills really prepares you to be adaptable for almost any laboratory setting.
How does the BMLSc program prepare you for the future?
The breadth of skills gained from the program and the holistic approach to learning about medicine really helped me the most in terms of shaping my own research interests and making myself adaptable to expand those interests. Outside of just the academic content, the program is rigorous and forces you to manage your time and deadlines. There is increased focus in your final year on transferrable skill development and career planning, which helps the transition between undergraduate to postgraduate.
What kind of student would you recommend this program to?
This is an excellent program for students who are interested in continuing their studies either in graduate school or any other professional school, and it is worth mentioning that not all of the graduates go on to strictly work in medicine. I would recommend this program to individuals who thrive in smaller classroom environments. I would even recommend this program for anyone still searching for what they're passionate about. Without a doubt, given the amount of areas you are exposed to in BMLSc, you can definitely find something along the way that stands out to you.
You were part of the UBC BIOMOD team – comprising students from multiple scientific disciplines – that designed a drug-delivery system to treat glioblastoma multiforme, the same brain cancer that took the life of beloved Canadian musician Gord Downie. Can you tell us more about this project, and how you got involved with the team?
The BIOMOD group is a group of students that work to create a novel biomolecular design and present their findings at the annual BIOMOD conference at University of California, San Francisco. I got involved with the team in my third year to initially just help with lab work but, like many other students, I became incredibly invested in seeing through the success of the project.
Our project was a dual-ligand liposomal drug delivery system that attempted to tackle two problems: 1) getting across the blood-brain barrier; and 2) targeting cancer-specific cells. It was an incredible opportunity to, at an undergraduate level, see a project through start to finish without guidance. This experience helped to prepare me for the real world conditions of research.
Is this the same kind of work and research that you'd like to pursue in the future?
Yes and no. While my current work is focused on and I am still incredibly interested in the field of drug delivery, I know I am still learning and growing as well. I am quite certain I will not be tied to a single career and my research interests will develop as our knowledge of science and medicine changes. Even within the duration of my graduate studies I am excited to see what we learn and what I will be attracted to next.