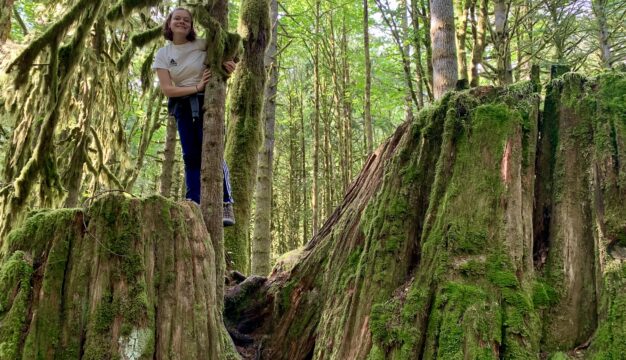 Ainsley knew she wanted to make positive change in the world, and that she loved being outdoors. The Faculty of Forestry was a perfect fit.
Ainsley chose the Natural Resources Conservation program so she could learn more about the environment and how to conserve it for future generations. As part of a tight-knit program that lets students apply their forestry knowledge on the UBC campus and beyond, she's already enjoyed an insightful work-learn position as well as a co-op opportunity in her field. Most importantly, she names UBC's welcoming spirit and the confidence she's gained as a result as some of the highlights of her university experience.
Why did you choose UBC?
In my last year of high school, I was unsure of what I wanted to study. I came across the Natural Resources Conservation program and it just sounded perfect. It was unlike anything I had learned about in high school or any programs at other schools I had applied to. The Faculty of Forestry at UBC is so special and really provides a great sense of support and community. The campus is also beautiful and makes a great home away from home.
What drew you to the Natural Resources Conservation program?
Growing up, I really enjoyed spending time outdoors with my family, especially our annual camping trips. I knew that nature and forests were always something I was interested in, but I had no idea they were something I could study at university! In high school I really enjoyed biology and environmental science, and my passion for the outdoors and love of science led me to the Natural Resources Conservation program. When people asked me what I wanted to do when I grew up, I often said that I didn't know exactly what I wanted to do, but I knew I wanted to make a positive impact on the world in some way. The Natural Resources Conservation program allows me to do both – to learn about the natural world and how to help conserve it for future generations to enjoy.
What is the best part about the program?
For me, the best part of the program is being in a room full of like-minded people who are passionate about the same things and want to make a difference. I have started to feel like I am where I'm supposed to be, and the material I'm studying can help create positive change in what is often a dark world. When a group of like-minded people come together, the classroom starts to feel more like a community, which is one of the best things about being in the Natural Resources Conservation program. I also really enjoy learning about nature and the complexity of the natural world around me. Being able to just take a walk outside in Pacific Spirit Park and apply my learning feels really special.
What would you say to prospective students who are considering choosing Natural Resources Conservation, or another program in the Faculty of Forestry?
If you love the outdoors, are passionate about solving the climate crisis, or enjoyed the life sciences in high school, the Natural Resources Conservation program could be for you. While all the UBC Forestry programs are somewhat linked, they are each unique and offer something different. The Natural Resources Conservation program is special as you have the opportunity to attend a four-month field school in your fourth year filled with lots of hands-on experience, which I am very excited for. Not to mention you will meet tons of other like-minded students and fantastic profs along the way.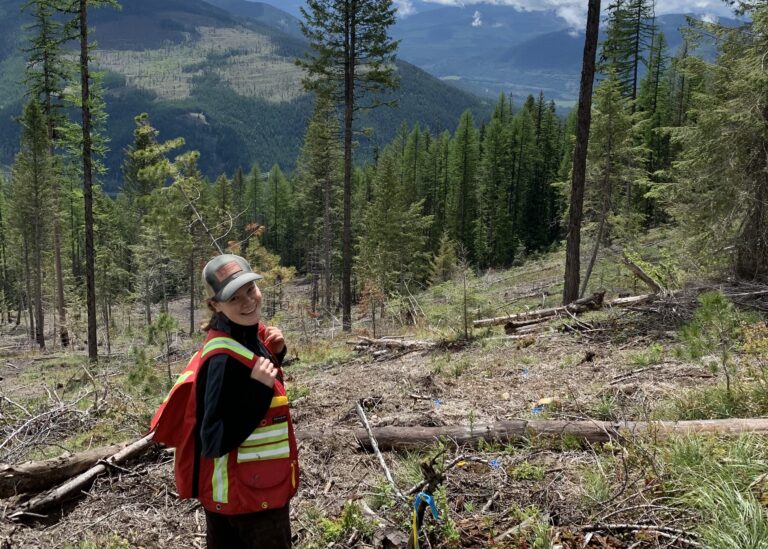 You mentioned that you feel that the Faculty of Forestry at UBC is special. Can you talk a bit more about why you feel that to be the case?
The Faculty of Forestry is one of the smaller faculties at UBC, but don't let its size fool you. The professors and advisors are great, and due to its size, class sizes are often smaller than those of larger faculties. You have the opportunity to make that much more of a connection to the people around you and the community you are a part of.
How did the UBC community make you feel welcome?
My first UBC experience was at Jump Start, and it was such a great way to be introduced to the UBC campus and community. Jump Start is a week-long program for first-year students that is offered before classes start. You get placed in a small cohort of other first year students in your faculty from all over the world. I met a lot of my closest friends in Jump Start, and it is such a great way to discover all that UBC has to offer. It also helped me gain confidence and allowed me to feel more comfortable on the first day of classes. I felt welcome at UBC almost immediately and it's nice to know I study at a diverse institution that will welcome you no matter what walk of life you come from.
When you're not studying, what's the best thing to do on campus and in Vancouver? 
One of the best things about the UBC campus is its proximity to nature, so I highly recommend just getting outside, rain or shine! Going down to Wreck Beach to watch the sunset after a long day of classes is one of the best feelings. UBC also has amazing gardens on campus such as the Rose Garden, Nitobe Memorial Garden, and the Botanical Garden. I also recommend checking out the large network of trails in Pacific Spirit Park, or if you're in Vancouver, biking the seawall in Stanley Park.
Have you participated in a work experience, volunteering or study abroad opportunity through UBC?
My mom encouraged me to get a job in my first year, and I was really concerned about how I would balance my studies with work. We came across the UBC Work Learn program which is great for students who are looking for a part-time job while focusing on their studies. You get to work on campus and all positions are 10 hours a week or less, so you can easily balance your studies with work. The Work Learn program gave me an opportunity to start my professional career while studying and learning what I'm passionate about.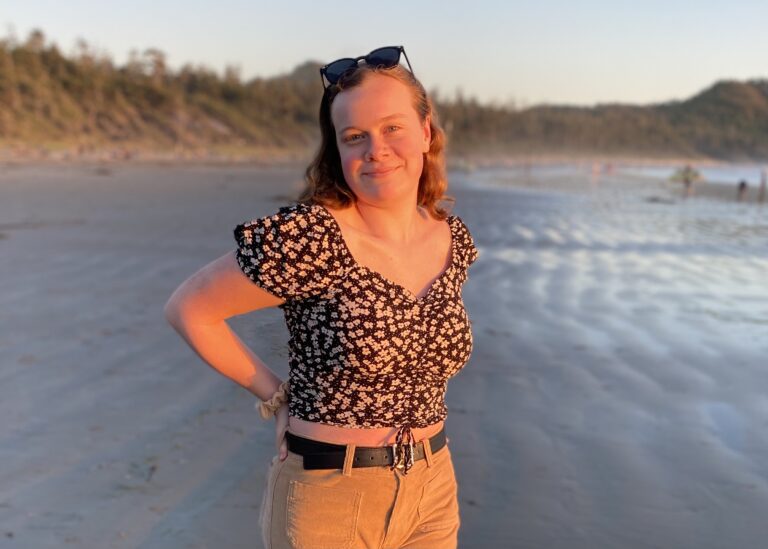 Can you talk a bit more about your Work Learn experience? What job did you do?
I was a Research Administration Assistant in my first and second year at UBC, working for the Office of Research Services. I helped the office create application profiles for research projects and worked to organize and upload grant award letters for the successful projects. Like many Work Learn jobs, their office is located right on campus, so it was easy to get from class to work. I worked 10 hours a week (which is the maximum for Work Learn students), so with only a couple hours a day, it was easy to fit into my schedule. The position allowed me to gain work experience in a professional office setting, without having to compromise my educational journey.
What has your UBC experience helped you to achieve so far?
As part of the UBC Forestry Co-op program, along with the Work Learn program, I have been able to start my employment journey and gain professionalism and valuable work experience as a student at UBC. My first co-op term this summer has allowed me to get hands-on experience in the forestry industry and learn relevant skills for the future. These experiences have given me a start to my professional career and have gotten me excited and looking forward to all the opportunities waiting for me after I graduate.
What would you say to prospective students who are considering attending UBC?
UBC is truly a place like no other. The transition from high school to university is a big step, but I feel like I found a place that I belong. UBC has such an open and welcoming community with so many opportunities to meet new people and try new things. The campus is also beautiful and makes a great home away from home. It has everything you need with great restaurants and shops and is close to the Vancouver core.