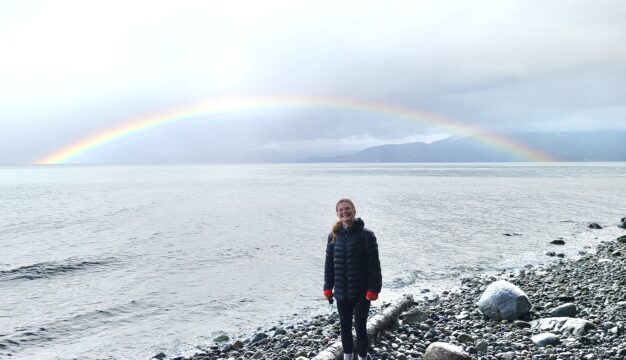 Anna took a leap when moving from her hometown of Austin, Texas to come to UBC. She's never looked back.
After visiting the Vancouver campus on a walking tour, she knew UBC was the perfect place for her. As well as spending time on the campus's beaches and climbing the nearby mountains, Anna has excelled in her degree in the Faculty of Land and Food Systems, where she found a close-knit and supportive community. Now in her final years, she's focusing her studies on sustainable agriculture and food systems, as well as taking part in clubs and events such as UBC's scubadiving society and UBC's iconic Day of the Longboat.
Why did you choose UBC?
I chose UBC because the chance to move to a new country and be surrounded by a diverse, international community excited me! I was born and raised in the same city my whole life, so I really wanted to push myself out of my comfort zone, and UBC provided me the opportunity to live in another country but be close enough to home to travel back a few times a year. I was also really drawn to the city of Vancouver. Never before have I lived somewhere where you could go to the beach, into the forest, and to the mountains all in one day (or even a few hours!) UBC students really use the incredibly natural environment in Vancouver to their advantage, from skiing at Whistler on Saturdays to going down to our local beaches on breaks between classes.
When did you know UBC was for you?
More so than anything, I knew UBC was for me when I stepped on to campus for the first time for a campus tour, and had that "aha" moment. I had this overwhelming feeling that I had landed at my future home. I truly believe that the feeling I had that day was a sign that UBC was where I was meant to be, and now in my final year, that couldn't have been more true! I've really come full circle, because I now work for the campus tours team and get to watch new prospective students have their own "aha" moments on tours, which is one of my favourite things to witness.
What was your experience finding friends and community at UBC?
I was so nervous about making friends before coming to UBC! I didn't know a single person in Canada before moving here, so I felt so nervous leaving behind my stable and supportive community back home. I learned a very important lesson during my first few days of the Jump Start orientation: that everyone is just as eager to make friends and build community as you are! On my very first day of Biology 101 in first year, I sat next to a really kind looking person on the front row, and turned to her to introduce myself. She looked so relieved when I did, and told me that she had been so nervous to meet people since she just moved to UBC and didn't know anybody. We ended up sitting next to each other every day for the rest of the semester, and formed a study group with some other students sitting around us! That is just one of many stories of the kindness and compassion that other UBC students have for each other, and I guarantee you that every student at UBC has a similar story of random friendships too.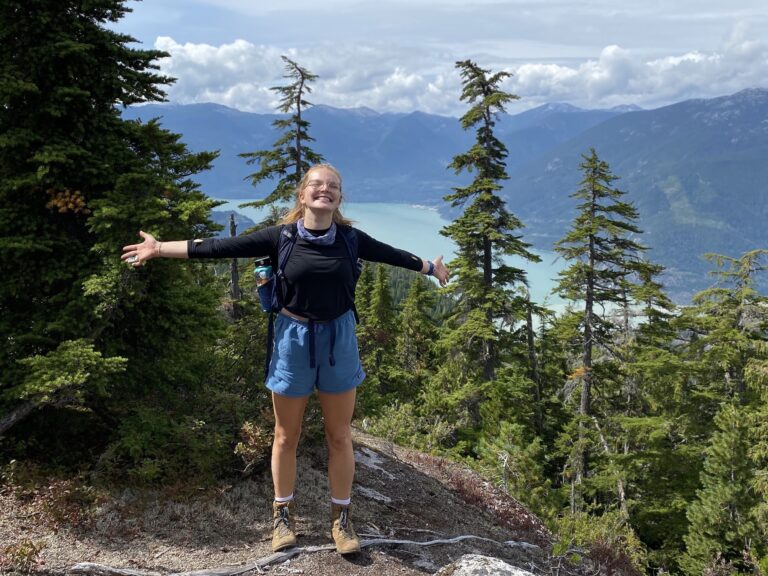 How did you find living in residence?
Living in residence in my first year really helped me build a strong network of support with my fellow floor mates and RA (residence advisor). It was hard leaving my family behind back home, especially because I knew I wouldn't be able to see them much since they were so far away. My residence community quickly became my second family. We'd eat our meals together, we'd brush our teeth together, we'd help each other study, and so much more! I always knew that I could knock on one of my floormates doors at any time of day and they would be there for me.
You lived with a roommate in your particular residence. Was that hard for you?
I can't talk about residence without talking about my first-year roommate! Since I didn't know anyone before coming to UBC, we got paired up randomly and placed into a shared room in Place Vanier (one of the three first-year residences), meaning we shared one single room, and had two beds, two desks – the works. At first I was so nervous to live with a random stranger, but as soon as I met her on move in day, I knew the random pairing system had worked its magic! We ended up getting along so well that since moving out of first-year residence, we've chosen to live together off campus for every year since. Although having a roommate might seem scary at first, it is one of the best ways to build community on campus.
You're studying Global Resource Systems in the Faculty of Land and Food Systems. What do you enjoy most about your program?
I love Global Resource Systems because it allows me to be very flexible to follow my interests and professional development goals. It is one of UBC's interdisciplinary programs, which allows students to personalize their degree and take classes all across different faculties on campus. This flexibility was so important to me, because I came to UBC without strong idea of what exactly I wanted to study. Through taking lots of unique courses, I ended up finding that my passion lies in sustainable agriculture and food systems, so that is where I've focused my degree in my final few years! The community within the Global Resource Systems program is also one of my favorite things. We are a pretty small cohort of students, and although everyone is specializing in different things, we all share a common love for our environment, connecting with people, and striving towards complex solutions for global issues. The strong sense of community in this program is so special!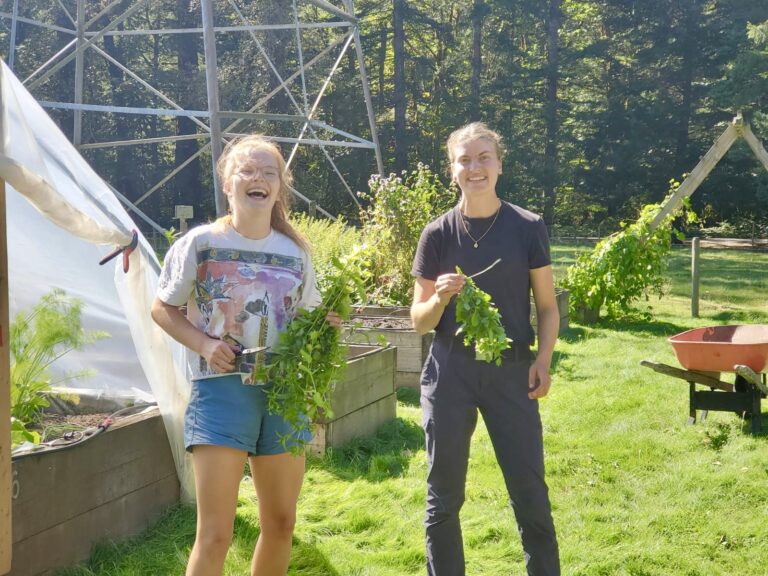 Can you talk a bit about the Faculty of Land and Food Systems? What makes it unique?
The Faculty of Land and Food Systems (LFS) is definitely one of a kind. I actually switched into LFS from the Faculty of Science and found such a strong sense of community here. It's a smaller program, which means that our relationships with professors, faculty advisors, and other students are really personal! Never before have I found myself surrounded by so many like-minded people than in the Faculty of Land and Food Systems. I feel like I really found a faculty where I am able to be fully myself and pursue exactly what makes me passionate. If you love plants, animals, food, and community, then LFS is the place for you!
Story time: One of my favourite classes in Land and Food Systems ever was when a student passed around a giant tub of fresh picked carrots from the UBC Farm and shared them with everyone in class. I feel like that moment perfectly sums up what my time in LFS has been like at UBC!
When you're not studying, what is the best thing to do on campus and in Vancouver?
Oh this is such a tough question! How much space do I have? (Kidding, mostly). My favourite thing to do on campus when I'm not studying is get outside! Tower beach is one of our local beaches on the north side of campus, and it is one of my all-time favourite spots. I recently went down to Tower Beach when it was raining and somehow saw both a double rainbow and a family of sea otters while I was down there. It was a magical day for sure. When I'm not at the beach, I love to cycle through Stanley Park and go hiking and camping at Cypress and Seymour, two of our local mountains located about an hour and a half by bus ride away from campus. I also love scuba diving! I was lucky enough to see a Giant Pacific Octopus during one of my first scuba dive trips with UBC's scuba diving club called the Aqua Society. That was an experience that I'll never forget!
How have extracurriculars and events added to your time so far?
Extracurriculars, and events especially, have transformed UBC from a new and unfamiliar place when I first arrived to the place that holds some of my fondest memories. I'm a member of the events team within UBC Recreation Intramurals, which means I have the privilege of helping plan some of the longest-standing traditions on campus, events such as Day of the Longboat (a dragon boat race) and Storm the Wall (a five-person team relay race). On top of leaving me with memories that will last a lifetime, Intramurals has allowed me to join one of the most supportive and inclusive communities on campus. All of the staff members just want to get the UBC community outside, moving their bodies, and having fun.
One of my favorite memories was Day of the Longboat 2019. Day of the Longboat is the largest dragon boat race in the entire world, and is a full weekend event where students make teams of 8-10 people and race across a local beach in dragon boats to try to cross the finish line first. The entire campus community comes out, with even a few special appearances from UBC "celebrities" like our president Santa Ono! His team almost always comes in first place! For this event, Intramurals staff take the role of what we call, "towers", where we put on wetsuits and jump in the water to help students load into the dragon boats and prepare for the race to begin. We basically get to splash around in the ocean all day and chat with the racers to get them excited for the event! I remember it being rainy and cold on one particular race day, so myself and the other towers would periodically run out of the water and up to the beach so a fellow staff member could pour hot water from a kettle into our wetsuits to keep us warm. Day of the Longboat really encapsulates the spirit of UBC and is such an incredible time when the entire UBC community comes together to build connections and make memories!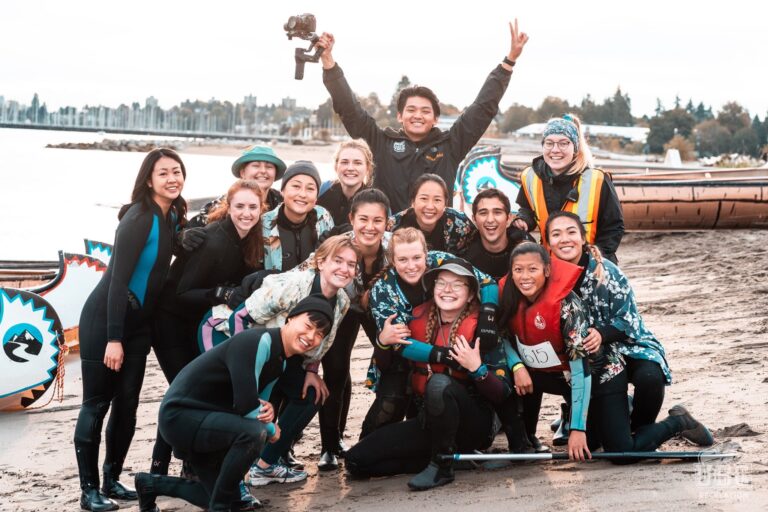 What would you say to prospective students who are considering attending UBC?
Lean into the uncertainty that comes with the transition to university. You will meet people that you never expected to meet, get involved in communities that you would've never seen yourself joining, make memories that you could never have dreamed imaginable, and have the time of your life doing it all. As much as you can do beforehand to prepare yourself for university, you will never be able to prepare for the life changing experiences that UBC will give you, so soak it all up! (Oh and call your mom when you're sad, she probably misses you too!)