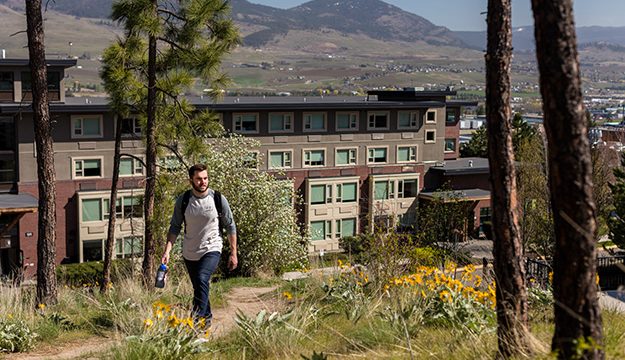 Hailing from a small town in the Maritimes, Michael Flood was looking for a university experience that challenged him socially and academically, and UBC delivered. Find out how this Loran Scholars Foundation award recipient made the most of his time on campus, and how it changed him
In his post-secondary search, Michael Flood was looking for a university whose rigorous academic culture was equally matched with a vibrant social scene and thriving community. UBC's Okanagan campus held the promise of scholarly challenges coupled with the opportunity to explore a multitude of interests through clubs, co-ops, and various extracurriculars.
"Smaller communities have always been important to me, so the Okanagan campus was a great fit," says Michael. "Class discussions, debate, and the intellectual rigour of the Philosophy, Politics, and Economics program drew my attention. It's such a unique program and is only offered at the Okanagan campus."
Michael quickly discovered that the key to his career path lay not just in his coursework, but also in the things he chose to pursue outside the classroom. "I came to UBC primarily for the opportunity to get curious and explore different areas of social change that might make for an engaging career," he says, adding that his extracurricular activities have been the most integral part of his undergraduate degree. "They opened up a new world of social and professional opportunities. I met many of my closest friends through my involvement, and they have helped shape my career ambitions."
After completing his undergraduate degree, Michael accepted a position with a non-profit, working at the crossroads of social entrepreneurship and innovation. We talked to him before he left UBC to begin his career. Read more about Michael's time at UBC, his program, and the activities that shaped his experience and helped him find his calling.
What's the best part about the Philosophy, Politics, and Economics program?
My program rocks because of the small, connected community of PPE students – many of us are engaged in the same extracurricular programs, like debate and TEDxUBCO, which contributes to an incredibly vibrant class setting. Many of our professors help out with these initiatives, and describe first-hand the improvements they see in students who take part in these intellectually stimulating programs.
Do you belong to any teams, groups, or clubs on campus?
I've had a lot of fun coordinating the Debate Society and TEDxUBCO over the past few years. In both of these roles, I get to work with students, professors, and people from the community in everything from public speaking to event management. I am the founder and was the co-chair of TEDxUBCO, and the vice-president of the Debate Society.
"UBC, with its two campuses and multitude of programs, likely provides more opportunities, more involvement, and more intellectual pursuits than any other university without losing the personal touch." – Michael Flood, Philosophy, Politics, and Economics
What's the best thing about living in Kelowna?
Kelowna has a great variety of things to do. There is a small-town feel but a number of restaurants and bars with cool scenes. The climbing gyms are a great place to socialize or get some exercise, and the lake and the mountains are best when spring comes around.
When you're not studying, what's the best thing to do on campus?
Having a beer in The Well – the campus pub – hanging out in the courtyard in the sun, and hiking the trails behind campus.
Have you participated in any work experience, volunteer, or study abroad opportunities through UBC?
My second year of university brought me to Guadalajara, Mexico, where I studied at TEC de Monterrey, a UBC exchange partner. I was able to polish up my Spanish, take advantage of the amazing courses TEC has to offer, and travel the country extensively. I also spent a summer working with an education program near Cusco, Peru. On campus, I work for the Collegia program, and I am currently co-coordinating Destination UBC.
"My UBC experience has challenged me to always be critical of the commonplace things or understandings in our world, today."
Did you live in residence or off campus? What's the best part about it?
I've spent time living on and off campus. A healthy balance is a good way to go about it. There are a number of advantages to living on campus; it is so easy to be involved, access campus resources, and make friends in the residence halls. On the contrary, living off campus allowed me to really explore the community and check out all that Kelowna has to offer. It also gave me some breathing room after long days on campus with academics and extracurricular activities.
What has your UBC experience helped you achieve, and how? 
My UBC experience has challenged me to always be critical of the commonplace things or understandings in our world. I'd like to think that I now take a more open-minded approach to new experiences, and I understand that people, more than anything, are at the heart of every opportunity.
This perspective has allowed me to succeed in the organizations and initiatives where I have been an employee or volunteer. I have interned at one of Canada's big five banks, worked for a non-profit, and researched Indigenous policy – and in every case, interpersonal skills were at the crux of the experience. UBC fostered my capacity to strive in these environments.