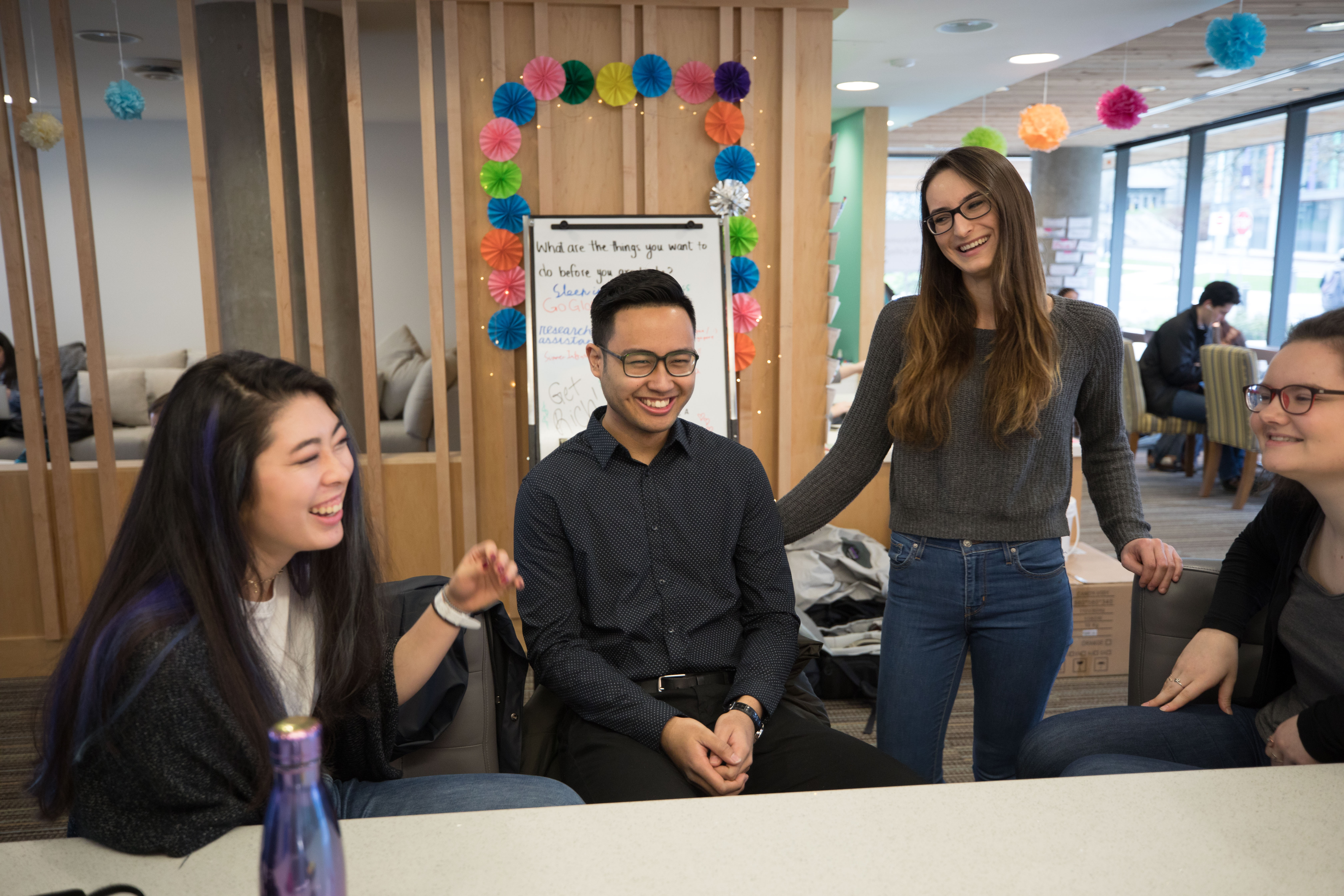 If you'll be commuting to campus, you're part of the majority: more than 75% of students on UBC's Vancouver campus bike, drive, or take transit to campus. As you begin to think about your first year at UBC, you may be wondering where you'll be able to warm up your lunch, relax between classes, or meet people.
UBC Collegia on the Vancouver campus provide all of this and more. Each space has a kitchen, comfy couches, and friendly advisors who are happy to chat and help you settle into life at UBC. There are also lots of activities designed to connect you with new friends, on-campus services, and peer support.
What you'll find in your Collegia
In your first-year Collegia, you can expect:
Bright, open space with floor-to-ceiling windows
Kitchen facilities with an oven, microwaves, refrigerators, small appliances, dishes, and cutlery
Study spaces with desks, lamps, and shelves
Comfortable lounge chairs, sofas, and fireplace
End-of-trip facilities including showers and lockers
Secure Wifi and plenty of outlets to charge your devices
A social area with board games, cards, and activities
Vancouver Indigenous Students' Collegia
The Vancouver Indigenous Students' Collegia is a community for self-identifying Indigenous students of all years, both undergraduate and graduate, to meet one another, connect over their experiences at UBC, and learn from upper-year peer leaders and faculty members.
First-year Indigenous students will have access to both a first-year Collegia community as well as the Vancouver Indigenous Students' Collegia community.
What students are saying
"I always feel welcome when I visit Collegia, which is almost every day. It is an amazing place just to take a break from a hectic school day or to just visit and socialize."
– Collegia member, first-year Arts, Vancouver campus

"UBC Collegia was a space where I could catch up with friends during the day and study in the evenings. I got a good head start on getting involved, learning about the resources on campus, and getting myself to delve out of my comfort zone. Overall, I definitely feel more equipped to venture off to second year with the start UBC Collegia provided."
– Collegia member, first-year Science, Vancouver campus
How to get involved
If you're a first-year commuter student on UBC's Vancouver campus and you're interested in Collegia, register now to secure your spot. Registration closes on August 31, 2022.
If you are an Indigenous student who has self-identified on the SSC, then you will be automatically granted access to the Vancouver Indigenous Students' Collegium in the fall!