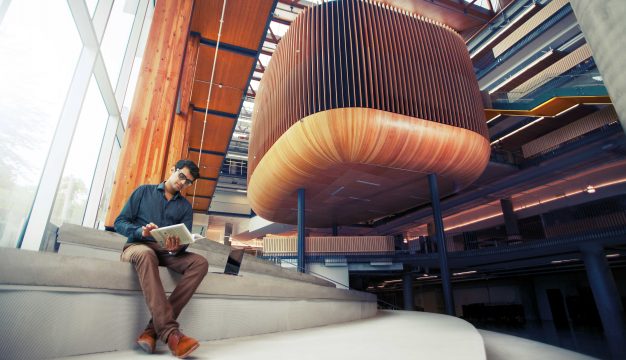 Straight from UBC undergrad to PhD candidate at Cambridge. Passionate about research and community outreach. Inspired to make a difference.
We caught up with Milind shortly after he graduated from UBC with a Bachelor of Applied Science.
Why did you choose UBC?
UBC caught my attention because of its ideal learning environment, and its generous scholarships and hospitality towards international students. Coming straight from India, I gravitated towards a culturally diverse university, where I could gain not just an education but a multicultural community of friends and colleagues. After learning about life at UBC from recruiters, alumni, and professors, I felt that I was the perfect fit for this university.
How did UBC inspire you to make a difference in the world?
For the past two years, I have been applying my technical skills through various research projects, like working with Dr. John Madden to develop artificial muscles from cheap materials such as fishing line. This project helps society by providing bio-medical and environmental benefits. My goal is to fabricate actuator muscles by 3D printing them from waste ocean plastics. This will significantly increase access to inexpensive and readily available prosthetics – empowering people with disabilities. UBC provided me with avenues to use the knowledge I've gained and make a positive impact on my community and the world as a whole.
Why are you interested in this type of research?
I have always considered the impact of any work that I pursue on the people around me, and I choose to work on projects that are of direct benefit to them. With my background in micro- and nano-systems, I was accepted into a PhD program at the University of Cambridge. There I will be continuing my research by fabricating wearable sensors that monitors for signs of cardiac disorder. I hope that this work is used in clinical trials for the benefit of all those who are battling cardiac disorders. I apply this philosophy to all my research in the hopes that I can continue to make a positive impact in my community.
How has UBC helped you fulfill your aspirations?
I feel that UBC has provided me with countless opportunities to go above and beyond my curriculum. I was able to enhance my degree with research experiences, involvement with Engineers Without Borders as a Fairtrade advocate, as well as exchange and conferences abroad. These opportunities empowered me to work towards my aspirations of applying my theoretical classroom knowledge for the improvement of the community around me.
How has UBC prepared you to jump from undergraduate work to PhD work at Cambridge?
I grew up in a family of engineers, so I was exposed to the engineering culture early on. During my undergraduate studies, I had the chance to participate in numerous research projects both on and off campus. Opportunities such as the research abroad program allowed me to gain an understanding of the research process during the early part of my degree. Volunteering as a research assistant at Dr. John Madden's lab enabled me to learn how to apply classroom knowledge in the world of research. After pursuing two different research projects at UBC within the span of two years, I am confident about starting my PhD at Cambridge.
How would you describe the UBC experience?
My experience at UBC has been truly holistic. I feel that UBC has allowed me to spread my wings and try my hand at anything I feel passionate about. As I leave UBC, I am proud to say that I have been able to do an exchange abroad, attend conferences both in and outside of Canada, pursue undergraduate research, work part-time at campus libraries, be a mentor to new students, and form life-long friendships. I am grateful to UBC for an unforgettable undergraduate experience and for preparing me soundly for anything I want to pursue in the future.