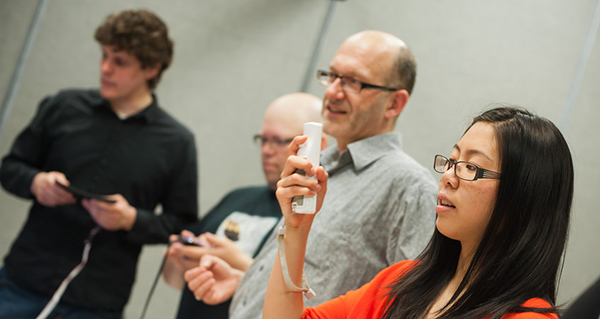 Video killed the radio star, but UBC Music professor Bob Pritchard (above, third from left) thinks digital cameras and other gadgets might just save live electronic music.
Pritchard is using technologies that capture physical movement to transform the human body into a musical instrument.
Pritchard and the music and engineering students who make up the UBC Laptop Orchestra chalk up their desire for more human performance in digital music to attending one too many uninspiring laptop music sets. "Live electronic music can be a bit of an oxymoron," says Pritchard, referring to artists gazing at their laptops and a heavy reliance on backing tracks during live sets.
The Laptop Orchestra is an extension of a music technology course at UBC's School of Music. Comprised of 17 students from Arts, Science and Engineering, its members act as musicians, dancers, composers, programmers, and hardware specialists. They create adventurous electroacoustic music using programmed and acoustic instruments, including harp, piano, clarinet and violin.
Cross-disciplinary collaboration great preparation for the workplace
The unlikely pairing of members from different faculties is designed to better prepare students for workplaces that combine creative and technical professionals. The engineers come with expertise in programming and wireless systems and the musicians bring their performance and composition chops, and program code as well.
Taking the show on the road with Go Global and Arts Research Abroad
Earlier this year, the ensemble's unique music took them to Europe. The class spent 10 days this February in Belgium where they collaborated and performed in concert with researchers at the University of Mons, a leading institution for research on gesture-tracking technology.
The Laptop Orchestra's trip was sponsored by UBC's Go Global and Arts Research Abroad, which together send hundreds of students on international learning experiences each year.
Dancing creates the music — not the other way around
In Belgium, the ensemble's dancer Diana Brownie wore a body suit covered head-to-toe in motion sensors as part of a University of Mons research project on body movement.
The third-year Psychology student says the ensemble's motion technology helps non-musical collaborators feel more part of the show. "As a dancer, the music typically dictates your movements," Brownie says. "But with this, your dancing create the sounds – so it's been a really great experience."