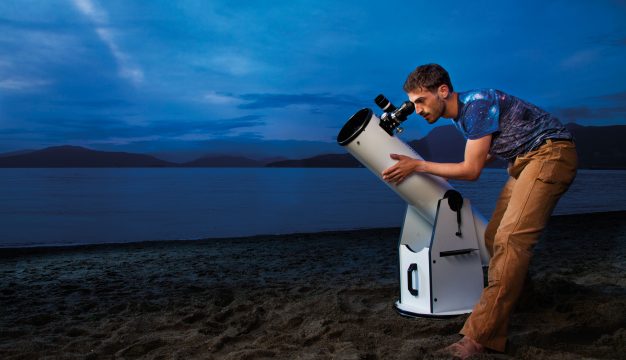 For Robin, UBC's Astronomy Club is a chance to connect with other stargazers on campus and introduce new faces to the wonders of space. In this video, Robin speaks about his experiences with the UBC Astronomy Club, and explains how his passion for Astronomy has taken him around the world.
Why did you choose UBC?
There's so much amazing astronomy research being done at UBC in cosmology, planetary science, and dark-matter studies. The best part is the availability of all the professors, to join in on some of their research.
The Madeye Moody of astronomy. My favorite speaker. Professor Jaymie Matthews. #SharingScienceUBC pic.twitter.com/1vU6tYoc7p

— Robin Newhouse (@RobinNewhouse) March 29, 2014
What are you studying at UBC?
For my degree, I'm majoring in Astronomy. Originally, I was going to do purely theoretical astrophysics research, but UBC's Science Co-op Program introduced me to the world of particle physics. This summer, I'm working at TRIUMF, a world-class particle accelerator and nuclear research facility on campus. It's been my dream to work there ever since I arrived at UBC.
What advice do you have for a new UBC student?
I think it's extremely important for students to get involved in extracurriculars. When school gets a little overwhelming, it's good to have a core group of people you can relax with and share some time enjoying a passion. The UBC Astronomy Club is my favourite. It has grown into an amazing place for anybody who is passionate about astronomy or interested in learning more about space.