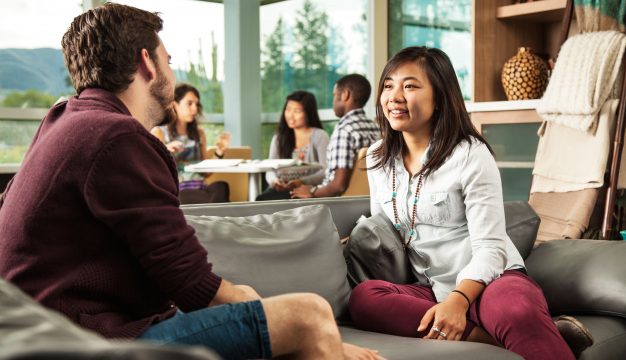 A Collegia Assistant, Nagi is at the International Collegium nearly every day of the week working, studying, and socializing.
Why did you choose UBC?
I really like learning about different countries. As a Biology major, I don't study them in class, so being part of different communities on campus lets me learn more about the different cultures that are at UBC.
How has UBC helped you adjust to living in a new country?
Being an international student, I definitely got homesick for a couple of weeks. I attended Jump Start at the beginning of the year, which helped, and the Collegium has such a good vibe and gets so much natural light because of the large windows. It's an amazing study area and a great place to hang out in between classes.
What's your favourite part about the Collegium?
I'm from Bali, Indonesia. Back home, our study spaces are always open like this. It's a nice space to study in—especially in the winter when there's less sunlight. Everyone is always really friendly. A lot of people who come here, I see them every day. This Collegium is an international one, so a lot of the international food is cooked in the kitchen. It smells good all the time!