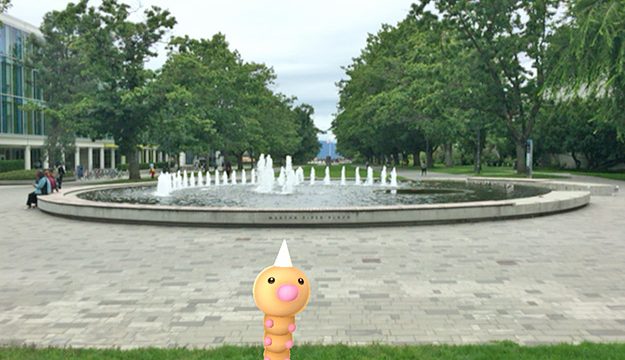 If you've been swept up in the Pokémon Go craze, check out the flurry of activity on UBC's Vancouver campus
UBC's Vancouver campus is a hub for innovation, a place of inspiration and natural beauty, and, as it turns out, a hot spot for catching Pokémon. Since the Pokémon Go augmented-reality mobile app launched in Canada this past weekend, campus has been overrun with friendly digital creatures.
Pokémon have been popping up in coffee shops, lecture halls, grassy paths, Wreck Beach – basically, anywhere you can walk to on campus, you're bound to see a few Pokémon lurking.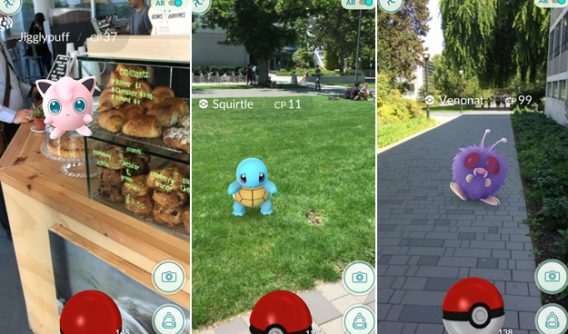 It's hard to walk for more than a minute or two on campus without encountering a Pokémon.
PokéStops at UBC
If you want to take the ultimate UBC tour, traverse campus from PokéStop to PokéStop, filling your Pokédex on the way. PokéStops are the blue markers that are tethered to landmarks, and visiting them dispenses useful items, such as Poké balls, lures to attract Pokémon, and helpful potions to bring post-battle Pokémon back to full strength.
In addition to doling out goodies for the game, each PokéStop provides a historical or interesting tidbit about that location. And because Pokémon Go is run by San Francisco-based software company Niantic, it has the benefit of that company's legacy GPS-based knowledge.
Niantic originated as a start-up within Google, and its first mobile app, Field Trip, helped users discover the landmarks and "local lore" around them. Niantic next released Ingress, its first augmented-reality gaming app that centred on users "capturing 'portals' at places of cultural significance, such as public art, landmarks, monuments, etc."
All of this means that your Poké play is infused with a touch of history and trivia. There are more than 100 PokéStops on campus, so come prepared to do some walking and reading, and be sure to have some eggs incubating on your way.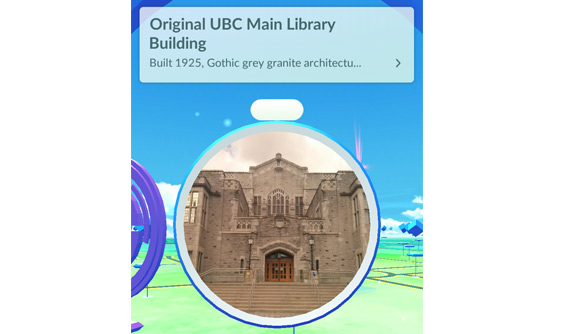 Each PokéStop provides a short blurb on the campus landmark or building to which it's tethered.
Pokémon Go lure modules
Players can attach lure modules to PokéStops, which in turn attracts Pokémon to that location to be caught by anyone playing. You'll notice an active lure module by its falling pink petals (pictured below). There are a few recurring hot spots on campus for luring Pokémon: Ponderosa Commons Maple House; the original UBC Main Library building; Hugh Dempster Pavilion; and Gage Common Block.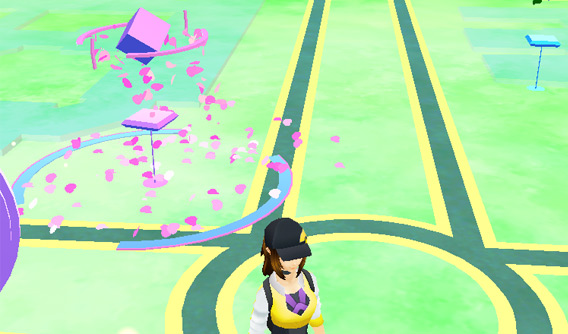 PokéStops with lure modules are easily spotted by their circle of falling pink flower petals, as seen above.
Pokémon Go gyms
Gyms are where you can battle opposing teams or train your Pokémon, and UBC has more than its fair share of them:
Irving K. Barber Learning Centre
Allard Hall
Iona Building
WWII Searchlight Tower at Wreck Beach
Asiatic Head sculpture between the Music Building and Frederic Lassere Building
Pacific Bell and Tower beside the Asian Centre
Beaty Biodiversity Museum
Djavad Mowafaghian Centre for Brain Health
Thunderbird Arena
Totem Park
Take a UBC Vancouver campus tour
To see just how many ­Pokémon are here – and to learn a bit about UBC in the process – sign up for a campus tour. Tag us on Instagram with your #PokemonGoUBC pics, or send us some snaps (we're at youbcsnaps) of your collection. We've got a Pikachu already…how about you?