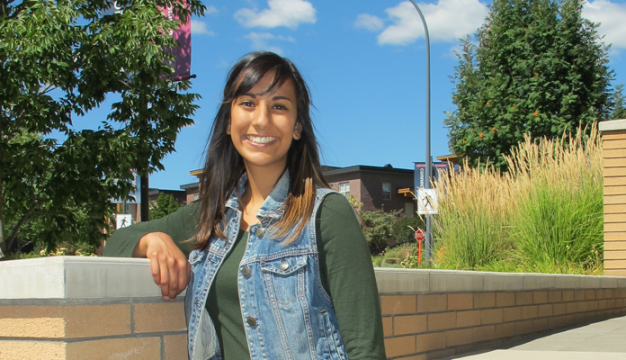 Microbiology alumna Bhavan Panghali shares her tips on how to get involved on campus, tells us how she secured a dream summer research position, and explains the importance of finding balance between studying, socializing, and volunteering.
UBC's Okanagan campus is not too far from where microbiology alumna Bhavan Panghali grew up, in Merritt, BC. Choosing to live and learn in picturesque Kelowna was an easy decision for Bhavan, whose two older sisters also attended the university.
In her first year at UBC, she helped create the UBC Okanagan Cancer Fighters Club, and was continually involved with campus life throughout her undergrad degree – all while staying dedicated to her academics. Her activities are as diverse as completing a summer research student position at the BC Cancer Agency, being a peer mentor who helps new UBC students with their transition to university, and playing intramural soccer with friends.
Now graduated from UBC, Bhavan plans to pursue a career in pediatric medicine.
We told you about Bhavan on Snapchat (we're at youbcsnaps), and you told us what you wanted to know about her UBC experience. Here are your questions and Bhavan's answers:

What is the benefit of going to a smaller campus, like UBC Okanagan?
I really appreciate that the Okanagan campus provides big-university opportunities with a small-campus community – the perfect balance if you are transitioning directly from high school or coming from a smaller community.
Thinking back to when I first started at UBC, I never thought that I could one day walk into a professor's office for a quick chat and to talk about one another's days. With a smaller campus, it is incredibly easy to get to know your professor by first name and have regular one-on-one interactions. Similarly, you create friendships with students from programs different than your own and cross paths on a weekly basis.

What's your favourite thing about the Okanagan campus?
Kelowna is beautiful and full of adventure! All year round there are activities within just a few minutes: from hiking and spending time at the beach in the summer, to snowboarding and skiing all winter long. It's a great city that isn't too large, but offers everything you need while also keeping you close to nature.
Our campus may be relatively smaller, but our diversity is not. We have a great mix of students from around the world and across Canada.

What are the best ways to get involved on campus?
This is a fantastic question to consider as you begin your time at UBC. Think about your genuine interests and passions or, conversely, take the plunge and participate in something you have never experienced before! The potential for initiative and leadership is tremendous here.
I have had wonderful experiences with the Get Involved Centre, Campus Life, and the UBC Students' Union Okanagan (UBCSUO). The Get Involved Centre offers the Tuum Est Initiative Fund, which provides up to $3,500 for student-led initiatives. I had the privilege of receiving this funding twice through the Relay for Life event I helped initiate and organize.
Campus Life focuses on programming for particular groups of students, such as first-year or commuting students. The Create orientation event on your first day is organized through Campus Life. They also partner you with a Peer Mentor before you arrive on campus – I worked and volunteered for both of these programs.
The UBCSUO is a fantastic support system – it manages all campus clubs, course unions, and the resources centre. I have been involved with SwimAbility Okanagan, the Cancer Fighters Club, and the Peer Support Network. I also love to play soccer and our campus has a great intramural program that you can participate in with friends during the evening.
Bhavan's top three tips to create balance and stay motivated

Always take time to care for your mental well-being.

"I made sure to designate time in my calendar for myself – small things such as, take a study break to watch The Mindy Project with my sister!"

Make sure whatever it is you're doing, you enjoy it.

"As I continued into my upper-level years, I shifted to only participate in extracurricular activities that I genuinely enjoyed."

Stay organized.

"I once read that one hour spent planning and organizing your time saves 10 wasted hours later – it sure does hold true in my experiences!"

What process led you to getting a research position at the BC Cancer Agency?
My time at the BC Cancer Agency is the greatest learning and clinical health care experience I have had. I have been volunteering with the Canadian Cancer Society since I was in high school and I have developed a great passion for health advocacy, cancer prevention, and early detection. I continued fostering this passion by creating the Cancer Fighters Club at UBC Okanagan and working alongside numerous other foundations to organize campus and community events such as Relay for Life, the Underwear Run, and the Run for the Cure.
I heard from other students working on research projects at the BC Cancer Agency that each year, the Kelowna centre hires students for summer positions. I simply reached out to the centre to apply for a position.
My background and experiences working with the Canadian Cancer Society helped position me as a strong applicant. The project I began with required similar skills to the ones I used during my volunteer work.

When during your degree did you complete your summer research position?
I completed my first summer research position during the time between my third and fourth years. This is a common time for UBC Okanagan students to begin research projects. However, this is by no means any sort of "rule" or limitation. I continued to slowly work on my project throughout my fourth year and have now returned for a second summer and will be remaining for a year-long internship.

What's it like managing academics and extracurricular activities? Do you find it tough?
Is it difficult? Without a doubt! Many of the jobs I had were those in which you controlled your hours or the times you worked. For instance, as a Peer Mentor, we would have a weekly meeting at a time that worked into our class schedules and we planned events for first-year students on our own time.
Create a time-management system that works for you. To balance all of my commitments, I love using an agenda. It never leaves my side! I fill in all of my volunteer commitments, exam dates, assignment or lab due dates, work times, etc., a month in advance. Then, I break it down day by day and I make weekly to-do lists where I write down everything I need and want to get done each day that week.