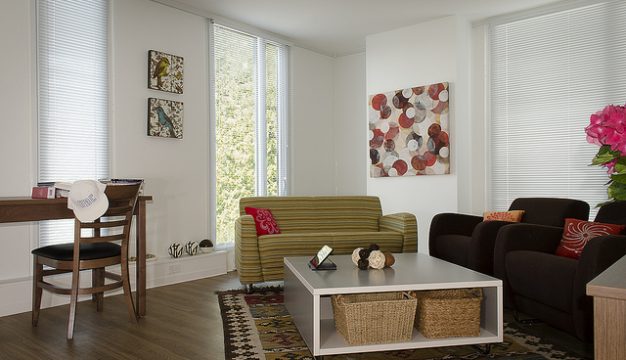 UBC's Vancouver campus has the highest percentage of beds per full time students in Canada. And this fall the campus is welcoming another 603 students into residence with the opening of the Ponderosa Commons, which offers a unique twist on residence life.
Built around the concept of vibrant residential hub, the new living quarters increase the number of students housed at UBC's Vancouver campus to 10,066, giving it the largest housing program in Canada, with some of the most modern living facilities. A 1,600 bed Marine Drive residence was completed in 2008, and Place Vanier, Totem Park and Walter Gage residences have undergone comprehensive renovations in the past few years.
Unlike traditional residences, Ponderosa Commons is a mix of living and academic space. It contains UBC's first commuter collegium, a home away from home for first-year students living off campus. It also houses the Audain Art Centre, which includes an art gallery and learning space, studios and labs for visual and digital arts students, and the Department of Geography's Geofluvial Lab. Study areas and dining, fitness, and end-of-trip bicycle facilities are open to the entire campus community.
Located in the centre of campus at the corner of University Boulevard and West Mall, the residence spaces in the new Ponderosa Commons are open to students in second year and above and are split into three houses: Maple, Arbutus and Spruce. About 50 per cent of students will get their own studio apartments while the other 50 per cent will be sharing two and four-bedroom apartments – all equipped with bathrooms, kitchens and living areas.
"Ponderosa Commons is designed to bring life to the campus core 12 months a year," says Joe Stott, director of planning with Campus and Community Planning.  "The social spaces established in Ponderosa will create a hub of activity and contribute to a stronger sense of community on campus."
Adding 603 beds on campus means hundreds of students won't be making the daily commute to UBC, giving them more time for schoolwork and extracurricular activities. Andrew Parr, managing director of Student Housing & Hospitality Services, explains that these student housing hubs helps foster both formal and informal interactions between students, faculty and staff.
"UBC can be quite large and daunting," he says. "These smaller communities really provide you with an opportunity get to know your colleagues and fellow students."
Not only is Ponderosa Commons contributing to the social sustainability on campus, it is also on target to meet LEED Gold certification. Meanwhile, UBC's Residence Life program is designed to make sure students thrive in residence. Events and activities are held so that students get to know their community and form lasting friendships. Residence advisors live on every floor or block and there is at least one dedicated staff member in every building. When a student gets homesick, has roommate issues or is dealing with something more serious, someone is available day or night who can connect them to the support services on campus.
"Community building from living in residence is quite powerful," says Parr. "Students tend to do better academically and socially when they live on campus."