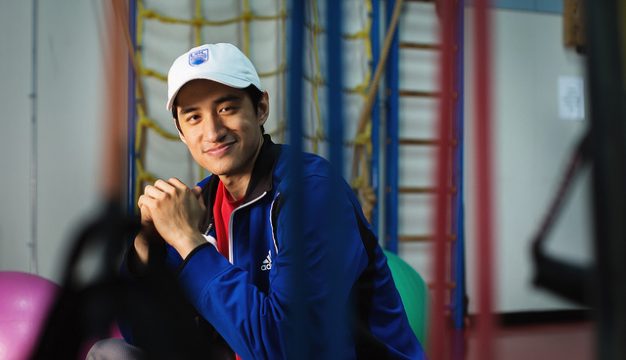 Lunges. Knee kicks. Jumping jacks.
Raymond Wong, a 2013 UBC kinesiology graduate, recently led a group of track and field athletes with intellectual disabilities through the warm up at Queen Elizabeth Elementary School in Vancouver, on the final day of a weekend long training camp.
Held in early May, the camp is one of many in an ongoing plan developed by Special Olympics B.C. and sports experts from Allinger Consulting Inc. to train athletes from across the province in part for the 2014 Special Olympics Canada Summer Games – to be held on UBC's Vancouver campus next July.
"Working with the Special Olympians was an incredibly rewarding experience," says Wong, one of four UBC students who volunteered their expertise. "The athletes and coaches considered us as pros and did not hold back on questions. It helped me build my teaching and leadership skills."
A higher level of training
Wong was humbled by the experience and enjoyed making a positive difference in their lives. He put the Special Olympic hopefuls to work with corrective exercises and dry land training, and also advised them on nutrition planning.
"Let me win, but if I cannot win, let me be brave in the attempt." -Special Olympic motto
"We were really grateful to have UBC kinesiology students volunteer," says Joanna Verweel, SOBC's health and sport science manager. "Their involvement brought the camp to a higher level because of their kinesiology backgrounds and knowledge, and their ability to connect well with the SOBC coaches and athletes was a huge asset to the camp."
The series of sport-specific instructional camps by SOBC, which have involved volunteers from both UBC's Vancouver and Okanagan campuses, are intended to provide expert training, functional testing and high-performance sport guidance to select athletes from different parts of the province, who will then share lessons learned with other athletes and their coaches in their local community.
Launched last December, SOBC's Performance Project is inspired by Own the Podium – a technical program started in 2005 by Canada's leading sports organizations to propel athletes to medal finishes at the 2010 Olympic and Paralympic Winter Games.
The Special Olympics Canada Summer Games returns to B.C. for the first time in 20 years in 2014. It will be the largest ever with more than 2,000 athletes and coaches competing in 11 sports.