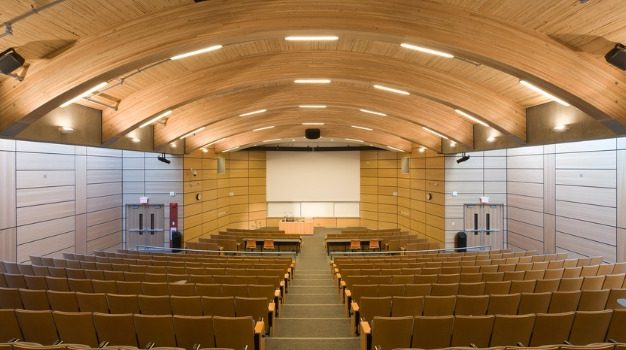 The Centre for Interactive Research on Sustainability has been awarded LEED Platinum certification, the highest designation in green building performance from the Leadership in Energy and Environmental Design rating system and the first for the University of British Columbia.
Designed by the architecture firm Perkins+Will, CIRS is a living laboratory where students, researchers and partners test and demonstrate designs and technologies to advance our understanding of sustainable building and community practices. The Platinum certification, awarded by Canada Green Building Council, recognizes UBC and Perkins+Will's commitment to sustainable design, construction, operation, and maintenance.
"There are only 108 LEED Platinum buildings across the country and we are absolutely delighted that CIRS now stands among them," says Ray Cole, the director of CIRS and a professor in the School of Architecture and Landscape Architecture at UBC.
Designed to promote research and innovation in sustainability, CIRS reduces UBC's carbon emissions, utilizes waste heat from a neighboring building, and harvests rainwater as a source of potable water. Made primarily from wood, the building stores over 900 tonnes of carbon. Some of the ongoing research at CIRS measures how the indoor environment impacts behaviour, human health, and happiness.
"As an innovative example of regenerative sustainability, the CIRS building will help us understand how buildings can offer positive benefits for both the environment and their inhabitants," says Cole.
Since 2008, all new and renovated UBC buildings must meet a minimum of LEED Gold certification. UBC's Vancouver campus currently has five Gold certified buildings, eight buildings awaiting certification and six more under construction. The new Student Union Building, projected to open in 2014, is on target to be UBC's second LEED Platinum certified building.