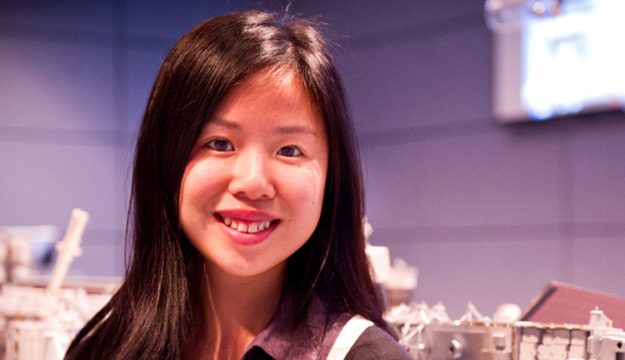 From Campus to the Cosmos
As Canadian astronaut Chris Hadfield floated through the cosmos, a UBC psychology student worked to keep him connected to Earth.
Eva Kwan was part of the Canadian Space Agency (CSA) team helping Hadfield meet the psychological challenges of life in space. In a long-distance relationship like few others, Kwan served as Hadfield's lifeline home from the International Space Station (ISS), thanks to the marvels of technology.
Kwan, who grew up with a passion for space and psychology, performed a variety of jobs designed to keep Hadfield happy and healthy. Her favorite task was helping his family prepare care packages, which were blasted into space on unmanned supply ships. "Nothing is more surreal than touching something you know is going into space," said Kwan, 21, referring to the Canadian food specialties she helped send, including tubes of maple syrup and salmon.
To keep the astronaut abreast of planetary happenings, Kwan arranged regular web conferences with family, friends, celebrities and public figures. She also served as Hadfield's personal culture shopper, uploading news and his favourite podcasts, movies, music and TV shows to a personal website for his downtime.
Keeping Astronauts Happy and Safe
Kwan worked with a host of experts – doctors, psychologists, nutritionists – as part of CSA's Operational Space Medicine team, which has spent years preparing for Hadfield's mission. Their goal was to help him withstand the mental and physical challenges that come with five months in orbit: lack of privacy, confinement to small spaces, isolation from family and culture – even muscle and bone loss from microgravity. Without training and support, these effects can hinder performance and eventually jeopardize a mission.
"We want Chris and his crew to feel connected," said Kwan, who proudly sported her UBC t-shirt around Montreal and its suburbs, where CSA headquarters reside. "Care packages, movies and shows are important for fostering group relationships and crew bonding," she said.
Kwan, who is researching crew cohesion under Leena Tomi, CSA's Human Behaviour and Performance Lead, says her co-op experience has truly been out of this world. One of the coolest perks of her job?  "I love getting emails from Chris," she said. "Email is way cooler when it comes from space!"
Putting Passion into Practice
"I grew up loving space and psychology, but wasn't aware space psychology even existed," she said, crediting a UBC Arts co-op program mentor for suggesting CSA. "It showed me the power of university alumni and networking. Now I can work towards becoming the first Asian-Canadian space psychologist."
As a young girl, Kwan idolized Canada's first female astronaut Roberta Bondar, and still finds old space articles she clipped at her parents' home in Vancouver. "She symbolized how women can achieve anything and is a personal hero of mine," she adds.
Her relationship with psychology is equally personal. "I saw a psychologist when I was younger, and I was amazed there was someone whose job it was to make me happy. I wanted to be that person for other kids when I grew up."
Kwan was one of 4,000 UBC students who participated in paid co-op placements this school year with such companies as Apple, Google, Microsoft, Disney and Time Warner. Kwan will return to UBC in September to finish her degree.
---
Read UBC Reports' full interview with Kwan
Learn about UBC co-op programs
Follow Hadfield on Twitter at @Cmdr_Hadfield