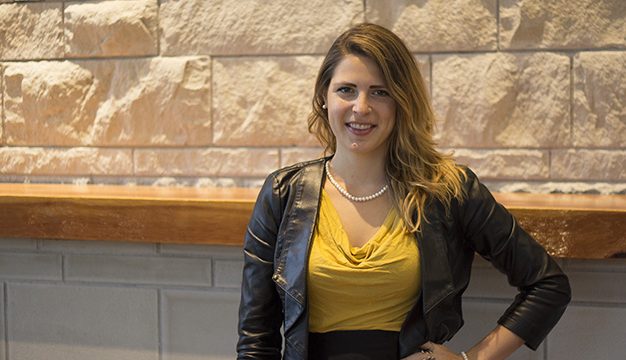 Business and computer science student Leemor Yuravlivker will be the first to tell you that getting involved in campus life has its rewards. Attending a UBC-hosted panel discussion for Women in Computer Science, she had a fateful meeting with representatives from Microsoft.
"Next thing I knew," says Leemor, "I was being flown out to Microsoft's campus in Redmond for a full-day technical interview, which led to an internship with Microsoft."
"The internship program at Microsoft is very well put together," she says. "I made many brilliant friends while I was there who continue to be close friends today (some of who still work at Microsoft as full-time employees while others went to work at places like Dropbox and Facebook). This experience opened my eyes to what the working life was like and showed me what it felt like to be a software developer at a huge company."
That experience led to a co-op position with German multinational software developer SAP. "I worked in the Vancouver office as a project manager. I learned that I loved an outgoing job and talking to many people from a variety of different teams. I also saw how valuable a good team is."
Building on that experience, Leemor got to put her management skills to use as an aviator with the Sauder School of Business. (No, she did not fly a plane: aviators are students who help organize Me Inc., a career fair for first- and second-year business students.) One year later, she became a VP in the Me Inc. Executive team. "I was responsible for getting speakers to come out and talk to the students for the conference. It was my first time in a leadership-type position and it was a great experience."
Leemor chose UBC because she wanted to study business and computer science and, as she says, "the Combined Business and Computer Science program was way ahead of any other university I was looking at. Also, when I came to visit the campus, I felt like they really wanted me to come. My brother once told me to pick the university that treats you like a person, not a number, so voila! I am here."
In addition to academics and career prospects, the sense of community at UBC is important to Leemor. "From frosh to living in residence, you get an instant connection with other students from your first day out here." That sense of community made for an easy transition to university life in a new country.
"Vancouver is a very safe, explorable city, says Leemor. "The public transportation is fantastic so it was very easy for me to go have adventures to get to know the city. There are a ton of clubs out on UBC too, such as ALAS (Association of Latin American Students) and the food society, so it was easy to meet people with similar interests and backgrounds."