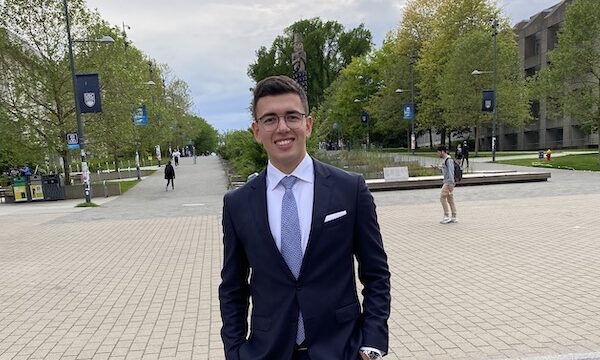 When Bruno decided to come to UBC from Sydney, Australia, he wasn't sure if he'd made the right decision.
But five years later, he has a Bachelor of Science in Food, Nutrition and Health and is volunteering in the Faculty of Land and Food Systems mentorship program, helping new students navigate their way through university life.
Bruno says it's the mix of people at UBC that made his experience so valuable and made him want to help new students on their UBC journeys.
1. UBC is full of opportunities to connect and engage, both in and out of the classroom. What opportunities did you seize, and how did they enrich your experiences here?
UBC, without a shadow of a doubt, enabled me to step out of my comfort zone in a number of ways, including running for a board of directors' role for UBC's student paper Ubyssey or participating in the Faculty of Land and Food Systems mentorship program. Both these opportunities, amongst countless others, gave me the chance to consistently strive for more by surrounding myself with people that have different backgrounds and unique skill sets that I could learn from.
I believe the most valuable takeaway from all the opportunities I was involved in are the wonderful people I was able to meet, collaborate, and work with. Ultimately, the people at UBC – from all walks of life and with different beliefs and values – enriched my experience more than I could ever imagine.
2. UBC is a mosaic of people, experiences and locations that come together to make it unlike anywhere else. What are some of your favorite places, communities and experiences to explore at UBC?
UBC can be considered a city of its own. I spent five years on the campus and I still feel like I didn't discover every spot. Whether it's a stroll down to the rose garden to sit and take in the view or studying in the Forest Sciences building, there are many great spots to visit on any given day.
Being a part of intramural sports gave me a sporting outlet and let me connect with students from all years. This provided me with a routine and made my transition to university life a lot easier and smoother. Seeing familiar faces as I walked across campus was always a special feeling throughout the day.
3. How did your studies in Land and Food Systems at UBC help you achieve your career goals?
The Faculty of Land and Food systems is at the cornerstone of everything we do as a society. Whether it's learning about food sustainability and our greater food system, or understanding how we as a civilization need to find ways to produce in more ecologically and cost-efficient ways, LFS truly lit a spark in me and my interest in the beverage industry and consumer priced goods.
The emphasis on innovation, critiquing the status quo and a solution-based approach are all transferable skills that I have taken with me from my university experience and tried to bring with me on a daily basis to my professional career. These are values and approaches that I will continue to bring in all aspects of my life.
4. Did you have the opportunity to connect with people of different identities/experiences from you? How have these diverse connections impacted your experience?
UBC is a mosaic of people from all walks of life with different talents, temperaments and convictions. Although I was fortunate enough to have lived in four different countries before moving to Canada, UBC introduced me to a whole new set of identities, values, and ways to approach problems. These diverse connections in the classroom, the basketball court or even throughout the day walking around campus allowed me to have greater respect and admiration for the differences that we see in the world.
I believe that these experiences throughout my university life have given me the ability to become a more empathetic and understanding colleague, brother and friend.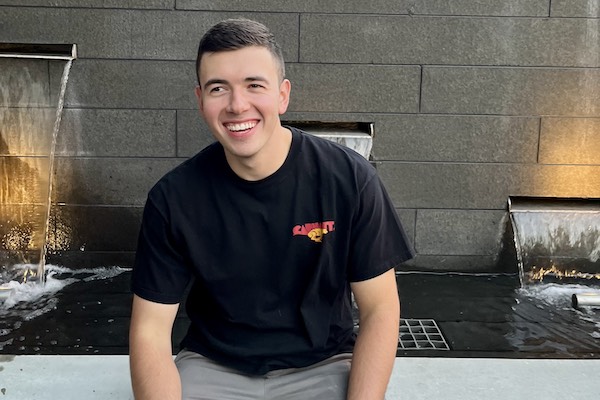 5. You have returned to UBC this year as a mentor in the LFS Mentorship program. What made you decide to become a mentor?
One of my core memories and experiences throughout my university life was being in constant communication with the LFS student services team, whom I credit with getting me to the finish line five years after I started my degree. This team introduce me to the LFS mentorship program for the first time in 2018-2019 where I was fortunate enough to be accepted to become a mentee. From there, I was privileged to meet a number of mentors who are experts in their fields but bring a very unique set of skills and shared experiences. These shared experiences and life stories are what drew me to become a mentor.
My path throughout university can be considered somewhat unconventional and I didn't want to miss the opportunity to be able to share this with current students who are going through their own journey in school. I experienced first-hand the hardships that one might go through throughout university. Whether it was failing a class and doubting my own place within the program or even considering changing schools, I was fortunate enough to find the support system that helped get me through it.
Everyone's path is different; however, it is the people that you meet along the way that make the journey special. To me, being part of someone's journey and being able to help in any way that I can is something that I value.
 6. Share a memory or a moment in time when you remember feeling validated that you chose to attend UBC. Could be a favourite event, a successful project in the classroom, or something you did with a club or community organization. What about that memory affirmed your choice to come to UBC?
One of the moments that I truly felt validated by my choice of coming to UBC was sitting in the Chan Pavilion patiently waiting for my name to be called out on graduation day, and looking around and seeing my fellow classmates, teachers, professors and, most importantly, my family all around me. In this moment I truly realized the magnitude of the moment, the strength of our alumni community and how diverse backgrounds can all come together to collaborate and learn.
Those people sitting in that room on that day were people I challenged and that challenged me in the classroom. They were people I suffered with through countless exam seasons. They were shoulders to lean on, on some of the hardest days at school. The people are what make UBC great and they are what made it great for me. To know that I have upwards of 350,000 fellow alumni in all corners of the world who all share a common denominator with me is something that I do not take for granted and that continuously validates 17-year-old Bruno's decision to leave Sydney, Australia and come to beautiful Vancouver, BC.