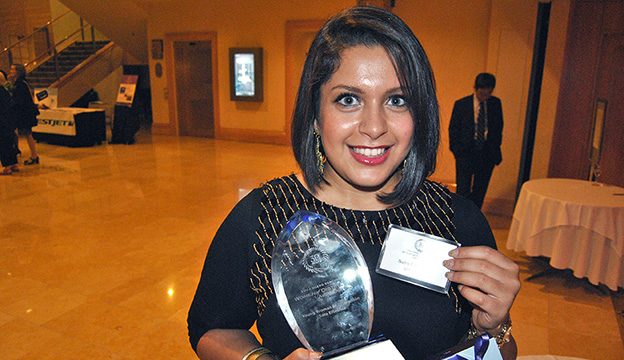 Sara Eftekhar is a UBC Nursing alumna who is widely recognized as a volunteer and activist. A recipient of the Queen Elizabeth II Diamond Jubilee Medal and the Young Woman of Distinction at the YWCA's 30th annual Women of Distinction Awards, Sara has volunteered in nine countries around the world, worked on a health project in an Aboriginal community, and represented Canada at the United Nations University and international youth conferences. Sara was awarded a prestigious fellowship from Tony Blair and worked on Parliament Hill in Ottawa as the only youth advocating for global health. Recently, she was in Lebanon consulting the United Nations Alliance of Civilizations about youth programs. She volunteers in Vancouver's Downtown Eastside — one of Canada's poorest neighbourhoods — in addition to being the B.C Ambassador for the Canadian Council for Refugees and the Executive Director and co-founder of the Civic Association of Iranian Canadians.
So honored to have received the @YWCAVAN young woman of distinction award! @yw_leaders @YWCA_Canada #vanwod2013 pic.twitter.com/A3S0cJvY2P

— sara eftekhar (@saraeftekhar) May 29, 2013
So what made Sara choose nursing? She knew since she was young that she wanted to help people so she enrolled in Sciences at UBC. After first year, she traveled to Ecuador to build houses — an experience in which she realized her potential to help people and compelled her to pursue nursing to develop those skills. Sara was deeply impacted by her experiences with families and patients in many health care settings and says that experiences like witnessing a birth or mourning a death delivers a lesson that she wouldn't have been able to learn in the classroom.
"Although UBC is a place of mind, I encourage students to also make it a place of heart, by pursuing their passions no matter how hard it might be!"
She says that the deepest learning comes from volunteering on campus and in the community — not the classroom. Her advice to prospective students is to be openminded about courses and not to limit yourself: UBC has many amazing courses to offer — not just the ones in your program.
Thinking about #grad school at #Oxford

— sara eftekhar (@saraeftekhar) July 15, 2013
In the future, Sara plans to pursue a master's degree in public health or public policy but in the meantime she has been offered two positions, one in Vancouver and the other in Ottawa. Both positions would involve her developing better health policies for children, youth, and families. After that, Sara will pursue her dream of working with an international organization focusing on child and maternal health.