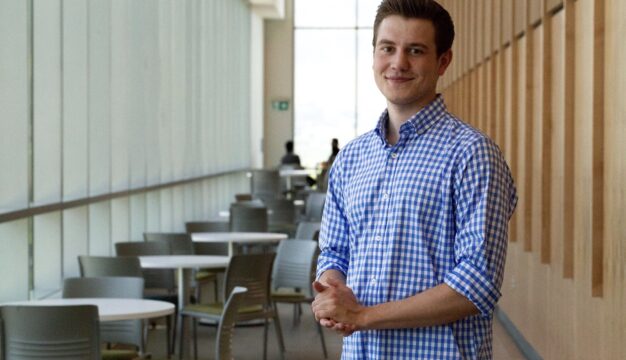 When Bachelor of Management alumnus Zachary Bingley first arrived at UBC, he knew he wanted a career in a leadership position, but wasn't sure which industry to choose.
Zachary knew that the program at UBC Okanagan would offer him the skills to succeed in any sector from startups to ethical non-profits. What he didn't expect was the level of engagement shown by his professors, or the opportunities he would be offered to work with them outside of the classroom. Graduating in spring 2019 at the head of his Management class, Zachary left UBC employed by one of his teachers on a project that helps reduce food insecurity in the Okanagan area.
What was your path to UBC Okanagan?
I grew up in the Lower Mainland of British Columbia, and was lucky enough to have my parents enrol me in the Kelowna Okanagan Hockey School for a few summers of my childhood. The more time I spent here, the more I fell in love with the city and what it had to offer. From the moment I started applying for post-secondary enrolment, I could only truly see myself attending UBC Okanagan. I was extremely excited when I received my acceptance letter into the Management program.
What did you like most about the program?
What I liked most was the access to the professors, both inside and outside of the classroom. Whenever I had a question, I never hesitated to raise my concerns in class. If a question came to me outside of lecture times, I could go to my professor's office hours or send them an inquiry via email, and be assured that I would be provided with an answer in a timely fashion. My time as a third-year student in the Management program was the best year of my life to date, as I realized my career aspirations and met people who I now consider lifelong friends.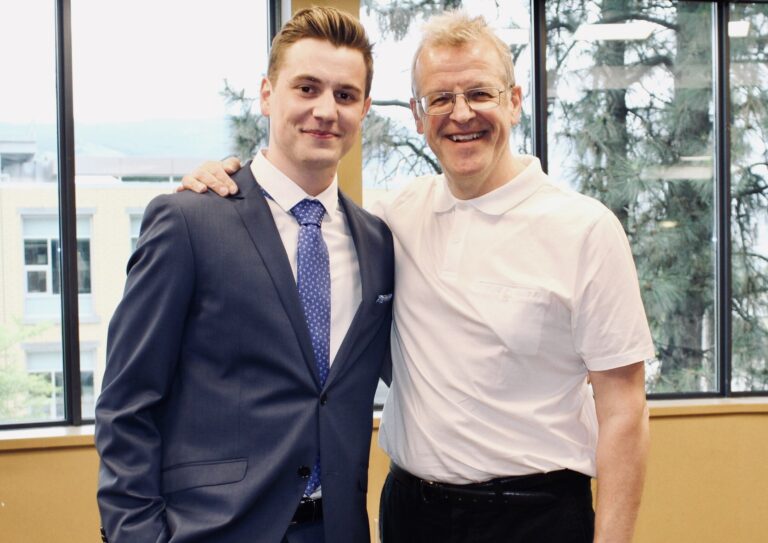 How did the community at UBC Okanagan help you to thrive?
The community at UBC Okanagan is home to a culture of vibrant growth and inclusiveness. I always enjoyed coming onto campus and nodding hello to the familiar faces that would pass by. While I may not have been on a name-to-name basis with everyone, it was comforting being familiar with most of the people I would encounter.
What kinds of hands-on experience did you gain during your degree?
Live Case Challenge is a degree requirement for all third-year Management students. A local business partners with the Faculty of Management and tells them about an organizational challenge they are facing. Students then have to formulate their own solution for the company in a matter of weeks. During my third year, we were fortunate to work with Pro Builders Supply Ltd. – Home Hardware Building Centre, and explore a range of growth opportunities for the company. This competition presented me with my first opportunity to gain hands-on experience in a business consulting context, while also providing me with a chance to apply the knowledge and tools I had gained up to that point. I was very lucky to be part of my team, Aggregate Solutions, as we advanced as finalists in the competition. I was also invited to be a judge the following year, and felt privileged to be involved with the competition again.
Can you talk about any research or teaching opportunities you took advantage of?
I always knew I wanted to get more involved in the UBC community beyond being a student, but wasn't sure which avenue I wanted to take. At the completion of my first semester in third year the perfect opportunity presented itself, as I was approached by one of my professors and asked to assist with her research on positioning the BC wine industry for international growth. As well, I consistently worked as a teaching assistant during my third and fourth year of studies, covering an array of core subjects in the Management program. These positions not only provided valuable financial support for me as a student, but also allowed me to gain additional insight and mentorship from various professors as I worked with them.
I am grateful for…the chance to make a positive impact in our community.
I understand that you currently work for Smart Donate, a UBC Okanagan initiative based on charitable giving. Can you describe your work?
Smart Donate is a community-based project that comes from UBC Okanagan professor Dr. Eric Li's research on philanthropy. The initiative seeks to develop a scalable and customizable online donation platform for local charitable organizations, while also aiming to secure partnerships with companies and farmers to reduce food insecurity on the UBCO campus and the Okanagan area. Our platform will enable people to make donations online to local charities, while also encouraging local businesses to be more engaged in cause-related marketing efforts.
As the project coordinator, I organize internal meetings and assist in formulating new strategies for further growth and reach of our platform. We continue to seek additional partnerships throughout the Okanagan, and another role of mine is to reach out to local businesses to see if we can work together. I also present during these potential partnership pitches – some of which have led to alliances that exist today.
This has been my first opportunity after graduating from UBC Okanagan to place myself in a real business setting and deal with the intricacies of developing a start-up platform. I am grateful for how things have progressed so far and for the chance to make a positive impact in our community.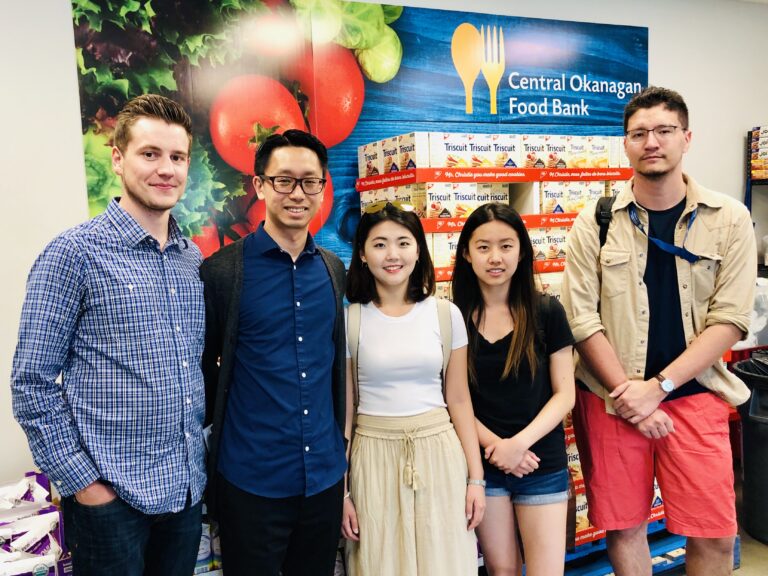 What else are you up to now? How are you applying your studies to your career?
I love to stay busy, and I'm currently working in three different positions while also studying for the CFA Level One exam. One of those is my role as a business consultant. I was recently approached to do some work for a local client who is looking to open a co-working space here in Kelowna. My familiarity with common industry analysis tools and knowledge of best practices in human resource management has been especially useful during this new venture. It has been an intriguing opportunity so far, with many logistics to address in order to form a viable strategy for my client.
How has the program changed since completing your undergraduate degree?
While I only graduated this past spring, I understand that the Management program has been restructured and now requires incoming students to take core courses in their second year that were previously only available to third years in an intensive set timetable. I think this is a positive change. It will allow students to build relationships with likeminded people in their faculty through classroom discussions and group projects, and will help them find a support system earlier on in their development. The supportive culture Management students share with each other was something that helped me excel during my third and fourth year, and I feel this sort of engagement happening sooner will benefit students.
You can make a name for yourself, if you want to, in the UBC Okanagan Management program.
What do you want prospective students to know about the UBC Okanagan Management program?
You can make a name for yourself, if you want to, in the UBC Okanagan Management program. There are so many resources and opportunities available for you to develop as a young professional beyond the classroom setting. You will have many chances to meet and interact with new people through class and group projects, as well as through extracurricular clubs and networking events. With how inclusive the program is, I would be surprised if you didn't start to feel like you are a part of a bigger circle within the UBC community.