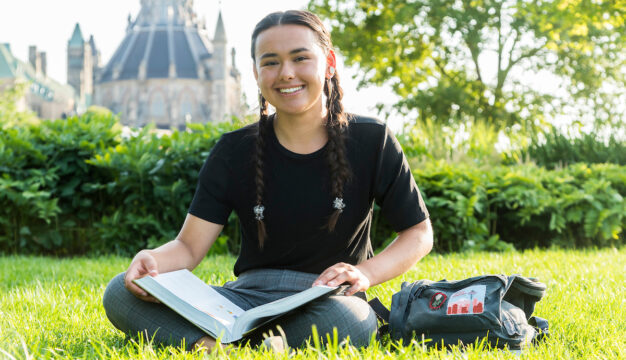 An Inuit student from Winnipeg, Manitoba, Sila Rogan arrived at UBC Vancouver armed with a Loran Scholars Award, an abiding love of science, and a strong desire to make a positive impact in the world.
The University's Indigenous student-focused programs and services offered Sila a unique opportunity – the ability to pursue her academic interests without sacrificing her identity or the quality of her education. She dove deep into UBC's science programming, shaping her experiences and exploring her passions for science, healthcare accessibility, and Indigenous rights.
Why did you choose UBC?
I chose UBC because of its comprehensive science programming, its proximity to the ocean and other beautiful locations, and its appreciation for Indigenous culture.
What was your path here?
In high school, I developed a love of science thanks to the guidance of dedicated, talented, and knowledgeable teachers in the International Baccalaureate program. Outside of school, I was passionate about environmental issues, healthcare accessibility, and Indigenous rights. I was an award recipient and later a master of ceremonies for the Manitoba Indigenous Youth Achievement Awards, served as the president of my school's Environmental Action Committee, and worked with Youth in Philanthropy, a local community development organization.
When I won the Loran Scholars Award in my senior year of high school, the country opened up to me in a way that it never had before. I now had the means to study at any university in Canada. After very careful consideration, I decided that I wanted to attend UBC.
"It was amazing to be part of a project that married my passions for science, healthcare, and Indigenous rights."
How did you choose your campus and program? 
I chose the Vancouver campus because I loved being able to take advantage of living in one of the biggest and most vibrant cities in Canada, while still being able to access some of the most beautiful outdoor sites in the world.
In first year, I was in the Science One program. Science One stood out to me because not only did it provide me with a world-class science education in biology, chemistry, physics, and mathematics, but it also taught me how to connect those disciplines and apply my scientific knowledge to real-life situations – through a field trip to Bamfield Marine Sciences Centre or individual research under the guidance of Science One professors.
I fell in love with the integrated approach to science education that the program provided me, and I appreciated being able to be so involved in my education. I decided to major in Integrated Sciences because I could focus my studies around a research question, integrate multiple scientific disciplines, and take courses where I could learn how to critically evaluate my scientific knowledge.
Do you belong to any teams, groups, or clubs on campus?
I served as the Director of Community Outreach for the UBC Red Cross Club. Through my work there, I connected with fellow UBC students who cared deeply about bettering their community, and was empowered to improve the health of UBC, Vancouver, Canadian, and global communities. I even connected with the Canadian Red Cross, where I now volunteer, to provide healthcare equipment to those in need free of charge.
I volunteered with the Beaty Biodiversity Museum, where I worked as a museum educator and taught the public about biodiversity. I learned a lot about animals, biodiversity in Vancouver and across the world, and conservation, and really enjoyed engaging with the visitors.
I also had the privilege of working with the Silent Genomes Project (run through the Faculty of Medicine) to film a video consent form. The Silent Genomes project brings genetic technologies to Indigenous communities across Canada, while establishing meaningful relationships with Indigenous peoples and communities. The video consent form's purpose was to ensure Indigenous people would have autonomy over, and make informed decisions about, their healthcare. It was amazing to be part of a project that married my passions for science, healthcare, and Indigenous rights.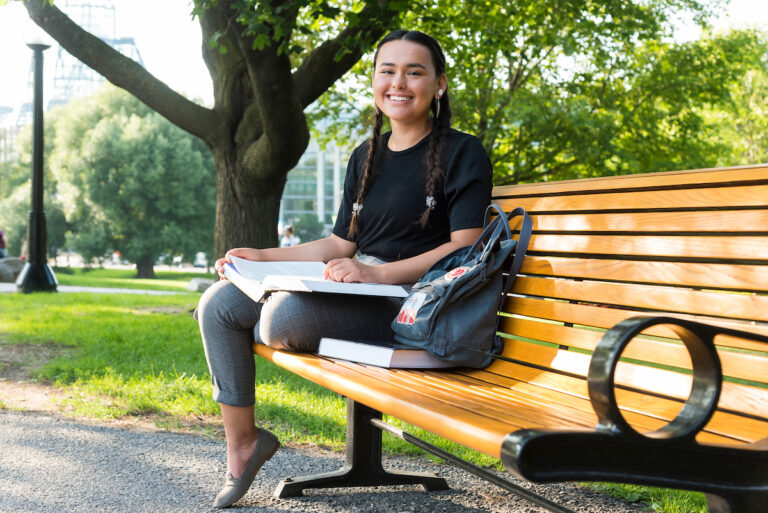 Have you participated in any extended learning opportunities?
Not yet – but stay tuned!
Are you involved with Indigenous communities on or off campus?
I'm a member-at-large on the executive team of the Canadian Society for Circumpolar Health (CSCH). The organization's mandate is to improve the health of circumpolar people, including Inuit people. As an Inuit person residing in the south, working with CSCH is important to me because it allows me to remain connected to my heritage, my people, and the current issues Inuit face, in a way that is relevant to my career interests and skill set.
I also worked at Grand Challenges Canada, a Toronto-based global healthcare organization, on their Indigenous health portfolio. I was working to create a platform for Indigenous innovators to transform the health of their communities and integrate Indigenous knowledge into existing healthcare frameworks. Working with Grand Challenges Canada was an amazing experience because I was able to learn a lot about Indigenous health, global health, and healthcare innovation.
"I can thrive at UBC because I know I don't need to compromise my Indigenous identity in pursuit of a world-class education."
How has the Indigenous community at UBC helped you to thrive? 
The Indigenous community at UBC makes me feel represented. It reinforces the value of my culture and helps me celebrate it. It also makes me feel like UBC is aware of the barriers and challenges I may face as an Indigenous person, and addresses them. I can thrive at UBC because I know I don't need to compromise my Indigenous identity in pursuit of a world-class education.
Have you found certain resources or services on campus particularly useful during your time at UBC?
The First Nations Longhouse has allowed me to meet Indigenous people from communities across Canada and has helped me stay connected to programming for Indigenous students.
What makes UBC distinctive from other universities?
UBC not only provides you with an excellent education, it also teaches you how to think about the way you learn, to think critically, and to apply your knowledge in real-world settings. I also appreciate how UBC values learning outside of the classroom, as they have demonstrated in their investment in programs such as GoGlobal and Work Learn, and scholarships like the Tuum Est Experiential Award. Studying at UBC is preparing me to work in my field of study and work towards making the world a better place.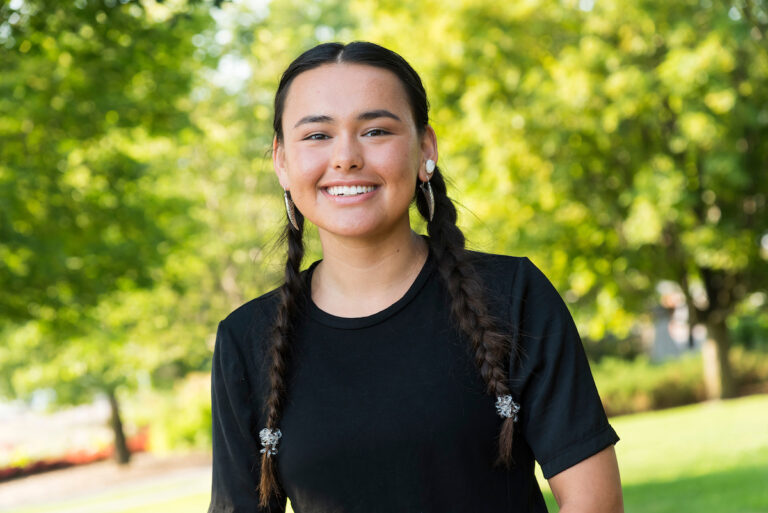 In what ways has your UBC experience inspired you to have a positive community impact?
Connecting with fellow UBC students and faculty who use their passion, education, and skills to make a positive impact in their communities inspires me to do the same.
What do you want other prospective Indigenous students to know about UBC?
It may be intimidating to be enrolled in such a big university, but rest assured there are many, many opportunities to find your place and be a part of a tight-knit community. No matter what your interests are, there's a space for you here.