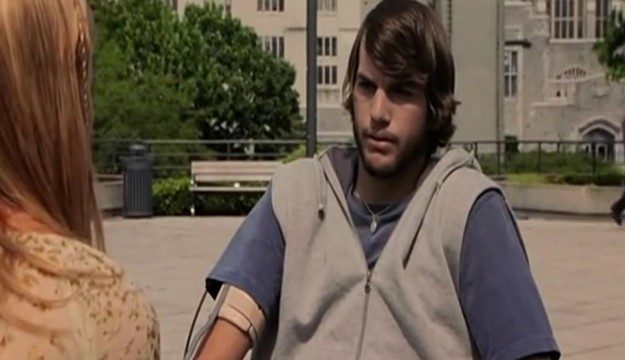 Ashton Kutcher on UBC's Vancouver campus in the 2004 movie The Butterfly Effect.
UBC has been around for 100 years, and within that century-long tenure, its campuses, students, and faculty have been involved in some pretty cool stuff.
Here are 11 fun facts that you may not have known about UBC:
The Kryptonian language in the Superman movie Man of Steel was developed by Christine Schreyer, an associate professor of anthropology on UBC's Okanagan campus.
UBC's new 18-storey Tall Wood Building student residence on the Vancouver campus, to be finished in 2017, will be among the world's tallest wood buildings. The first floor will be made from concrete, with the remaining 17 floors built from wood.
A UBC psychology co-op student was part of the Canadian Space Agency team helping astronaut Chris Hadfield meet the psychological challenges of life in space.
In 2016, Times Higher Education named UBC the most international university in Canada.
UBC has a Quidditch team (yes, the game from Harry Potter) that competes internationally and is ranked number 1 in the Northwest.
Dozens of TV shows and movies have been filmed on UBC's Vancouver campus, including 50 Shades of Grey, The Age of Adaline, The Exorcism of Emily Rose, Once Upon a Time, Smallville, Taken, Battlestar Galactica, X-Men Origins, Fantastic Four, The X-Files, The Butterfly Effect, Night at the Museum: Secret of the Tomb, Supernatural, Tomorrowland, The Magicians, and The Killing.
During World War II, Point Grey Fort – located on what is now UBC's Vancouver campus – was Vancouver's main base and line of defence against a possible foreign attack on the harbour. You can still see two of the now-graffiti-covered search towers on Tower Beach, and remnants of concrete infrastructure and underground storage facilities and tunnels adjacent to the Museum of Anthropology.
When beloved Vancouver specialty-video store Videomatica closed, it donated its $1.7 million VHS, DVD, and Blu-ray collection to UBC. The collection totals over 28,000 films and includes hard-to-find cult classics, foreign films from over 75 different countries, musicals, documentaries, and much more.
Buildings on UBC's Okanagan campus are heated and cooled using energy from the groundwater under the campus. (That's sustainability from the ground up!)
In 2011, FairTrade Canada named UBC the first Fair Trade university campus in the country.