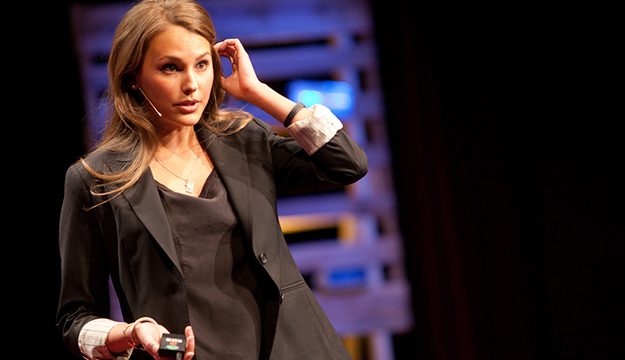 Political Science alumna Yael Cohen speaks at the TEDx Vancouver 2010 event. | Image: Kris Krüg
Check out these notable names to see where your UBC degree could take you
UBC alumni go on to do incredible, world-changing things, and we've got the list to prove it. Graduating with a degree from one of the top 40 universities in the world carries a certain cachet that opens doors and tells people what you're capable of.
These are just six of UBC's amazing alumni, who went on to work in areas as diverse as architecture, space exploration, politics, and non-profits.
Yael Cohen
Founder | Motherlucker
Philanthropist and entrepreneur Yael Cohen got her Bachelor of Arts in Political Science from UBC in 2008. Following her graduation and upon her mother's breast cancer diagnosis, in 2009, she founded a charity that reaches out to Gen Y through social media to engage their parents about early detection and prevention of cancer.
Her non-profit has raised over $2 million for cancer research, and Cohen's innovative and edgy strategies – like teaming up with comedy website Funny or Die – have made waves in the world of philanthropy, earning her recognition from media such as Fast Company, Elle, and Forbes. She's a sought-after public speaker, she's partnered with stars such as British musician Ed Sheeran to get her message out, and she's now a senior advisor for Bumble.
Rick Hansen
CEO | Rick Hansen Foundation
Rick Hansen's Man in Motion world tour shone a spotlight on the young philanthropist and athlete in 1985, when he ventured on a 40,000-km wheelchair journey, travelling across 34 countries and raising $26 million for spinal cord research and quality-of-life initiatives. He earned his Bachelor of Education from UBC in 1986, and was the first person with a physical disability to graduate with a degree in physical education from the university.
Since then he's been a famous advocate for inclusivity and for people with disabilities. The Rick Hansen Foundation, established in 1988, has raised millions and touched the lives of people with disabilities through special programs, grants, research, online tools, and inspirational speaking events. UBC graduate students with a physical disability can apply for the $16,000 Rick Hansen Man in Motion Fellowship.
Belinda Wong
President | Starbucks China
For students chasing big corporate dreams, Starbucks is a white whale. The coffee giant is in over 60 countries and has annual revenues soaring in the billions. UBC alumna Belinda Wong joined Starbucks China in 2000 and worked her way up through senior leadership roles to be named president in May 2011.
She graduated from UBC's Vancouver campus with a Bachelor of Commerce degree in 1992, and has used her business savvy to grow Starbucks' presence in China. For the past four years, she has ranked in the top 25 in Fortune China's annual list of China's most influential businesswomen.
Justin Trudeau
Prime Minister of Canada
Justin Trudeau followed in his father's footsteps when he entered politics, and again when he became the 23rd Prime Minister of Canada, in 2015. Trudeau earned his Bachelor of Education from UBC in 1998, and worked as a teacher in Vancouver, BC, in the ensuing years, teaching French and math. He became more politically involved in the early 2000s, and in 2008, he won a spot as an MP for the Liberal Party, and went on to become the party's leader in 2013.
Bjarni Tryggvason
Astronaut | Canadian Space Agency
Bjarni Tryggvason is the only UBC alum to travel into outer space – he did so in 1997, when he joined the crew on the Discovery space shuttle for mission STS-85. The 12-day mission explored changes in the earth's atmosphere, and onboard the shuttle Tryggvason performed fluid dynamics experiments to examine sensitivity to spacecraft vibrations.
Tryggvason graduated from UBC in 1972 with a Bachelor of Applied Science in Engineering Physics. In addition to his 21-year career with the Canadian Space Agency, he's been an adjunct professor at the University of Western Ontario, a research associate with the National Research Council Canada, and an instructor with the International Test Pilots School.
In 2008 he started his own company, QDAC Systems, which produces electronic hardware products, provides supporting engineering design services, licenses its technology, as well as "designs and supplies intelligent data acquisition solutions for sensing of physical phenomena such as electromagnetism."
Bing Thom
Architect | Bing Thom Architects
The late Bing Thom was a world-renowned architect who designed buildings all over the globe, including the remarkable Chan Centre for the Performing Arts on UBC's Vancouver campus. Thom graduated with a Bachelor of Architecture from UBC in 1966 and – after working for a year in Tokyo, Japan, and on various projects within Canada – set up his own firm, Bing Thom Architects, in Vancouver, in 1981. He worked with some of the biggest names in architecture, such as Arthur Erickson, and over the years rose to all-star status himself.