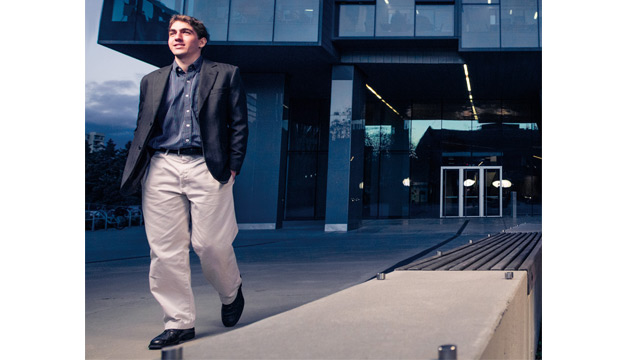 Without family nearby to lean on, third-year management student Felipe Chueiri created a support network of friends and peers that bolstered his academic success and led to a rewarding life outside of the classroom
For Felipe Chueiri, UBC was the university that stuck in his head all through his high school years, and UBC's was the offer letter that he eagerly anticipated above all others. He recalls attending presentations from university recruiters from Canada, the US, and Europe as a high school freshman in São Paulo, and says that the Okanagan campus's diverse student body, program choices, and on-campus opportunities lit a fire in him.
Exciting programs and on-campus opportunities
"It was the Go Global and co-op programs that became a major deciding factor for me, as well as the location of the Okanagan campus," he says. "There was so much you could do outside of school – like skiing and mountain biking – that it was an enticing package."
After receiving multiple offers from other universities, Felipe chose UBC's Okanagan campus to pursue a career in business, following in the footsteps of his family members.
He received the Deputy Vice-Chancellor Scholarship for International Students in his first two years and, now in his third year of a bachelor of management degree, is on the Dean's Honour Roll, and was recently invited to become a member of the Golden Key International Honour Society, which is an award recognizing students who are in the top 15% of their class.
"UBC acts as a bridge that will link us to our futures; it prepares us for what's to come once we graduate." – Felipe Chueiri, 3rd year, Management
Along with these accolades, Felipe has a laundry list of titles from volunteer work and campus involvement – such as resident advisor, executive of the Model United Nations, Jumpstart assistant, Food Service RFP advisory committee member, and manager of charitable events in the Management Student Association.
But his most impressive feat to date could be his stint on Wall Street. Last summer, through his networking contacts, Felipe secured and completed an internship at ECOM Atlantic Inc., a commodity trading group that specializes in coffee, cotton, and cocoa.
"Getting to meet new people and establishing those contacts was really essential," says Felipe, "but most importantly, the best part of my internship was being able to apply the theoretical concepts I learned throughout the past two years of university into the actual work environment."
Support and learning outside of the classroom
Forging a rich and diverse life outside of academics was a way for Felipe to connect with likeminded peers, but it also turned out to be an invaluable support system. "Not having my family with me, I found support in the friends I had made and I realized I wasn't alone," he says. "That's where you get your confidence."
Meeting new people had a snowball effect for Felipe's life outside of the classroom. "While meeting people and seeing what they were involved in, I was introduced to advisors and staff and I stepped out of my comfort zone and my involvement in the university escalated," he says.
"Students should step into university open-minded and be willing to step outside of their comfort zone. That is when you start growing and opportunities start showing up. Don't limit yourself." – Felipe Chueiri
Now he jokes with friends that he's avoiding graduation so that he can soak up every last experience UBC has to offer.
"The most amazing thing is that I'm not doing all of this because I have to; instead, I am doing it because I enjoy and love it. And at the same time I am meeting new people and developing new skills, and through this process I am learning as much as I can," he says.
Continuing his cultural education
After graduation, Felipe intends to continue his out-of-the-classroom education with a year of travel. "But I do see myself coming back to UBC," he says. "I have the feeling that I would like to continue supporting the university and continue being a part of the culture here."