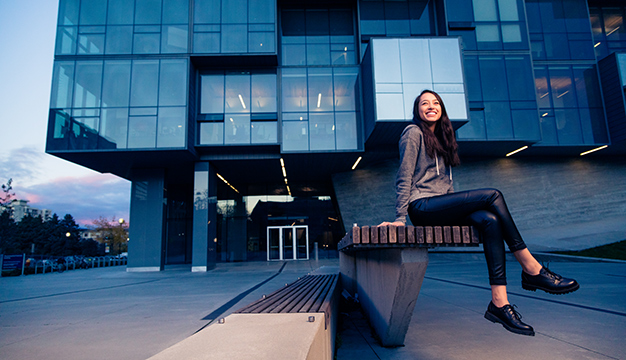 First-year Arts One student and inventor Ann Makosinski tells us why she chose UBC and what the future holds
Ann Makosinski's first term at UBC this fall was distinctly unique from her classmates' experiences – hers involved a whirlwind trip to New York City for her second appearance on the Tonight Show with Jimmy Fallon to demonstrate her latest invention.
The young inventor
Ann is in her first year in the Arts One program on UBC's Vancouver campus, but to understand how she arrived here and why she's already been on the Tonight Show twice, we have to rewind to her childhood, when she was a precocious inventor who spent more time experimenting with the everyday objects around her than playing with toys.
"I love dreaming about something, and asking, 'Is this possible?'" she says. "My philosophy is, 'The only way to find out is to build it.'"
Ann has been attending science fairs since Grade 6, and in Grade 11 she entered the big leagues. She took one of her homemade inventions – the "hollow flashlight," which is powered by the heat of the human hand – to the 2013 Google Science Fair as the sole representative from Canada. She won first place and US $25,000 in prize money.
The Ann Makosinski media frenzy
Following her big win she was named to Time magazine's 30 under 30 and went on to receive four major awards at the 2014 Intel Science and Engineering Fair and speak at four TEDx events. She brought her hollow flashlight to the Tonight Show in 2014, and was invited back this fall to unveil her new eDrink invention, a travel mug that harvests excess heat from hot drinks and converts it into electricity to give your mobile phone's battery a boost.
"It was super awesome that the whole crew and Jimmy all remembered me the second time I went," says Ann. "We took a selfie after the show, and of course my entire experience in New York was amazing!"
This December Ann received The Quest Climate Grant, a $50,000 award given to "young entrepreneurs who are advancing viable solutions to climate change in Canada," funded by Canadian Geographic and Shell.
On choosing UBC
Not surprisingly, Ann received multiple university offers, but she chose UBC's Vancouver campus for its beautiful landscape, diverse community of students, and dynamic program offerings. "I have the space to learn about myself, and flexibility to explore my different interests," she says. "My background is science and inventing, but I'm exploring many different areas through the opportunities provided to me at UBC."
"UBC provides an opportunity to interact with a diverse community of students, not to mention the wonderful professors that help you to identify and develop your skills." – Ann Makosinski, 1st year, Arts One
Life in Arts One
As a student in the Arts One program, Ann says she's enjoying the smaller classes and the one-on-one feedback from her professors. "The support for students when you are having academic or health concerns is outstanding," she adds.
Now Ann is balancing her UBC student life with speaking engagements, media interviews, and work as a global brand ambassador for worldwide retailer Uniqlo. When asked about the future, she's optimistic about where her education can take her. "There are so many paths for me to choose," she says. "I'm only in first year, so who knows!"