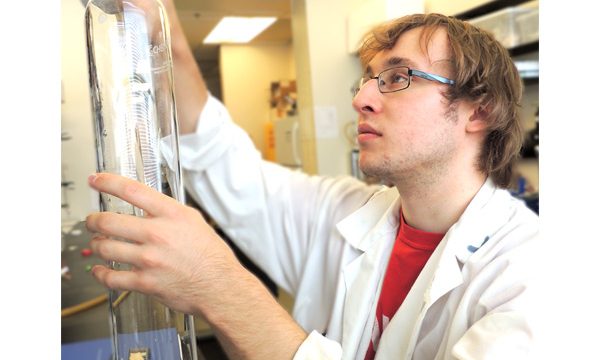 Fifth-year Chemistry major and 2015 Undergraduate Co-researcher of the Year Jeffrey Kerkovius tells us why his years at UBC have been the best of his life
Can you give an overview of your research experience at UBC?
I've participated in research and lab experience for a little under two years now. This has caused me to fall in love with researching and has increased my personal fascination with chemistry. Now I'm conducting my own research, creating new molecules, and doing things no one has done before.
In my research and lab experience I got to work closely with my professors, which immensely increased my knowledge on the subject at hand – it was a fantastic experience.

How has your attitude toward education changed during your time at UBC?
My time at UBC has been the best years of my life. I didn't realize what you could do at universities or the opportunities that existed prior to my time there.
UBC changed everything. The professors in the Chemistry Department helped me get involved, and the open dialogue between lower- and upper-year students prepared me for what was to come.
"The best advice I could give is to get involved as fast as you can. Ultimately, the memories you take from university come from who you met, what you did, and the shenanigans you got up to." – Jeffrey Kerkovius, 5th year, Chemistry
What has been the best part of your university experience?
There are a lot of things I could say. In the Supplemental Learning program I held tutorial sessions twice a week, and seeing students' faces going from being completely confused to understanding the material was a very rewarding experience. Especially since I got to help them create new paths for themselves in terms of their careers.
In terms of my research experience, it was the opportunity to make new molecules – more specifically, Alzheimer cells. I am currently working on a molecule to better understand what role calcium channels play in heart and neurodegenerative diseases such as Alzheimers.

How did academics serve as a gateway to getting involved in university life?
I applied for the teaching and tutor positions in the Supplemental Learning program at UBC, and it has been the best program I've ever been a part of. This is my third year of being a Supplemental Learning leader.
My involvement with the Western Canada Undergraduate Chemistry Conference was guided by professors, but stemmed from my own initiative. We went to a conference and proposed hosting it at the university. It was essentially a student-run conference held at UBC, hosted and organized by students from UBC's Okanagan campus.
I was also on the Heat Cross Country team, where I was able to participate in travel opportunities, including competing at the National Championships in Quebec.

How have your extracurricular experiences enhanced your learning?
Eighty percent of everything I learned was due to my extracurricular activities. My academic courses acted as a starting point that led to many new opportunities. It was the extracurricular experience that has shaped my entire experience at UBC; it was what made the experience.