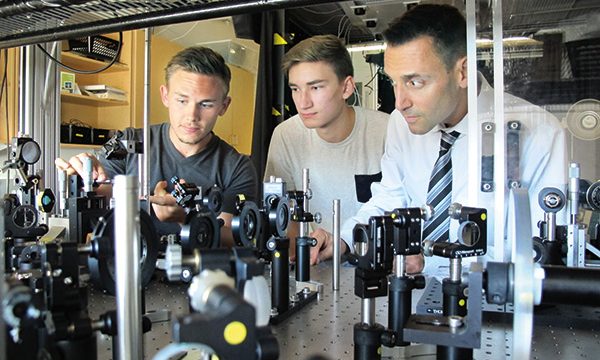 Dr. Holzman is building bridges between faculty, students, industry, and the Okanagan community
In 2005, when UBC was recruiting professors for its new Okanagan campus, the University was focused on building strong ties with local industry. It was this mandate of industry involvement, along with the UBC's reputation for excellence in teaching and research, that attracted Dr. Jonathan Holzman.
In 2006 he joined the School of Engineering on the Okanagan campus as an associate professor of Electrical Engineering, to teach and lead research teams within the Integrated Optics Laboratory.
Cutting-edge research in modern communications
Dr. Holzman's research at UBC centres on integrated systems, a complex and fascinating field in electrical engineering, which he describes as "systems [that] are implemented as micro- and nanophotonic devices for a wide variety of applications, including optical processing, wireless communications, and even bio-sensing."
"Students benefit from exposure to cutting-edge research, and at the same time they are excited to see the context of classroom topics such as math, chemistry, and physics applied in the world around them." – Dr. Jonathan Holzman, associate professor, School of Engineering
In layman's terms, his nanophotonics research could "resolve key challenges in modern communications networks" by eliminating the electronic bottleneck in fibre-optic networks and speed up internet processing times. He's also developing devices that could offer users high-speed internet capabilities while being completely wireless.
Working with local industry
Many of the School of Engineering's research projects are carried out through partnerships with Canadian companies – such as Edmonton-based Norcada Inc., a micro-electro-mechanical systems and photonic-product company, and Vancouver-based Recon Instruments Inc., an innovator and leader in wearable-tech eyewear.
"This gives the contributing graduate and undergraduate students the opportunity to network with local industries and gain relevant experience," Dr. Holzman says of UBC's industry collaborations.
When the University's researchers team up with companies, students are able to see their work applied in real-world scenarios. For example, Dr. Holzman and his students developed printing technology for microscopic lenses, which they implemented in heads-up displays for Recon Instruments' eyewear products.
Student involvement in research projects
"The relatively small number of students in the School of Engineering, in particular, allows students and professors to have a great deal of interaction," says Dr. Holzman. When the School of Engineering was first establishing its graduate program, it relied on undergraduate students to conduct research. This necessity early on in the program's life helped the faculty see the value of having undergraduates involved in research.
"There is one common piece of advice that I give: Get involved!" – Dr. Holzman
"Students are the cornerstone of our research teams," says Dr. Holzman, pointing out that they bring their own set of technical expertise to the research projects.
"Students benefit from exposure to cutting-edge research, and at the same time they are excited to see the context of classroom topics such as math, chemistry, and physics applied in the world around them," he says. "Such an environment can help lay the foundation for an exceptional career."
Reaching out in the community
Dr. Holzman's student-research involvement extends beyond UBC to younger students throughout the Okanagan Valley. "The School of Engineering on UBC's Okanagan campus is highly involved with the community, and my students and I have played a part in this involvement," says Dr. Holzman. They have participated in science and engineering workshops, tours, and camps.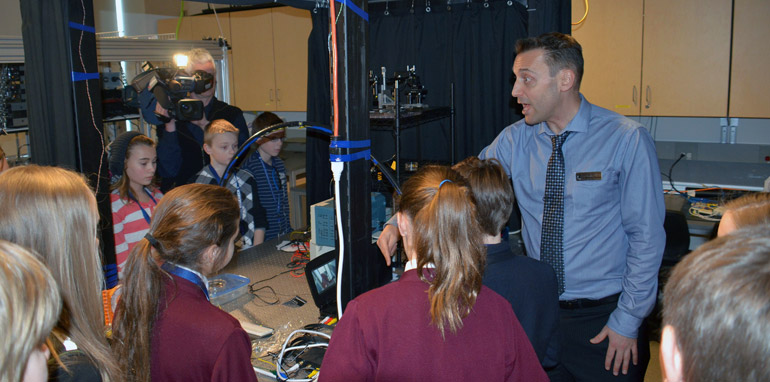 Dr. Holzman gives schoolchildren a tour through his lab on UBC's Okanagan campus.
Most recently, Dr. Holzman created the Stewards in Engineering Education (SEED) program, which places high-school students in research labs over the summer. "The hope is that the students will plant a seed for further interest and involvement in applied research," he says.
Dr. Holzman credits many of his research successes to the high degree of faculty-student collaboration and interaction – and by reaching out to the next generation of engineers, he's helping the community while investing in the long-term future of UBC's School of Engineering and its research teams.