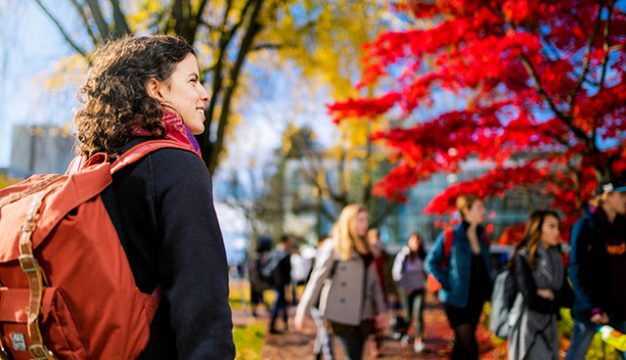 From undergraduate research to travelling the world, this third-year biology honours student is capitalizing on every opportunity UBC has to offer
For every year that Carolina Sanchez has studied on UBC's Vancouver campus, she has ventured abroad in the name of higher education. In first year she studied water quality as a co-op student in an environmental microbiology lab in Mexico City. In second year she worked in a turtle conservation camp on a remote Costa Rican beach. And next semester she'll jet off to Australia to study at the University of Queensland, in Brisbane, through UBC's Go Global program.
Why university is more than academics
Carolina is pursuing a Bachelor of Science in Biology (honours in Ecology), and her holistic attitude toward university life means she has a diverse and active schedule, brimming with social events, educational endeavours, and plenty of volunteer work.
"I realized that the education we are getting at university goes way beyond what we learn in lectures," says Carolina. "Everything you do outside of school – from extracurricular activities, attending talks and presentations, having conversations with friends and meeting new people – is incredibly valuable in teaching us about ourselves and the world around us."
How Carolina chose UBC
For Carolina, UBC was always one of her top choices due to its excellent science program, but after visiting her sister, who was studying on UBC's Vancouver campus, the "green and beautiful campus" coupled with the vibrant city life made the decision to come to Canada's west coast an easy one. "I love how close everything is, and that you can explore the city so easily," Carolina says. "I also like that we are so close to nature—you can go down any day to the beach or go to the mountains for hiking on the weekends."
The magnetism of the bustling city and the beauty of the lush campus attracted Carolina to Vancouver, but attending UBC also held the promise of meaningful extracurricular involvement – particularly in sustainability – and in-depth studies with abundant undergraduate research opportunities.
"Consider the great variety of activities that you can get involved in outside of academics at UBC." – Carolina Sanchez, 3rd year, Biology (honours in Ecology)
Undergraduate research opportunities
In the summer of her first year, as part of UBC's International Service Learning program, Carolina completed a three-month placement in Costa Rica, working with the Association of Volunteers for Service in Protected Areas (ASVO) in a turtle conservation camp in a remote and deserted beach on the Pacific coast. Part of this placement also included research of the area's mangrove ecosystem – Carolina compiled a species inventory that would later be used in a report to make the area a protected patrimony of the state.
"It was amazing to be able to apply some of my classroom knowledge in this setting and to see how our research would be used toward helping the area being protected from tourism and development," she says.
Getting involved with UBC clubs
Outside of academia she has been a part of the campus's sustainability club, Common Energy, where she helped organize campaigns to reduce the use of plastic water bottles, and took part in planning the first waste audit of the Student Union Building. She also coordinated a team called Tangible Solutions, which organizes events to teach students how to make sustainable choices in their everyday life. This year she is volunteering at Seedlings, a vegan student-run café, and she is the coordinator for the Student Environment Centre's Free Store.
Carolina has packed a lifetime of incredible experiences into her time at UBC so far, but she says what's made it so amazing has been the people. "Living in first-year residence was overall a highlight," she says. "What has made my experience so special has been the great group of friends I have made here."