Explore fascinating new worlds at the microscopic level in microbiology, the study of life too small to see with the naked eye. This program will prepare you for a career in microbiology, in fields ranging from public policy and medical sciences, to renewable energy and pollution control.
Why this program?
Work with renowned faculty researchers exploring topics such as gene regulation, immune responses, and susceptibility to inflammatory bowel disease
Take advantage of world-class research facilities, including the Centre for Microbiome and Inflammatory Research
Benefit from hands-on and in-the-field learning
Visit program website
Campus: Okanagan
Faculty: Irving K. Barber Faculty of Science
Degree: Bachelor of Science
Length 4 yrs
Co-op Yes

You can combine your studies with full-time, paid work at top local and international organizations.

Honours Yes

You can study intense specialization in a single field.
This program is designed to provide you with a breadth of knowledge in microbiology as it applies to the environment, health, and industry. It will help you develop a wide range of lab, communication, and critical thinking skills. As a graduate of the program, you'll be prepared to either begin a career in the food and beverage industry, health sciences, or environmental sciences, or to continue on to graduate school or a professional program in medicine or dentistry.
Experiential learning and research
Participate in original research – either your own or a professor's in your field. The Irving K. Barber Faculty of Science supports student research through the Undergraduate Research Awards, which allow students to carry out their own projects over the summer months, and other awards, which provide opportunities to work with professors on their research. You'll also have the opportunity to take your studies abroad with the Go Global and Exchange and Research Abroad programs.
Campus features
UBC's Okanagan campus is home to a number of world-class research facilities, including the Centre for Microbiome and Inflammatory Research and the Okanagan Institute for Biodiversity, Resilience, and Ecosystem Services (BRAES). BRAES is a consortium of UBC faculty members and students, collaborators, and partner organizations working together to advance research and teaching in conservation and ecology.
Send details
Life at UBC's Okanagan campus
UBC's Okanagan campus is renowned for its research opportunities and access to professors. On a tight-knit campus like the Okanagan's, you'll be able to work closely with award-winning faculty and make meaningful connections with your peers. Professors are collaborating with student researchers on cutting-edge projects like gene regulation, immune responses, and inflammatory bowel disease.
Find out more
Your future
Graduates from the Microbiology program on UBC's Okanagan campus are equipped to work in:
Health sciences
Environmental sciences
Food and beverage industries
Forestry and agriculture
Dentistry
Medicine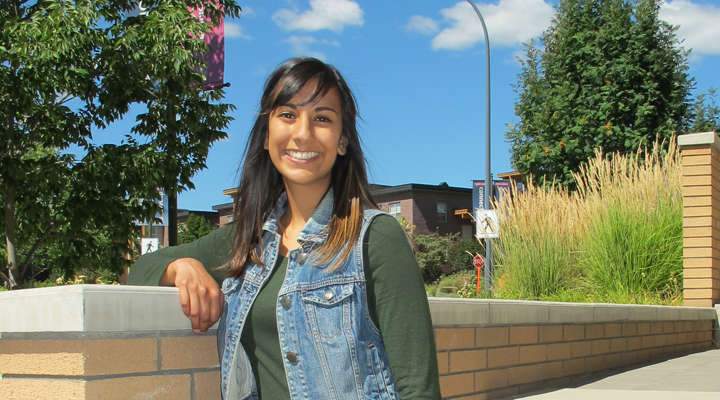 UBC stories

"My time at the BC Cancer Agency is the greatest learning and clinical health care experience I have had. I heard from other students working on research projects at the BC Cancer Agency that each year, the Kelowna centre hires students for summer positions. I simply reached out to the centre to apply for a position."

Bhavan Panghali, Microbiology Read the full story
Program requirements
English-language requirements
English is the language of instruction at UBC. All prospective students must demonstrate English-language competency prior to admission. There are numerous ways to meet the English Language Admission Standard.
General admission requirements
IB Diploma Programme
Completed IB Diploma, including at least three Higher Level courses.
IB Certificate Courses
IB Certificate courses (Standard and Higher Level) may be used in an admissions average if you are graduating from a recognized high school curriculum that can be used as your basis of admission.
IB Math Applications and Interpretations SL, or IB Math Studies, do not satisfy the math requirement for admission to UBC's science-based programs, the Faculty of Management, the UBC Sauder School of Business, or the Vancouver School of Economics.
Degree-specific requirements:
Science
IB Math Analysis and Approaches SL or HL, or IB Math Applications and Interpretations HL (IB Math Applications and Interpretations SL, or IB Math Studies, are not acceptable)
One of IB Biology, IB Chemistry, or IB Physics
Grade 11 or equivalent Chemistry
Grade 11 or equivalent Physics is strongly recommended
Note: Grade 11 Chemistry and Physics requirements listed are only relevant to students who are not completing the equivalent IB Diploma Chemistry and/or Physics courses.
For students studying outside of Canada, some examples of courses that may be accepted as Grade 11 equivalents are junior-level courses for American students, and IGCSE and O Level for those following British-patterned curricula.
Related courses
The following subject categories are particularly relevant for this degree. Consider taking courses in these areas in your junior year and senior year.
Language Arts
Mathematics and Computation
Sciences
Visit program website