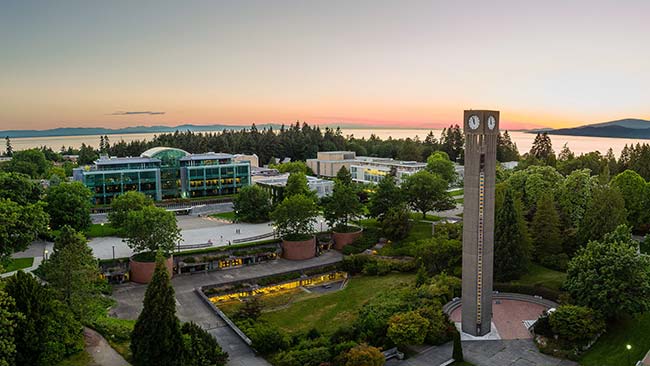 If you've submitted your application to UBC – congratulations! We're looking forward to learning more about you.
While you wait for your admissions decision, you can get a head start on deciding whether UBC is the right place for you by joining us for a live virtual campus tour.
You can find lots of great info and photos about what it's like to be a UBC student on Twitter, Instagram, and TikTok, but there's really no substitute for connecting with some of our current students online and having them share their knowledge and experiences with you. Our students are excited to show you their favourite spaces on campus, and to answer your questions about life and learning at UBC.
What to expect
During your Zoom tour, you'll learn more about UBC, see photos from some of our favourite spots at UBC Vancouver or UBC Okanagan, and hear from real students about their experiences in class, residence, and beyond.
UBC Okanagan tours last for 75 minutes, and UBC Vancouver tours run for 90 minutes.
If you self-identify as Indigenous (a member of a First Nations, Métis, and/or Inuit community within Canada) you can also register for a live virtual Indigenous Vancouver campus tour, hosted by current Indigenous students. This tour runs for 60 minutes.
Tour schedules
We offer tours for UBC Okanagan and UBC Vancouver on multiple days every week. You can find our most up-to-date schedules and discover how many spots are available by visiting the campus tours webpage.
Virtual Indigenous Vancouver campus tours are currently offered on:
Wednesdays: 4:00 p.m. – 5:00 p.m.
Thursdays: 2:00 p.m. – 3:00 p.m.
How to register
To view all upcoming Okanagan and Vancouver tours, and to register, visit our Tours and Events page.
To request a virtual Indigenous Vancouver campus tour, complete this email form.
Can't make it to one of our live virtual tours?
No problem! If you are unable to attend one of our live tours or you want to learn more about UBC at your own pace, you can also experience our two campuses by taking a self-guided virtual tour.