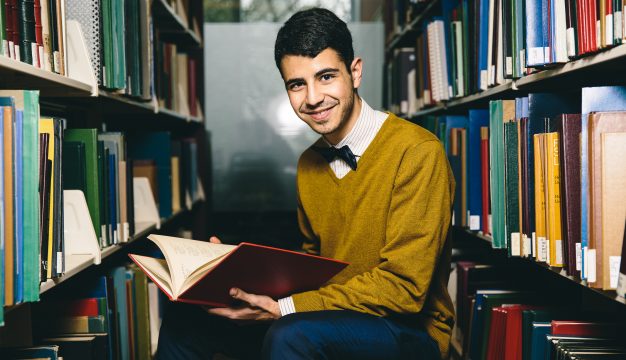 'Triple-major' in Microbiology and Immunology, English Literature, and Community Involvement. Lover of books and bacteria. Bow-tie aficionado.
Why did you decide to study at UBC?
Before visiting UBC and Vancouver, I kept hearing about how beautiful campus is! Once I got here, I found the beauty of campus really informs everything – the students and the professors are happy and approach learning, campus involvement, and the university experience as a whole, with so much positivity.
How did you choose your area(s) of study?
I was unsure of what major to choose before coming to UBC so I took an online quiz that said "You ought to be a vet!" so I went with it and started my studies in the faculty of Land and Food Systems studying Animal Biology. Then in first year, I took one course that had microbiology topics and found out that I love viruses and bacteria. So, I switched into the faculty of Science to major in Microbiology & Immunology. Then in second year, I took some elective courses in English Literature and found that I absolutely loved the classes, the books, and the students so I added English Literature as a second major in my third year.
How did you get involved outside of academics at UBC?
Attending the Student Leadership Conference (SLC) in my first year really shaped my degree at UBC. Coming from high school, I was focused on grades and academics but the conference made me realize that university is more about people and experience. Yes, academics are still vital but that's only half the picture. I attended the conference again in my second year and found out that the SLC is entirely student-run. So in my third year, I got involved in the planning process as the Productions Logistics Coordinator. It has been one of the most rewarding things I have ever done and an absolutely amazing experience. Not only has it opened up more opportunities on campus, the SLC has also given me the chance to work on things that I would not have otherwise had exposure to.
How has your attitude towards education changed during your time at UBC?
Having started UBC with a rigid approach to academics and learning (mainly that I would do one degree within four years and then graduate) has changed because of my experiences. The plethora of phenomenal involvement opportunities at UBC and the really cool variety of courses meant that I could not do all the things I wanted to do within four years, and why should I? I learned to make the most of the opportunities around and to really enjoy what I do, whether it is giving campus tours as a Student Ambassador between classes or enrolling in Psychology 207 – the Psychology of Brain Damage just for fun. With graduation approaching, I am thankful and blessed with all that I have accomplished at UBC and have learned to maintain a focus on my goals but also to enjoy the journey.
What has been your favourite part of studying at UBC?
I love the customizability that UBC has offered me in my degree: I was able to combine my passions into one degree while still having the room to take elective courses just for fun. What I love most though is UBC's approach to learning. The university acknowledges that there's a great deal of learning in the classroom but also outside the classroom. In turn, there's a strong focus on getting involved in extracurriculars like clubs, sports or student organizations. This allows each student to really make their degree personal and to gain valuable experiences and connections.
Connect with Al on Instagram
Get involved on campus with these resources:
Take a campus tour or go on a virtual tour, attend the Student Leadership Conference, visit the Collegia, check out the Centre for Student Involvement and Careers, join a club, sports team, or undergraduate society.
Photo by Jon Chiang