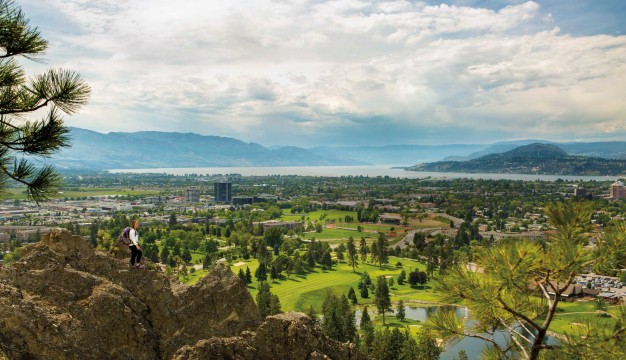 Lover of beach, mountain, and everything in between. Studied with the world's greatest professor. Advocate of hands-on learning. Always open to new things.
In Grade 12 Jenna earned the prestigious Loran Award, the largest merit scholarship in Canada. After being accepted to five major Canadian universities, she chose to attend UBC's Okanagan campus to study Earth and Environmental Sciences. Since then, Jenna has participated in the Rio+20 United Nations Conference on Sustainable Development, spent thirteen weeks in the Yukon with the Yukon Climate Change Secretariat, and done field work in Tanzania.
Why did you decide to study Earth & Environmental Sciences?
I grew up farming in Saskatchewan and had always been passionate about understanding the world around me – soil, weather, plants and animals, and their interconnectedness with humans fascinated me at a young age. At UBC, I was able to research and gain expertise in everything from watershed management to renewable energy.
What's your experience with watershed management?
The course that comes to mind first is Earth & Environmental Sciences 205: Introduction to Hydrology, taught by Fes de Scally. Fes is probably the world's greatest professor. He believes in learning by doing and we spent many weekends and weekdays out in the field – hanging out in streams doing flow analysis or climbing mountains to get data about snow pack. I loved how hands-on the course was, and getting to spend time out on the land learning is the best way to learn.
During my third year at UBC, I was eager to get involved in research at the University. I spoke with one of my professors who was involved in watershed management with the Okanagan Similkameen Regional District. I took on a directed studies research project that assisted with establishing a watershed management plan for the region. My work specifically looked at the impacts that different land use (agriculture, forestry, mining, recreation) had on the region's water ecosystems.
How did you get involved in renewable energy?
During the summer between second and third year, I took on a summer position with a renewable energy company in Saskatoon. I was working with a team of people who installed solar arrays across the province. I learned a great deal about renewable energy technologies and became very interested in the solar energy industry. The following summer I was living and working in Nunavut where I quickly became aware of how small, remote, northern communities are reliant on expensive shipments of diesel to power their communities. This inspired me to take on an honours thesis that focused on the feasibility of renewable energy, specifically solar, in remote northern communities. One year after graduation, I am now working full time for MiEnergy, a renewable energy company in Saskatoon where I have a dynamic role that includes installation, communications and marketing, as well as project coordination. It is a fast paced, high energy industry and I enjoy all of the opportunities to learn and grow with the business.
What is the best advice you can give to a student preparing to come to UBC?
Accept that not knowing what you want to study is a good thing and be open to getting involved, trying new things, and challenging yourself. Not knowing what you want to study is a great way to experience university, and UBC will have so much to offer to those who are accepting of challenges and new opportunities!
What would you say to a student considering coming to UBC?
Do it! And go to the Okanagan. Why? Because being somewhere small where you can truly connect with your professors, your campus, and your peers is better than you could ever imagine. I chose UBCO because I wanted to be somewhere where I could enjoy the great outdoors as often as I wanted, but I soon realized that the campus itself has so much to offer. The size of the campus allows you to connect with others and take the reigns of your degree, your involvement, and your experience. You aren't a little fish in a big pond, you're a big fish in a little pond and you really have the capacity to shape the campus for the better. You will not be disappointed!
Why did you decide to come to UBC?
I decided to study at UBC Okanagan for a few reasons. The first was the location: growing up in the countryside meant that I was ready for an urban lifestyle, but I still wanted to be able to do all of the outdoor things that make me so happy.
The second reason was the small campus: I wanted to be actively involved in my campus and community, and I knew that a small campus community would allow these relationships to happen in the way I wanted them to. I got involved in research, community organizations, campus clubs, and student initiatives. It was perfect.
Finally, I chose UBC's Okanagan campus because I knew very little about it, and there was something challenging and inviting about going to a place that wasn't UBC's Vancouver campus, or McGill, or the University of Toronto — all of which made me offers of admission. I wanted to go someplace that I could make my own. 
What kinds of outdoor activities do you like to do in the Okanagan?
Just about everything – hiking, rock climbing, snowboarding, camping, kayaking and canoeing, slacklining at the beach, cycling, and mountain biking. There is so much to do all the time and the climate allows you to get involved in everything that there is to enjoy when you live in the mountains on a lake.
Follow Jenna
Twitter: @JennaKorenGall
Instagram: @jennakorengall
Read her blogs: Chasing Comfort (travels in Tanzania) and Summer North of 60 (travels in the Yukon and Nunavut)