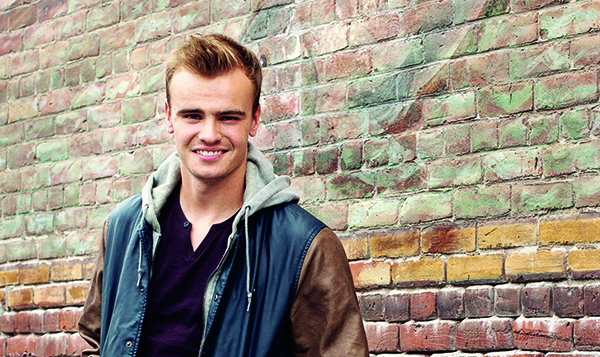 Lover of the Okanagan, Sociology … and Frankenstein. Flourishing on UBC's Okanagan campus. Best habit: stepping outside of his comfort zone.
What would you say to a student considering coming to UBC?
I am proud of the fact that one day I will be considered a UBC alumnus, and you will too. You are not only privileged to be receiving a higher education, but you will be receiving the very best education. UBC provides students with endless opportunities to flourish; all you have to do is take advantage of them.
In your experience as a RezLife Advisor, what is the best advice you can give to a student preparing to come to UBC?
As a Residence Advisor, I can honestly say that the place where I've done the most learning and growing as a person is not in the classroom but in residence. The best advice I can give is for you to throw yourself 100% into campus life and explore the different people and connections around you. Get outside of your comfort zone, get involved on campus, and you will learn so many valuable things — not just about life, but about yourself.
What's it like living and studying in the Okanagan Valley?
The bonus is the beauty of the Okanagan Valley. Sticking around during the summer is a must for students looking to develop their independence. In the winter months, you have access to a world-class Big White ski resort that students can easily get to via shuttle bus. My most cherished experiences include meeting such amazing people at UBC and creating a life for myself in the beautiful city of Kelowna.
Why did you decide to study Sociology and English?
When I first registered with UBCO, I intended to pursue an English Honours degree. English had always been my favourite subject throughout my previous schooling and, quite honestly, was the class that I really excelled in and found the most engaging. I also loved Sociology so I decided, "Why not study both?"
What's the favourite book you've read so far for your degree?
This year I read Frankenstein in my third-year Studies in Romanticism class, and that, by far, was the most rewarding. As soon as I saw it on my reading list, I immediately went out and bought it. I've read it three times since.
What's your favourite course you've taken so far?
My favourite course in my degree was my Introduction to Sociology 1 (111) class. I had a professor named Christopher Schneider who was very passionate about his field, and that made all the difference. I fully credit him for making me fall in love with Sociology.