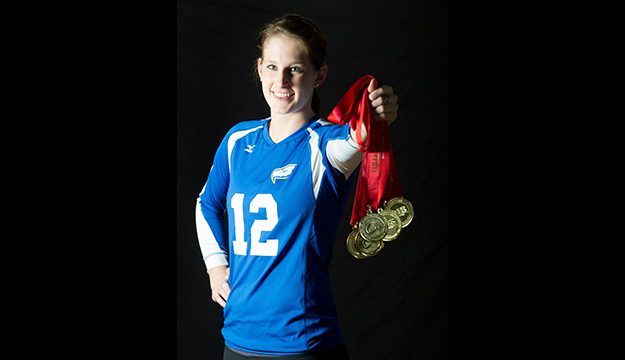 When asked what her best day was at UBC, alumnus Kyla Richey admits she doesn't have one. But winning the Canadian Interuniversity Sport (CIS) championship in varsity volleyball for five consecutive years was a blessing.
Not only did Kyla and her teammate Rayel Quiring win the nationals five years in a row, in her last year as a T-Bird, Kyla was named CIS player of the year. Now that they've graduated, Kyla and Rayel are moving to Europe to play pro volleyball — and Kyla will play on Canada's national team in the off-season.
"I hope to do that for the next four years at least, and then I'll see where my body is then! Afterwards, I haven't totally decided. I may go back to school to study education. Nutrition and physical activity in children, especially in underdeveloped countries is also a passion of mine so I'll have to explore some options when the time comes.
How would her life have been different if she hadn't come to UBC? "Most likely I would have gone to university in the US and my opportunities and experiences would have been drastically different. I may not have had the chance to compete on the national team nor would I have a coach and team who were flexible with my summer competition plans. My teammates here are better than I could ever have imagined. I'm definitely very glad to have made the decision to come to UBC and be a T-Bird."
PHOTO CREDIT: Photo credit Wilson Wong