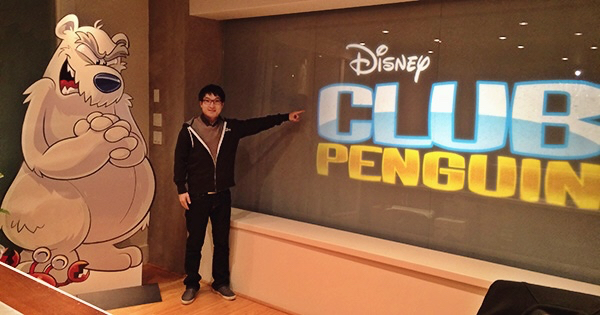 A dream job
When you grow up loving online games, finding a job fresh out of university in a major gaming studio is a dream come true.
That's just what happened with Xiao Ping (Andy) Yue, a recent UBC grad and now a Disney Studios Guest Experience Rep whose recent projects include Club Penguin, Star Wars: Commander, and Marvel: Avengers Alliance. In this competitive and ever-changing industry, Andy keeps on top of online trends, engages with Disney's community of gamers online and in-person, and is deeply involved in product testing.
Keys to success
Part of the key to Andy's success was choosing UBC. "My Bachelor's degree in Business Administration and Management gave me an understanding of various aspects of business including negotiating with clients, understanding e-commerce, and collaborating on group projects."
And then there was his choice of campus.
A student from Shanghai, China and Los Angeles, Andy chose UBC's Okanagan campus for its "close, family-like culture" where "networking among friends and faculty would be easier than at a larger institution."
Another part of Andy's success stems from graduating in a city whose tech industry is booming. In 2013, the Okanagan tech industry contributed CAD$1.02 billion to the local economy, a study reports. Add to this the 550+ technology businesses in the region, and you have an industry that is a major source of employment.
"The tech industry in Kelowna is ever-expanding," says Andy. "Since the creation of Club Penguin in Kelowna and its acquisition by Disney, many entrepreneurs are willing to explore and promote growth in the tech sector."
UBC's connection to Okanagan's high tech industry
UBC's Okanagan campus has been deeply involved in the Kelowna tech scene from the start, making it possible for students like Andy to be involved in industry before they've finished their degrees, giving them a jump on their careers.
"Many of UBC Okanagan's Management classes, including Entrepreneurial Technology, E-Commerce, Project Management, and Introduction to Marketing allow students to work with local tech companies," says Andy. "I was lucky enough to participate in a hands-on internship in my Captsone Service Learning and Consulting course where my group helped a local tech start-up with their marketing relations. And UBC's involvement in Accelerate Okanagan brings together students who are passionate about their field, and encourages them to start their own company."
Andy's advice to prospective UBC students
For students considering applying to UBC's Okanagan campus, Andy has this advice: "You should definitely take the initiative to experience an amazing campus in a prestigious university with a family-like friendly community that is not offered anywhere else."