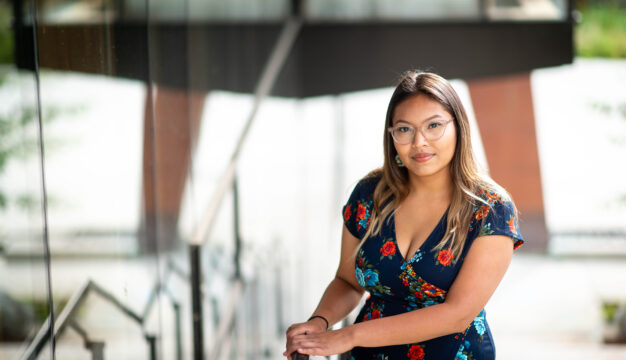 When Cecilia Raweater was deciding which university to pick, she chose to take part in the Indigenous Destination UBC program.
Designed to help First Nations, Métis, and Inuit high school attendees learn more about transitioning to university life, the Indigenous Destination UBC events made a big difference in helping her determine whether UBC was the right place for her.
"I came to Destination UBC with a choice to be made – either to go to UBC, or to make a different university where I would study," she says.
When she arrived, Cecilia was impressed with the Indigeneity that she saw around the Vancouver campus, including the house posts and totem poles, the Musqueam-language streets signs, and the many Indigenous spaces on campus. While this year's Indigenous Destination UBC events will be run online, students will still get to learn about the campuses that they will return to when the provincial health authorities give the all-clear in the wake of COVID-19.
"It really made me feel at home and accepted as I walked the campus to see Indigeneity expressed all over," says Cecilia.
Like UBC Okanagan – which also houses a number of spaces for Indigenous learners – UBC Vancouver has a wide selection of supports on offer, and Cecilia discovered more by talking to current students during Indigenous Destination UBC.
"I looked around I saw so many Indigenous students engaging in conversation," Cecilia remembers. "Within the first day I met so many new friends."
Jen Hyslop is a current UBC Okanagan student, and one of the volunteers who has led the Indigenous Destination UBC events.
The best part of attending Indigenous Destination UBC, she says, was being able to connect with a large number of people with similar backgrounds and experiences.
"Within five minutes I met my very close friend, Karsen," Cecilia says. "I also met other Indigenous friends that spanned all the way from the East Coast of Canada to the West Coast. I am still in touch with everyone I met at Destination.
"Seeing so many soon-to-be first years at this event really made me feel hopeful about UBC. I always thought with going to university I would lose all my friends that identified as being Indigenous, but I am so glad I was wrong."
Taking place online this year, the Virtual Indigenous Destination UBC events will include activities like making bannock, storytelling, beading circles, and more. The digital events have been curated to help new students experience life at UBC and meet new friends, and, like Cecilia, discover if UBC is the right fit.
"Over the course of the weekend I started to make closer bonds, and I was excited that I had friends walking into my first year instead of being all alone," she says. "I was excited that this university is so welcoming to Indigenous peoples, and that it has accepted me."