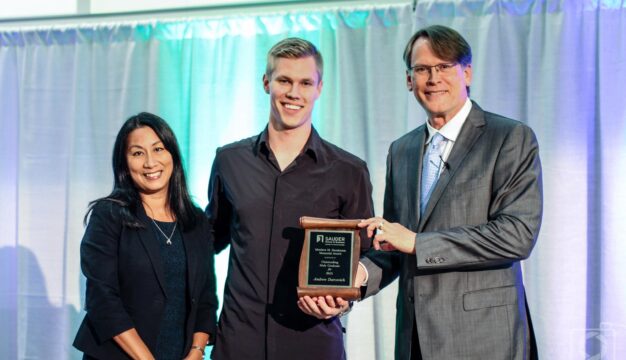 Andrew remembers how his first days at UBC seemed overwhelming.
He recalls the initial anxiety of adapting to university life, starting the courses he'd picked, and figuring out what clubs and societies he might want to join. But from the beginning, he threw himself into making friends, connecting with his teachers, and trying to experience a bit of everything UBC had to offer. Over his time at the university he played on the football team, made friends in UBC's diverse international community, joined dozens of clubs, volunteered, and, after graduating in 2015, he moved to New York to work at one of the world's most preeminent firms. As many students get ready to begin their first term, Andrew shares the moments he enjoyed most and his advice for new first years.
Could you tell us a little bit about what you are up to now?
I work at Goldman Sachs in the investment banking division, focusing on structuring hybrid transactions across public and private companies. Put simply, we help companies who need money reach investors who have it! I have been here in New York since graduation (wow, time flies) and am still very active in UBC recruiting and the UBC network as a mentor to students.
What big questions about yourself or your future plans did UBC help you answer?
Put shortly, starting university is overwhelming. Picking a degree, your courses, what you do for fun – everything. UBC helped to answer so many questions by simply being such a large and diverse community. The breadth of students across faculties, languages, interests, and ages really helped to shape and guide me. Being able to connect with professors in small group formats, or be a part of large discussions in class, helped to give me a sense of where my true passion lay and the tools to make best use of a UBC education. The reputation of the school and the alumni group were critical in driving me to the career path I am on now.
In what ways did your UBC education and experience help prepare you for what you're doing?
UBC has so many resources and opportunities no matter what your interests are. Being able to connect with so many unique perspectives and diverse trains of thought really allowed me to expand my horizons and find hobbies and ideas that I was naive to prior. Now that I am in the workforce, the experiences, friendships, and ongoing interaction as a graduate is incredibly valuable in understanding and working with diverse teams.
What made you choose UBC?
Blue and gold are my favourite colours! Only joking. It came down to the ability to be a part of both large and small classes, reputation of the school, and the geography. The education provided by UBC both in curriculum and in culture was unlike any other school, in my opinion.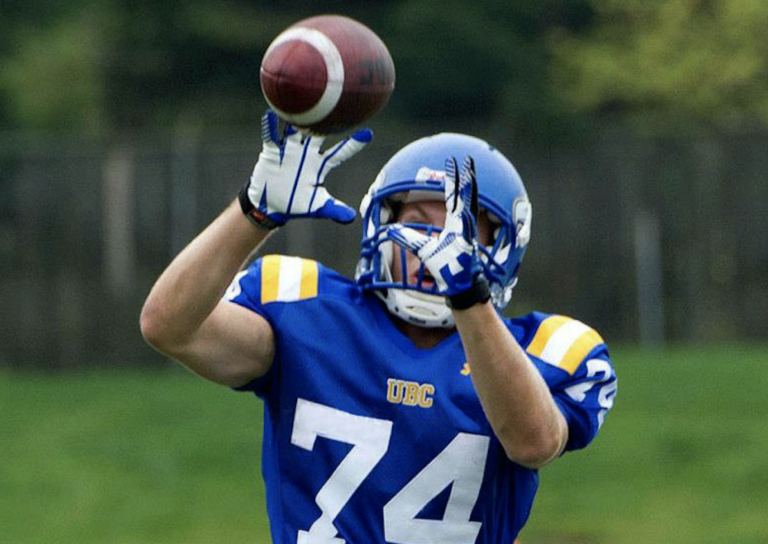 What UBC communities, clubs, or groups were most meaningful to you?
I played football and that team has had a tremendous impact in my personal and professional life. Outside of the various Sauder clubs, the amazing Storm the Wall event and intramural sports allowed me to make dozens of lifelong friends that are now all over the world. Having such an amazing campus with so many health-minded individuals has instilled a sense of sport that continues with me today.
In your opinion, what makes UBC distinctive from other universities?
It comes down to a lot of what I have said above: culture, community, and curriculum. I look at the amount of opportunities to get involved and how internationally diverse the school is and I realize how it has made me a much stronger professional today. Those choices are reinforced by the number of different courses that you can take – did you know there is an African Drumming class (or at least was one when I was there)? No matter what your background or passion, UBC does so much to ensure that every student has a voice and can pursue their interests both inside and outside the classroom.
The breadth of students across faculties, languages, interests, and ages really helped to shape and guide me.
What advice would you give to new UBC students?
It is scary to start: moving away, meeting new people, creating and owning a schedule, and more. Don't feel like you are alone – everyone feels the same. Use it as an icebreaker: get to know people's stories, where they are from, what gets them out of bed, and learn from them! You may find a shared interest or a new one, but it is at UBC that you will make friends that will last a lifetime. You will only grow from your first day and you are in for an amazing experience.