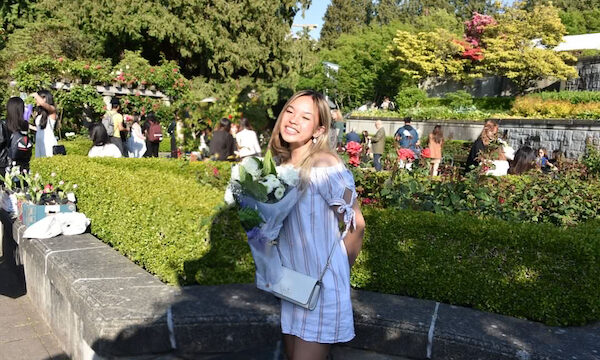 Kayree decided to accept her offer to UBC because of the friendly and supportive UBC students that she met before she applied. Originally thinking that she wanted to be a nurse, Kayree decided to enrol in Science because it was a program she could start as a first-year student and has a lot of specialization options that students can choose from.
Kayree attended Jump Start – UBC Vancouver's multi-day on-campus orientation – and found that it really helped her break out of her shell and make friends before school started. She also took part in Imagine Day – a one day campus wide event that celebrates the start of the academic year – and Collegia – a space for students who commute to campus to hang out, eat and relax between classes.
Kayree remembers visiting her Collegia every day throughout her first semester to take a nap, make food and take part in activities like karaoke and morning smoothies made by the Collegia Advisors.
Participating in all three of these Orientations events helped prepare Kayree for an incredible first year at UBC.
1. Why did you choose to accept your offer to UBC?
As everyone knows, the University of British Columbia is a well-respected institute, however the reason I chose to accept UBC's offer was due to its welcoming community. I had already encountered many great students from UBC in leadership programs and at my job, and everyone I had met was friendly and supportive. I initially thought the upper-year students would be more intimidating, but their positive feedback helped me make a decision for myself, especially from their willingness to help outside of the workspace we shared together. The people I met from UBC prior to attending was the sole reason I accepted the offer. I wanted to be like them – upper years that lended a helping hand to the lower years.
2. Why did you choose the Bachelor of Science program? What attracted you to the program and what has been your experience so far?
I chose the Bachelor of Science program because of the many major options one can pursue. Another reason was because the science program is so big, I wanted to meet like-minded friends who would push me to my max. My experience so far has been a rollercoaster of emotions. There was a lot of losing touch with friends but also gaining new friends who became regulars in the majority of my classes. They've been the people I can reach out to if I need desperate help in classes and the people I can reach out to for personal help.
I originally wanted to become a nurse, so my first option wasn't UBC since the nursing program isn't until in third year, but the idea of exposure to other career paths stuck with me. The upper year UBC students that I had come in contact with were also science students and they inspired me to want to be like them. The extra work, programs, and volunteering they had done, made me want to do them too, all while going to UBC and challenging myself in the science program. I wanted to feel accomplished from giving back to my community while studying hard at a rigorous program.
3. You took part in Jump Start. How did you find your experience? How did Jump Start help you make friends before school began?
My experience in Jump Start was warm and friendly. At first, the environment was scary because a lot of the other attendees did not talk much, but over a couple of ice breakers, everyone's shells started to melt away. We'd have break times for lunch and in our Collegia, everyone would sit down together in the biggest group possible and talk and laugh. I think attending Jump Start is a great experience overall because it really helped me break out of my own shell. For example, I wasn't afraid to reach out to the people I had just met at Jump Start on social media. Even now, I still talk to them and I think some of my closest friends at UBC are the ones I made in Jump Start.
There were many activities and workshops that opened up interactions to other Jump Start groups, and I think that also contributed to making new friends before school started.
4. Can you talk a bit about what you liked about your Jump Start learning community?
In my Jump Start learning community there were a lot of times where the orientation leaders felt so easy to communicate with; despite an age gap, they were people that were easy to get along with. If we had any questions, they were always willing to answer them, and even after Jump Start, seeing them on campus was like seeing another friend rather than a stranger you once knew.
5. What was your favourite event or session?
My favourite part of Jump Start was the last couple of days together where we had a plethora of activities that we could choose from. They ranged from swimming to painting to cotton candy and hot chocolate. We would be able to meet other people that participated in Jump Start, which is where I found some of my close friends. We took pictures with the Thunderbird mascot and even ran around on a map hunt to get UBC merch. There were so many things we could have done in the last two days, and they even carried on until eight if you lived in residence.
6. How did Jump Start help you transition into university life?
Jump Start helped me transition into university life by introducing me to people that took the same classes as me. The orientation leaders for Jump Start also did an amazing job touring us around UBC despite it being so big. I got used to the map of campus within a week.
7. What did you think of the Imagine orientation day for all new-to-UBC students? What can you remember about the experience?
I thought that Imagine Day was an exciting day to meet people who did not partake in Jump Start. I got to see friends that I haven't seen in years, and even talk to new people. I remember there was a big assembly in the Thunderbird Stadium where professors had introductions and each faculty got to learn and present their cheer during the assembly. It almost resembled a concert. By the end of Imagine Day we got to say thanks and goodbye to our orientation leaders that weren't Collegia advisors. It was a bit sad but they encouraged us to say hi if we ever see them on campus.
8. As a first-year student, what has been your experience with the Collegium community on campus?
As a first-year student, I had a blast at my collegium. I think I used my first-year collegium privilege to the fullest. During the first semester, I went to Collegia almost every day, to take a nap, eat food, make food, participate in daily activities, and participate in some of the main activities that the Collegia Advisors prepared. They made smoothies on some mornings, bubble waffles on another, there was karaoke, and a fun "speed dating" activity for Valentine's Day where you would just sit down with a partner from your Collegia and answer a bunch of questions to get to know each other more. We even had a baking event where I made matcha white chocolate cookies that people liked.
Collegia was such a great place in case someone didn't have time in the morning to make food or even if someone was affected by food insecurity, Collegia really was a home away from home. I just wished my friends that didn't sign up for a Collegia did, because I thought they were missing out on the experience I had.