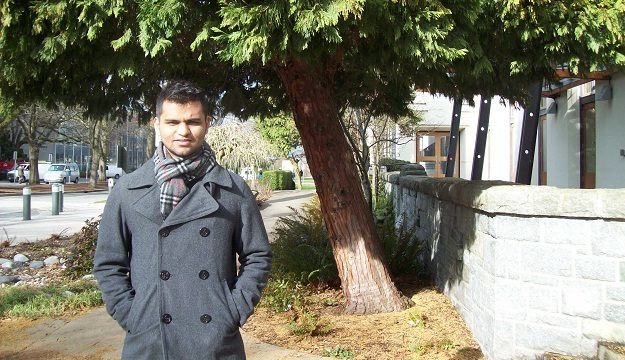 Third-year student Abhinav Chauhan remembers what it was like to adjust to life in a new country. Initially from India, he came to UBC from Thailand and now volunteers as a Residence Advisor helping others with their transitions.
"Residence advising is something I got into because I had a brilliant advisor in my first year – it really helped me integrate into the community at UBC," said Abhinav. "Many students feel like they don't have a place they belong on campus, so as an advisor it's my job to give them support ranging from academics to professional development."
While residence advising can be a lot of work, Abhinav is enthusiastic about helping first-years in Totem Park Residence transition into life on campus.
"It's very rewarding and you can really make a significant difference in someone's first year."
"I believe first year is something that you'll remember more than any other year at university, so I try to make that as good as possible."
Through the International Peer Advisor program, Abhinav also provides international students with information and support on a variety of issues including immigration, health insurance, employment, cultural transition, and campus services.
"This year we've tried to do a lot of workshops around campus about homesickness and cultural transition," said Chauhan. "We're reaching out to students and getting them that support so that they will be successful in their academics."
As an international student, Chauhan has first-hand experience with these issues himself. When he first arrived at UBC, he was initially overwhelmed when adjusting to different aspects of Canadian life that he was not accustomed to. He stresses the necessity for international students to take initiative in seeking help on campus.
"As an international student, it's really important that you reach out to the resources available. A lot of students tend to leave things to the last moment or not even make the effort to reach out. It's a big challenge and it's something you have to get used to, especially coming from a high school background where everything is just served to you."
Aside from his involvement with Residence Life and International Peer Advising, Chauhan is also president of the World University Service Canada, vice-president of the Economics Students' Association, and an active participant in Model United Nations conferences around the world. While the prospect of being involved in so many extracurricular activities may seem daunting to some students, Chauhan manages to juggle his diverse commitments successfully.
"I've started to plan out my day well in advance, a week – sometimes even a month in advance," he said. "I do miss having a lot of the free time that I had in my first year, just going back from my classes and relaxing and chilling out with my friends, but at the same time it's good that I've learnt to stay on top of things and manage my time efficiently."