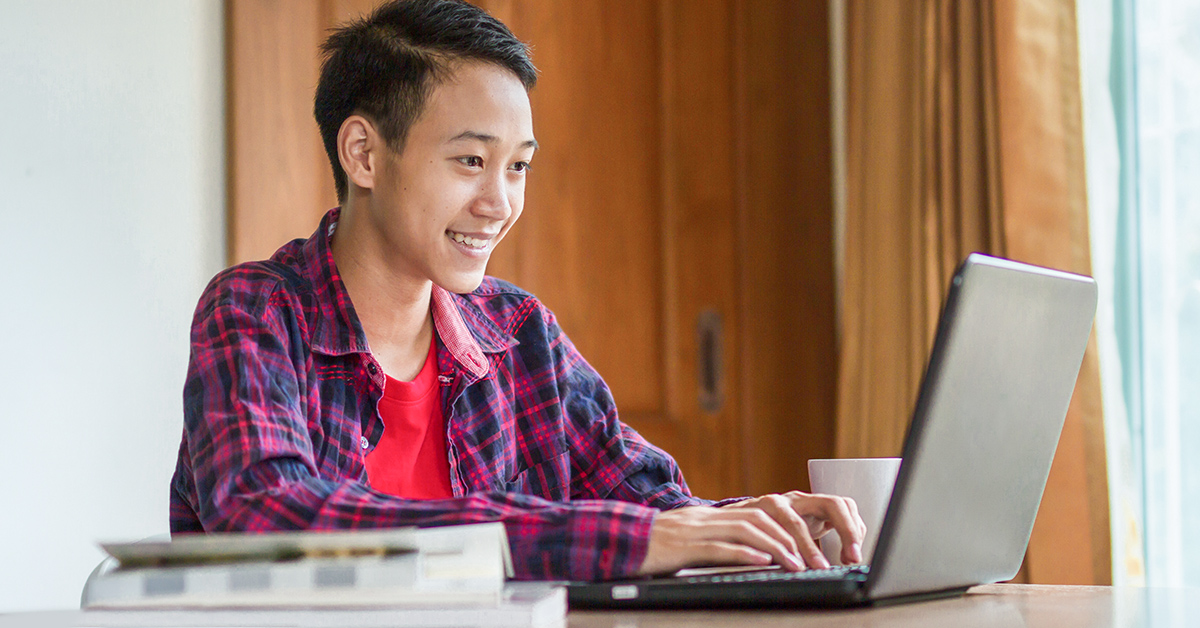 Are you looking to challenge yourself academically, or boost yourself towards your academic goals? The UBC Future Global Leaders Winter Online program is designed for you. For ten weeks, learn online from top UBC professors as you delve deeper into your academic interests, and discover what learning is like at the first-year level at a top-tier university. It's a great way to figure out what your passions are while you're still in high school, and prepare yourself for success at university and beyond.
What can you study?
This January, you can choose from seven engaging academic courses, all taught by UBC instructors. Every academic course features ten live virtual classes, designed to give you a taste of a university subject without the stress of exams.
Introduction to Business Foundations: Study the importance of core business functions, including finance, accounting, marketing, and human resource management. If you're interested in pursuing a degree in business, this course is the perfect fit.
Introduction to Engineering: If you're fascinated by engineering, architecture, or applied science, this course is for you. Find out about the engineering profession, and the disciplines of chemical, civil, computer, electrical, environmental, and mechanical engineering.
Introduction to Psychology: Learn about the scientific study of the mind and behaviour. This program is excellent if you're thinking of majoring in psychology or if you're interested in the social sciences, applied sciences, or medicine.
Medical Anthropology: Contemporary Topics: Explore healthcare topics including the experience of illness, and genetics, cancer, addiction, ethics, mental health, and the law. Consider this course if you're interested in studying medicine, health sciences, pharmaceutical sciences, psychology, or dentistry.
Introduction to Machine Learning:Learn the basics of programming! Work with real-life datasets for artificial intelligence and machine learning using beginner-friendly Python. This is a great choice if you're interested in computer science, science, engineering or the future of technology, or if you'd like to learn basic coding.
University application and skills courses
If you're in grade 11 or 12 and thinking ahead to university, you can learn skills and strategies today to get into your top-choice university, and succeed once you're there.
Writing Effective University Applications shows you how to create convincing and memorable university applications. There are no live classes, so you can go entirely at your own pace. Ask your instructor a question at any time and get a response in 24 – 48 hours, and get personalized feedback on all of your written assignments. Register and start anytime!
Academic Skills for University Success helps you sharpen your skills before you start university so you can improve your performance, reduce stress, and accomplish more. Find out how to make the most of your study time, take notes effectively, and develop good habits. Do this course at your own pace, and get instructor feedback on assignments. Registration opens January 23.
Who can take part?
To register for a UBC Future Global Leaders Online or a university applications and skills course, you must be 15 to 18 years old and have completed Grade 10 or equivalent. We suggest that you have a grade point average of 78% or letter grade B or higher, or a minimum IB final grade of 5. You don't need to submit any transcripts to register.
If you want to register for an academic course and English is not your first language, we recommend an IELTS (International English Language Testing System) score of 6.0 or equivalent, or TOEFL (Test of English as a Foreign Language) Internet-based score of 80 or equivalent. You don't need to provide your scores, and can self-assess your own levels.
Registration is easy!
No application, transcripts, or proof of English is required. Just check your eligibility, and register for the courses you're interested in!
The academic courses run from January 28 to April 1, 2023, with your 10 live virtual classes scheduled on Saturdays from 10 am to 12 pm PT.
Register anytime for Writing Effective University Applications. Registration for Academic Skills for University Success opens January 23.
UBC President Bursary Program for high school students in British Columbia
The UBC Future Global Leaders program will award a number of bursaries to Grade 11 high school students in BC. It will cover full tuition for one 10-week winter academic course of your choice.
To be considered for a bursary:
You must have an overall average of 80% or higher, and 80% or higher in Grade 11 English (or equivalent). If you are entering Grade 11, you must have an overall average of 80% or higher, and 80% or higher in Grade 10 English (or equivalent).
You must be a Canadian citizen or permanent resident
You must live in a lower income household, and your parent(s) or caregiver(s) must not have attended a university or university-college.
Applications for bursaries are now open, and will be accepted until January 21, 2023.