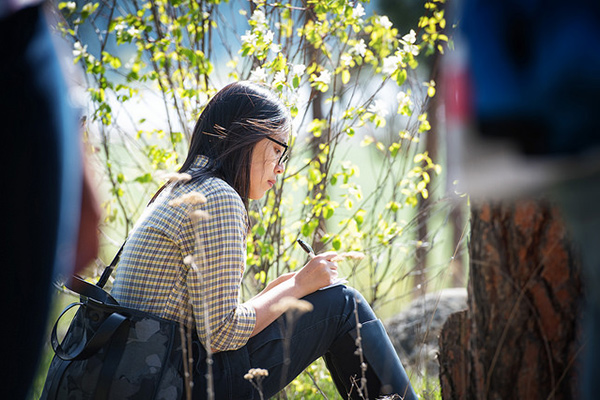 Every aspiring high school student applying to UBC (and some transfer applicants too) must submit a personal profile as part of their online application. It's a chance for you to tell the university about your life and accomplishments: What have they taught you about yourself and the world around you?
Preparing for your personal profile
Each of the personal profile questions requires short essay responses (50 to 500 words), so you'll want to think about your answers before you start your online application. Here are three tips to keep in mind:
Take time to reflect. Instead of simply listing your accomplishments and experiences, tell us what you've learned from them.
Be specific. Use details to provide context and elaborate on your answers.
Be true to who you are. Don't focus on what you think we want to hear. Use your unique voice to tell us what you want to say.
We've compiled helpful information for writing your personal profile, and we want all UBC applicants to have the benefits of reading these tips. Visit our personal profile page to learn more about what to consider before writing your profile, and how UBC will evaluate it.
References
As part of your personal profile, you will need to include two references. These should be people who know you well and can comment on your preparedness to study at UBC. A reference can be an employer, a community member, a coach, a teacher/instructor, or anyone who knows you well. For applicants who are currently attending high school, one of your referees must be a school official (e.g., Grade 12 or senior year counsellor, teacher, or IB coordinator). References should not be a friend, family member, or paid agent. You do not need to include written references in your application, just the contact information of your references so that our admissions team can contact them.
UBC does not send a link to references. We will contact your references directly, after offers of admission have gone out.
Your personal profile and COVID-19
We know that you may still be adjusting to ongoing changes meant to reduce the spread of COVID-19 and keep everyone safe. We understand that there may currently be limited or no access to extracurricular activities at school or in your community.
Remember that when we assess your personal profile we take into account all of the activities you've done across multiple years, not just the ones you hoped to complete in Grade 11 or 12. Your examples can come from any aspect of your life, including within your family or smaller community, or the challenges you may have faced while handling disruptions from COVID-19. There are no right or wrong answers – we're not looking for certain activities or a long list of achievements, but rather your reflections on what you've experienced.
Still have questions?
If you require any further assistance with putting together your application or need help with the personal profile in particular, please contact the UBC Undergraduate Admissions Office.