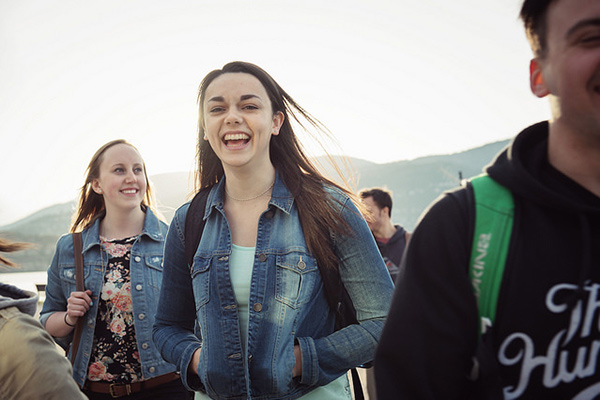 It's only a matter of weeks until you'll step foot on campus as a first-year UBC student. You'll be greeted with tons of new experiences and you'll meet loads of new people, which can be both exciting and overwhelming. To ensure a smooth arrival and a stress-free first week, you'll want to take care of some important things before you get here.
Here are eight easy tasks that you can complete now to make your arrival a breeze.
Get ready for your orientation
On your first day, you'll forgo normal class for a fun-filled, day-long series of welcome-to-UBC events. On the Vancouver campus, at the Imagine UBC orientation, you will be joined by the entire class of 2021 for a formal welcome, pep rally, lunch, and more. On the Okanagan campus, register for the Create orientation to join all new-to-UBC students for a day of events, including food, prizes, and more.
Find back-to-school events and programs
The UBC student societies – the AMS on the Vancouver campus and the UBCSUO on the Okanagan campus – host events and programs for first-year students like you.
Read the UBCfyi blog
Now that you're an official UBC student, read the UBCfyi blog for campus updates and resources, plus info on events, health and well-being, money management, and more.
Update your email address
Make sure your email address is correct in the Student Service Centre and remember to check your messages regularly.
Learn about your student health plan
Visit the student health insurance website to learn more about your plan and coverage, or to opt out if you already have a health insurance plan.
Sort out your financials
Ensure that you have a financial plan in place for the upcoming academic year, and learn about the financial resources available to you on UBC's Vancouver campus and Okanagan campus.
Pay your tuition online
Avoid lineups by paying your tuition online now.
Get access to public transit
UBC students on the Okanagan campus can get a U-PASS sticker that provides unlimited access to BC Transit in Kelowna and the surrounding area. Just bring your student ID card to the Student Union Office (UNC133) to get your sticker.
UBC students on the Vancouver campus can load their U-Pass onto a Compass Card for unlimited transit services within Metro Vancouver. Obtain your Compass Card from the UBC Bookstore – or any SkyTrain Station or TransLink Fare Dealer – and then link it to your U-Pass online at upassbc.translink.ca. Apply online at least 48 hours before you intend to travel, and visit planning.ubc.ca for more information.