At UBC, we're pretty social. In fact, we have dedicated accounts on Snapchat, Instagram, Facebook, and Twitter for anyone who's aspiring to be a UBC student, applying to UBC, or getting ready for their first day on campus. Sound like you? Click that "follow" button for answers to your questions, important reminders, and a peek at student life.
---
Get answers to your questions
Have a question about UBC? Head over to Facebook Messenger or Twitter. Our team of advisors is online Monday to Friday, from 9:00 am to 5:00 pm (Pacific Time), answering all of your questions about applications, admissions, awards, and more. If you're in a different time zone, leave us a message and we'll get back to you when we log in for the day.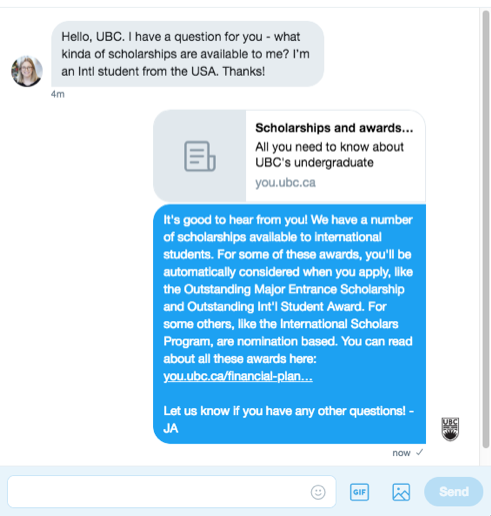 ---
Get important info and reminders
Looking for application tips? Worried about missing a deadline? We've got you covered. On our Instagram Stories and Snapchat, you'll find information on how to apply to UBC, reminders about key dates and deadlines, and the inside scoop on events of all kinds – starting with info sessions before you apply, celebratory events, and even orientation.
---
Get a peek at student life
If you're curious what life is like on UBC's Okanagan and Vancouver campuses, you'll find what you're looking for on Instagram and Snapchat. On Instagram, we share our own photos from around campus and re-post our favourite shots.
On Snapchat and Instagram Story, we often hand the microphone (and camera) over to current students so you can see UBC life through a fresh set of eyes.
---
Find us on social media
@youbcsnaps on Snapchat
@youbcpic on Instagram
@youbc on Facebook
@youbc on Twitter