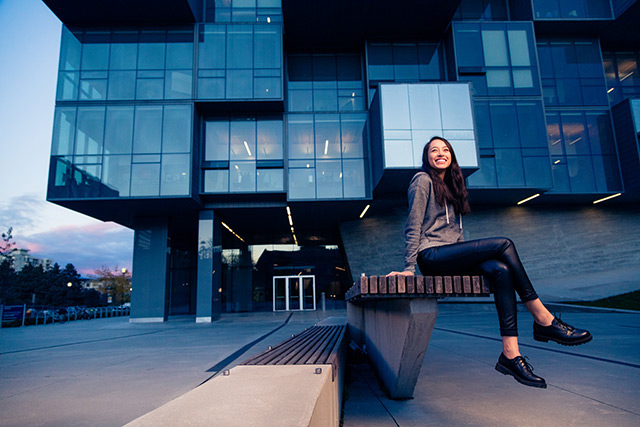 After you've been admitted to the Bachelor of Arts degree, you'll have to decide which courses to take when registration opens in June. That might seem like a long way off, but it's worth thinking in advance about how you might like to structure your timetable.
There are two ways to shape your first year in the Faculty of Arts. The first, the Custom Timetable, lets you pick the classes you're most interested in and build your own schedule. The second lets you join a predesigned course schedule for your first year, where you'll take nearly all of your classes with the same people.
For Arts students, there are two of these predesigned options to choose from: Arts One and the Coordinated Arts Program (CAP).
What are Arts One and CAP?
Arts One and CAP allow students to study together in small classes (between 20 and 100 students). Each brings courses and ideas together across different disciplines – for example literature, history, psychology, economics, and philosophy – by focusing on a shared topic or theme.
To complete either study option, you'll need to take all of the courses in the standard timetable, which are collectively worth 18 credits. You can also take up to two additional courses of your choice each semester.
Why should you choose Arts One or CAP?
Arts One and CAP ease the transition from high school to university by offering standard timetables, coordinated assignment schedules, access to an exclusive study space, dedicated academic advisors, and support from your fellow students and faculty.
Both study options admit a small number of students – around 100 in Arts One, and about 100 per stream in CAP. Because you'll spend most of your time with your cohort – sometimes in groups as small as four in Arts One, and 25 in CAP – you'll find it easier to make friends. You'll also work closely with your professors, helping you to make personal connections with faculty. Taking Arts One or CAP sets you up for a variety of degree pathways, and allows you to satisfy the first-year writing and literature requirements.
What's the difference between Arts One and CAP?
Arts One
Arts One is a single, integrated course that is led by five instructors who work together to create the assignments and a reading list based on the year's theme. This year, the theme will be "Sources of the Self: the pursuit of self-knowledge and the search for identity".
You'll read classical and contemporary texts and discuss their influence on culture and society, including novels, philosophical and political texts, films, drama, graphic memoirs, and more. The professors take turns to give the weekly lectures, and you'll work closely with one instructor who will lead your twice-weekly seminar discussions (20 students) and once-weekly tutorials, where you and three other students will read and evaluate each other's essays.
CAP
In CAP, you'll get to choose from one of five streams, each offering a different combination of courses from across the Faculty of Arts. This year, your streams will be Globalization, Power and Society; Individual and Society; Law and Society; Politics, Philosophy, and Economics; and Media Studies, and allow students and faculty to discuss ideas from various perspectives.
While your CAP courses are separate, faculty work together to connect the concepts and issues you'll study, and to make sure your deadlines won't overlap. Like Arts One, CAP classes are smaller than if you choose to create your own Custom Timetable, ranging from 25 students in the writing course to around 100 to 125 students in a lecture. As part of CAP, you'll also have the chance to participate in an annual student conference, and in its stream-wide academic and social events during the term.
How to apply
Applications to reserve a spot in Arts One open on January 17, and close when first-year registration begins in June. Any applications submitted after this period will be put on the Arts One waitlist. Arts One acceptance confirmations will be sent out by May 31.
For CAP, you'll sign up when the standard online registration system opens in June by selecting the Standard Timetable (STT) for your chosen CAP stream. Registration for CAP is on a first-come, first-served basis.