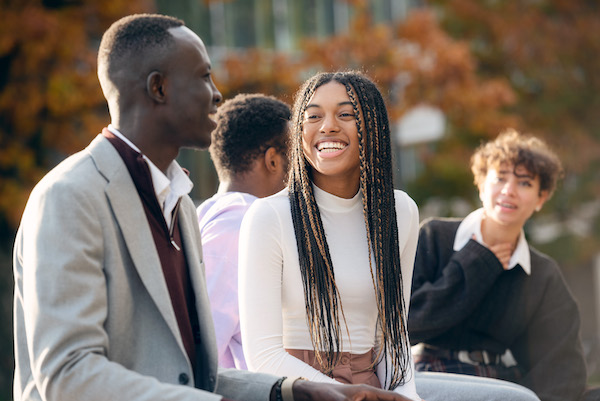 UBC's Beyond Tomorrow Scholars Program supports Canadian students (citizens, permanent residents and protected persons of Canada) who self-identify as Black, meet UBC's admission requirements and show an interest in joining and contributing to the UBC community, but who would not be able to attend without significant financial assistance.
Renewable awards
Through the program, new students can access annual renewable awards of up to $80,000.
Students must be entering directly from high school or transferring from another post-secondary institution and must be applying to a direct entry undergraduate program at UBC.
"If I hadn't received the Beyond Tomorrow Scholars award I definitely wouldn't be here. Just financially, it would have been really hard, especially attending university outside of [my city]. And that would have been really sad for me because I was really excited to attend UBC and that was what I had my heart set on. So, I'm really, really thankful that I got this award and that I'm able to be here." – Joan N., Beyond Tomorrow Scholar, UBC Vancouver
Programs and supports
UBC Beyond Tomorrow Scholars are more than award recipients. Students participate in a range of programming and services designed to develop their leadership skills.
As a Beyond Tomorrow Scholar, you will experience cross-campus support throughout your time at UBC with dedicated advisors and mentors. There are workshops, retreats, conferences and other opportunities to make meaningful relationships with your cohort, your program, and the wider community.
"I have found community at UBC [Okanagan] with the African Caribbean Student Club. I was the only Black graduate in my [high school] class so coming from that it's been really comforting. I feel safe here." – Uno N., Beyond Tomorrow Scholar, UBC Okanagan
Apply Now
To apply, you must complete the UBC Entrance Award Application and select the Beyond Tomorrow Scholars Award. The deadline to apply to the award is December 1 December 15 (deadline extended). You must submit your UBC application by December 1.
As part of your Beyond Tomorrow Scholars Award application, you must include a Student Application form, a Description of Circumstance essay outlining your personal, family, and financial situation, a Parent/Guardian Form to provide information on your family's finances, if applicable, and contact details for a personal reference who is able to comment on your character, interest in UBC, and financial circumstances.
If you have further questions about the Beyond Tomorrow Scholars Program or related to admission into UBC, please do not hesitate to contact us at beyond.tomorrow@ubc. We're looking forward to receiving your application!