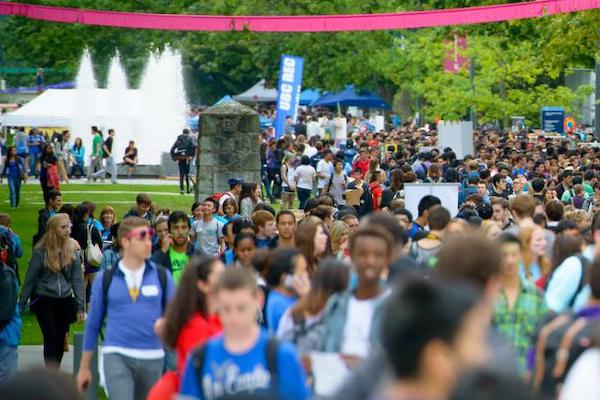 On September 5, join thousands of new-to-UBC students and hundreds of volunteers for Imagine UBC, your orientation event that celebrates the start of the academic year. For most students, Imagine UBC replaces the first day of classes.
By early September, you'll receive an email with your personalized Imagine UBC schedule, where students will be invited to attend a variety of events throughout the day.
What to expect: new students
If you're a first year or transfer student Imagine UBC is an incredible opportunity to:
Make new friends
Meet student leaders, professors, and the Dean of your faculty
Find out about services and resources
Learn all the ways to get involved at UBC
Over the course of the day you'll connect with other new students from your Faculty, check out hundreds of booths hosted by current students for UBC's clubs and organizations, and start to find your place at UBC. New students will receive an email by early September with their personalized Imagine BC schedule.
What to expect: returning students
Learn more about your department or program, stop by the Main Event to explore hundreds of UBC clubs and resources, and feel the energy that comes with the start of a new academic year! Returning students will receive an email by early September with their personalized UBC schedule.
No matter who you are and what you are interested in, there is something for you at Imagine UBC.

– Indra Hayre, Arts student
Questions?
If you have any questions, feel free to reach out to orientations.info@ubc.ca.
---
Heading to UBC's Okanagan campus? Check out the details for your Create orientation!