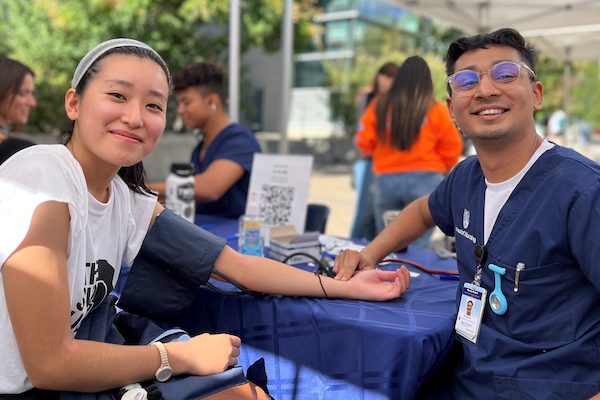 Do you want a fulfilling career helping people and promoting health and healing? Are you looking for a degree that will give you skills that will always be needed in today's world?
The Bachelor of Science in Nursing (BSN) at UBC Okanagan is continuously ranked as one of the top Schools of Nursing in Canada. The program will provide you with the skills you need to deliver outstanding health care within an increasingly complex health care system.
What will you learn?
UBC Okanagan's Nursing program emphasizes an interdisciplinary approach to developing the skills required to become a registered nurse (RN). Within the program you will practice safe, quality, evidence-informed health care grounded in humanizing the experience of health and illness.
As a Nursing student at UBC Okanagan, you will have lots of opportunities to explore various experiences within Nursing, including global and rural health exchanges where you can gain insight into global and rural health issues by doing a placement in Ghana, Zambia, or Haida Gwaii. You'll also have opportunities to explore different areas within Nursing by doing hands-on work in different specialities and specializations.
Student Scoop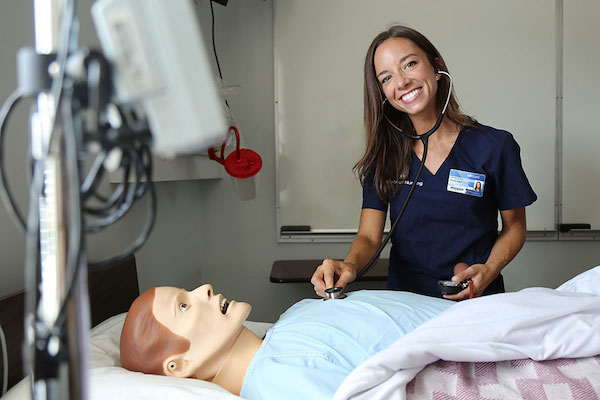 "I felt like it's just what I am meant to do," says Brandy Hagel of the decision to pursue nursing. Read about Brandy's experience as a student in the nursing program.
Why choose the Bachelor of Nursing program at UBC Okanagan?
1. The program is open to international students. Unique to our Okanagan campus, the nursing program is open to both domestic and international students.
2. Be part of a close-knit community. The Nursing program at UBC Okanagan has a great sense of community. The program is unique in that it is a world-class program on a world-class campus but students have the benefit of a close-knit, smaller community in a beautiful region of British Columbia.
3. Take advantage of research opportunities. You can conduct research throughout your degree as you engage in service learning projects and/or change projects, and in your fourth year you will also have the opportunity to do a Research Preceptorship, where you can work directly with a researcher. Watch Rachel Epp, a fourth year nursing student, talk about her research practicum.
4. Lots of hands-on learning. As a student in the Nursing program, you will get a lot of practice hours in many different practice settings which will let you explore different specializations and will give you a glimpse of the many different ways you can apply your Nursing degree in the real world. Our Okanagan campus has a state of the art nursing simulation lab that mimics the look, feel and smell of a real hospital. The lab uses cutting-edge simulation technology and these realistic contexts prepare you for clinical practice.
5. Take the degree right out of high school. Many other Nursing programs are after-degree programs, which means that you take them after you already have a bachelor's degree. Since UBC Okanagan's Nursing program is a four-year degree program, students can enter the program with no previous post secondary education.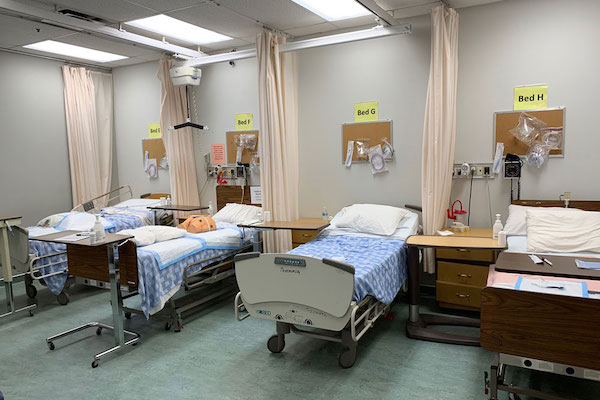 UBC Okanagan's nursing simulation lab.
What a wonderful career, where you can be taking someone's pulse while holding their hand. That's what I love most about my career in nursing—that it's good for the soul." – Matthew Rigby, UBC Okanagan Nursing alum.
What can you do after graduating?
Graduates of UBC Okanagan's Nursing program are in high demand. As a registered nurse you will be qualified to provide professional nursing services, deliver health-education programs, and provide consultative nursing services.
Nursing is also a profession of lifelong learning and you can decide to continue your education by choosing to specialize, upgrade your skills or get your Master of Science in Nursing.