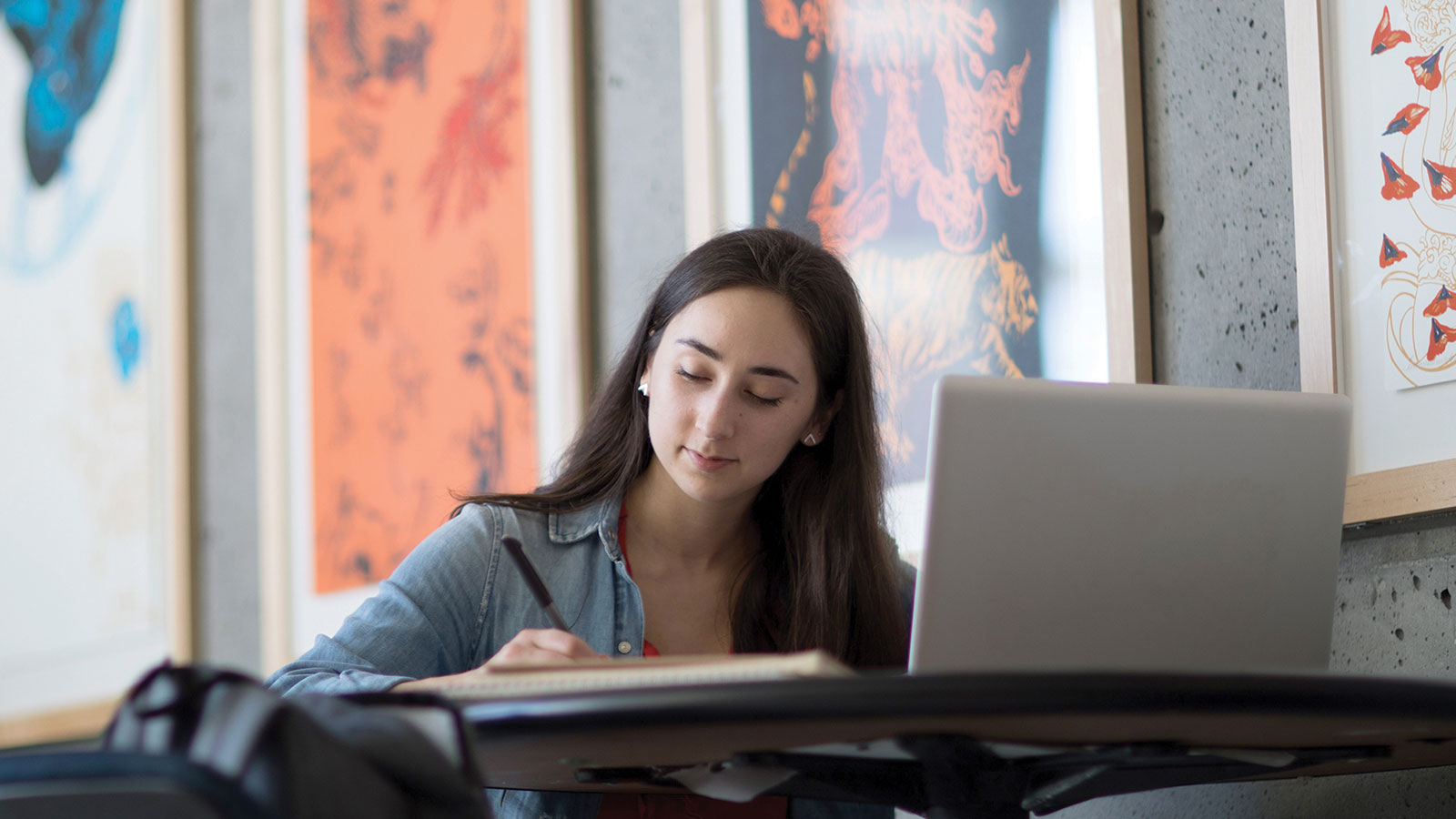 Are you fascinated by how technology can be used to make art? Do you hope to enter a career where you'll work with still images, sound design, videos, or create games? UBC Okanagan's Bachelor of Media Studies might be the perfect program for you.
What will you learn?
Media Studies at UBC Okanagan is much more hands-on than you might expect. The degree is a computational arts program, which means that you'll have the chance to use many different technologies to build your creative projects.
In your first two years, you'll study courses that include creative writing, cultural studies, digital humanities, media studies, and visual arts, and learn how to write computer code. Depending on your preferences and career aspirations, in your final years you can choose to focus on visual arts, or specialize in the degree's custom-created computer science pathways.
Student Scoop

Meet Lark, who has seen her creations in film and animation, website design, mobile app prototypes, and interactive art installations come to life using her computer-based skills.
Why choose Media Studies at UBC Okanagan?
Gain skills beyond a traditional Media Studies degree. The world is going digital. As a student of Media Studies at UBC Okanagan, you'll not only learn the history and theory behind media and art, but discover how they can be transformed by technology. You'll develop artistic, technical, and analytical skills, and sharpen your understanding of critical thinking, problem solving, and self-expression.
Enjoy a self-directed, graduate feel. Art is a process of discovery, and so is this program. You'll have the chance to focus on topic areas that you enjoy most, such as filmmaking, sound design, animation, game design, interactive art, or computer coding. The Bachelor of Media studies is a tight-knit learning cohort, and you'll have plenty of opportunity to interact one-on-one with your professors. Study alongside others who are interested in discovering creative technologies, multimedia platforms, and art history. 
Learn from scratch. You won't need any prior experience in coding to enter the program, and you don't need to be an expert in a particular medium. The Media Studies courses are designed specifically for this program, and you'll develop a  streamlined set of computer science and critical thinking skills aimed at code-based art and design skills in creative arts and digital humanities.
Collaborate with industry partners. Take part in the Capstone course and work together with community members and organizations on a full-year project. The course lets you foster meaningful connections with industry partners and use your multimedia skills to solve real-world challenges.
Take part in co-op experience. Build your career confidence through Co-op Education and explore work experience that challenges and inspires you. Co-op provides the opportunity for you to gain paid, full-time experience in a variety of work settings, and test out possible career options. You'll benefit from a variety of support workshops, one-on-one coaching, and work experience relevant to your future career goals.
What are people saying?
"Since the Bachelor of Media Studies is such a small cohort, I got lots of advice from my professors and classmates. I was able to work with visual artists and coders, and I was able to learn how to communicate my ideas to a bigger audience." Chloe Chang, Bachelor of Media Studies
"The Bachelor of Media Studies is a unique program that looks at overall flow of creative practice that is happening globally, and pulls those assets together into one program." Megan Smith, professor of Visual Arts and Media Studies at UBC Okanagan