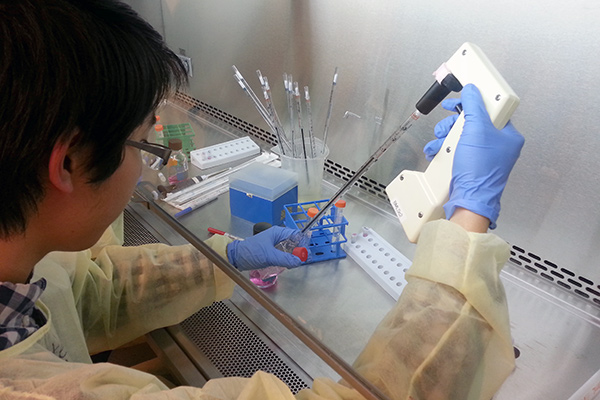 Are you on the hunt for that perfect science degree? The one that comprises multiple disciplines, offers undergraduate research opportunities, prepares you for a breadth of in-demand careers, and equips you with a set of job-ready skills? UBC's Bachelor of Medical Laboratory Science encompasses all of that while award-winning professors help you develop your understanding of a wide array of disciplines, from human pathology, immunology, and biochemistry, to genetics, statistics, and medical microbiology.
What will I learn in Medical Laboratory Science?
After entering the BMLSc program in your third year at UBC, you'll be part of an intimate cohort of 24 students. Because of the smaller class size, you'll be able to gain hands-on lab experience, developing a diverse set of technical laboratory skills.
Through your coursework, you'll learn the theory and gain the practical laboratory skills needed to design and implement experiments and analyze the results. You'll also learn about human health and disease through a broad range of health science and laboratory disciplines including clinical chemistry, genetics, toxicology, pathology, hematology, histology, and medical microbiology.
If you're passionate about research, you could complete a directed studies research project with faculty, or apply for the Summer Student Fellowship Program, which provides you with research experiences in laboratory medicine. These opportunities will sharpen your transferrable skills, develop your interdisciplinary thinking, and help steer you toward a career that fulfills you.
What can I do with a Bachelor of Medical Laboratory Science?
BMLSc graduates have a variety of exciting and rewarding careers to choose from. Former students have predominantly moved into roles as research assistants or technicians in academic, clinical, or industry laboratories.
You could also take further studies to become a health professional in fields such as dentistry, medicine, optometry, medical laboratory technology, and much more. Graduates have high acceptance rates into medical, dental, and graduate schools, specialty technologist training programs, and public health and health administration programs.
What kind of student thrives in Medical Laboratory Science?
If you want to see the type of student that is a great fit for Medical Laboratory Science, read what alumna Lily Takeuchi has to say about her experience. She talks about what attracted her to the program, what kinds of opportunities she took advantage of during her studies, and where her degree can take her.
"I would recommend this program to individuals who thrive in smaller classroom environments. I would even recommend this program for anyone still searching for what they're passionate about. Without a doubt, given the amount of areas you are exposed to in BMLSc, you can definitely find something along the way that stands out to you." – Lily Takeuchi, Medical Laboratory Science alumna 
How do I apply to Medical Laboratory Science?
To be eligible for admission to this two-year undergraduate degree, you must complete a two-year general program of specific science prerequisites – which could be taken in first and second year of a UBC Bachelor of Science – or a Medical Laboratory Technology diploma program and specific chemistry prerequisites.
Learn more about how to apply to Medical Laboratory Science.