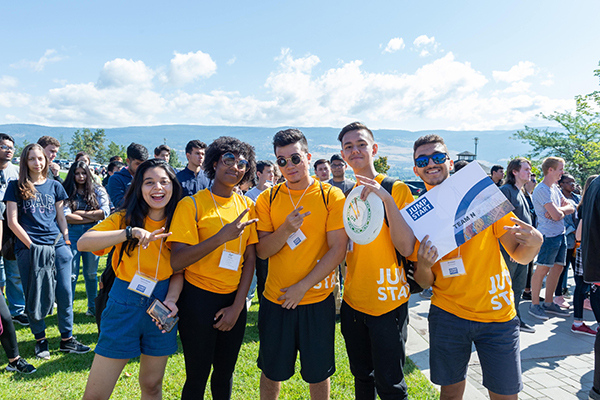 If you're entering first year at UBC Okanagan and coming directly from high school, Jump Start at UBC Okanagan is for you! This five-day orientation will let you take care of the essentials before your first day, let you meet your UBC Okanagan professors and academic community, and help you make your first friends.
What to expect
You'll take part in Jump Start's commuter stream or residence stream, depending on whether you're living on or off campus in your first term. Each stream is a tailored way to make friends before the first day of term through fun social activities in small groups of around 30. You'll join us on campus during the day for fun programming, and optionally in the evenings for a variety of social events.
Whichever stream is right for you, you'll enjoy academic success workshops designed to welcome you to your program, as well as the chance to connect with faculty members, staff, and upper-year students who are available to help you throughout your time at UBC. You'll find out what it's like to learn in a university environment, and can take part in sessions hosted by UBC Okanagan instructors to show you the campus's resources and services. By getting the fundamentals out of the way, you'll have more time to focus on what matters on your first day.
Jump Start dates
Residence stream
Move-in for the residence stream takes place on August 27 and 28. The five-day program runs from August 29 to September 2. Students traveling to Canada are expected to arrive in time to complete any applicable federal quarantine requirements on or before August 27.
Commuter stream
Jump Start's commuter stream begins on August 29 and finishes on September 2. Commuter students should plan to arrive in the Okanagan region before Jump Start begins.
Register now
Registration is now open! Visit the Jump Start Okanagan webpage to complete the registration form, pay your fees, and save your spot. Registration will close on July 28 at 12:00 p.m. Pacific Time.
What students are saying
"It was a great way to meet new people. I consider myself a shy person, and Jump Start made me step out of my comfort zone and experience new things which ultimately made me feel more prepared for university!"
– Ali Zaidi
"It was a very fun, welcoming, and supportive environment. At no point did I feel lonely or lost, despite just having moved to a different continent. Our orientation leaders were very understanding and helpful, and their advice about university life made the transition less daunting. I am still in touch with them, and I still feel comfortable asking them for help around campus."
– Sanaa Shaikh