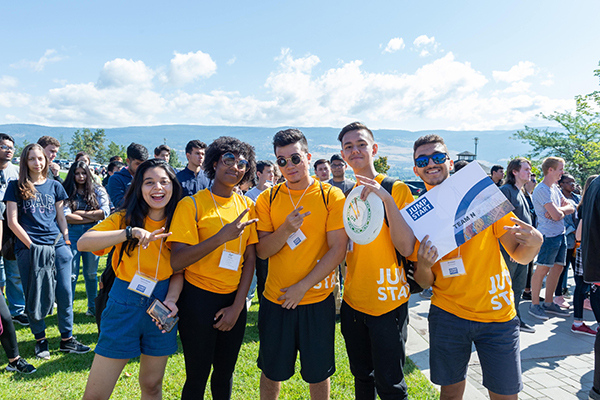 If you're entering first year at UBC Okanagan and coming directly from high school, Jump Start at UBC Okanagan is for you! In this multi-day orientation you will take care of the essentials before your first day, let you meet your UBC Okanagan academic community, and make your first friends.
What to expect
You'll take part in Jump Start's commuter stream or residence stream, depending on whether you're living on or off campus in your first term. Each stream is a tailored way to help you make friends before the first day of term through fun social activities in small groups of around 25. You'll join us on campus during the day for fun programming, and optionally in the evenings for a variety of social events.
Whichever stream is right for you, you'll enjoy academic success workshops designed to welcome you to your program, as well as the chance to connect with faculty members, staff, and upper-year students who are available to help you throughout your time at UBC. You'll find out what it's like to learn in a university environment and take part in sessions hosted by UBC Okanagan instructors to show you the campus' resources and services. By getting the fundamentals out of the way, you'll have more time to focus on what matters on your first day.
Jump Start dates
Jump Start at UBC Okanagan runs from August 28 to September 1. Residence students may begin moving in on August 26 – 27.
Register now
Registration is now open! Visit the Jump Start Okanagan webpage to complete the registration form, pay your fees, and save your spot. Registration will close on August 2 at 12:00 p.m. Pacific Time.
What students are saying
"I loved my experience being in Jump Start. Being surrounded with possible classmates and creating inseparable bonds and long-lasting fun memories was my largest take-away. Being a part of Jump Start allowed me to adjust and figure out the campus very quickly. I would highly recommend joining Jump Start for all incoming students." – Marvin L., Bachelor of Management
"Jump Start was incredibly helpful in helping me to make friends before school began. Through the program, I was able to meet a lot of new people who were also incoming first-year students. We participated in a variety of activities and events together, which helped us to bond and get to know each other better. By the time classes started, I already had a solid group of friends who I could turn to for support and advice." – Soumil C., BSc in Computer Science